Fall 2011 Pendleton Blankets
Cozy Up With Pendleton's Tribute Series Blankets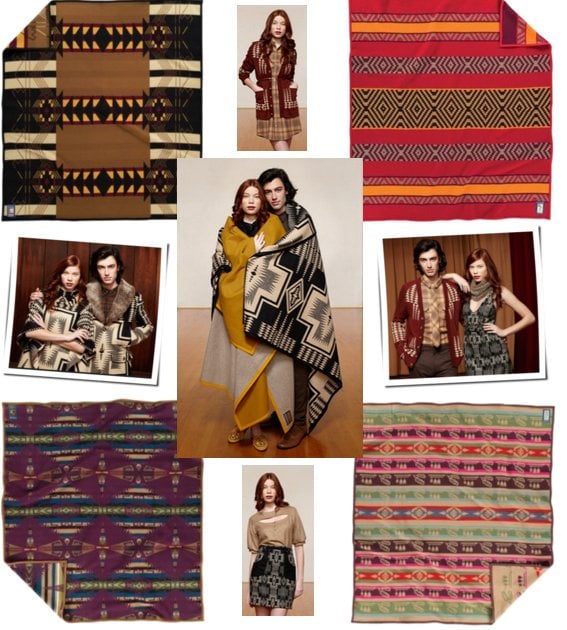 The Southwestern flavor is coming back full swing in fashion and home trends this Fall. After being completely inspired by the look book from Pendleton's Fall 2011 Portland Collection, I sought out the delicious-looking blankets draped around the dashing couple photographed above. Luckily, my findings led me to Pendelton's four new additions to their popular Tribute Series Blankets. The series pays homage to the American mills that pioneered the weaving of Indian trade blankets. Each of the blankets' patterns is a re-creation of an original design produced by a woolen mill from the olden days known for their exceptional quality.
These blankets are the second half of the series, and I love the direction Pendleton took with part deux. Their updated versions drawn on bold geometric patterns are indicative of Native American history. My favorite has got to be the Buell Manufacturing Co. Tribute #2 ($218) shown in the top left corner. Pendleton re-created a 1910 pattern from the original Buell woolen mill; it was was called "Zuni," named for the Pueblo tribe.
At $218 a pop they may be a little pricier than what you typically spend on a trendy blanket or throw, but trust me when I say the Pendleton name stands up to the hype. After all, Pendleton must be doing something right; they've been around since the early 1860s. I can totally picture myself cozying up with one in my apartment or out in the park on a cool Fall afternoon in San Francisco. Or, in traditional Native American fashion, I'd love to rock one out on the town as a shawl!