How to Decorate With Fall Leaves
4 Creative Ways to Decorate With Fall Leaves
All of that raking and composting can sometimes put a damper on the beauty of Fall foliage, but these DIY projects and products will transform this tedious chore into chic, seasonal decor. Check out four creative ways to bring the look of these colorful leaves from the outdoors into your home!
Elsie Green founder Laurie Furber replaces flower bouquets with bunches of dried foliage in her home. To boost the autumnal effect, she fills the bottom of a glass vase with tiny pinecones collected from hikes.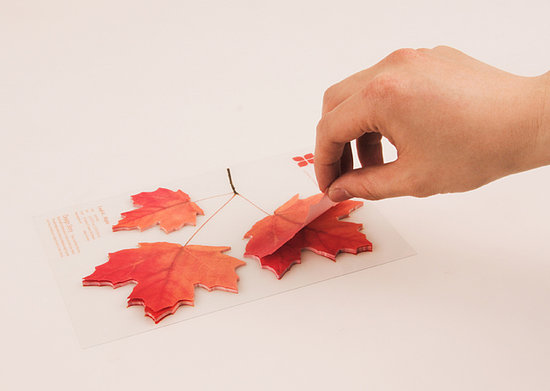 Finally, sticky notes you'll actually want to have scattered all over your desk! Appree's Leaf-It Maple Sticky Notes ($5) can even be used outside of the office. We're imagining sticking a bunch of these on a piece of paper and framing them in shadow boxes as an affordable art project.
Eunice and Sabrina, the creative duo behind Hello!Lucky, have talent that reaches far beyond stationery design. When we spotted their DIY Autumn leaf bowl, we knew we had our next Halloween candy bowl in the bag!
For a craft that involves real leaves, try this easy DIY votive candle. All you need is a handful of colorful varieties that have already fallen, a glass votive, and some double-sided tape. The combination of candlelight and the fiery hue from the leaves casts the loveliest glow!