Ivy League Home Decor
Channel Ivy League Americana With These Designs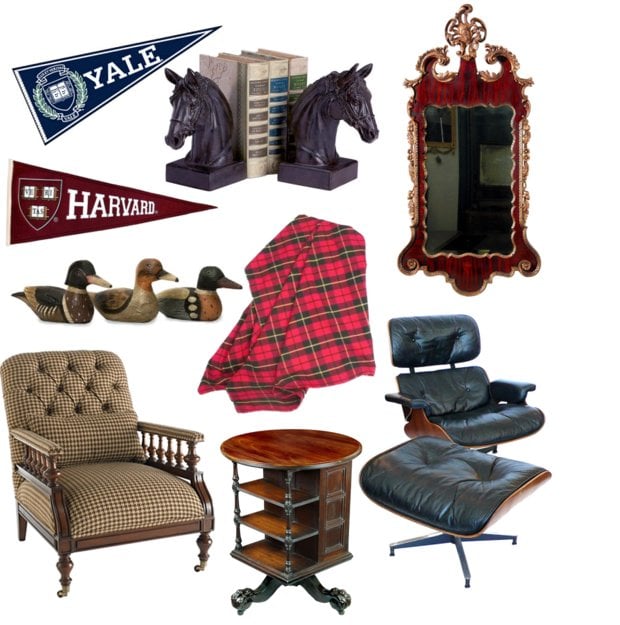 Fall is here whether we like it or not. To help get you into the back-to-school groove, I've decided to channel some Ivy League Americana into your home. It certainly screams prep, but there's a definite elegance in the look above. Deep rosewood hues and tartan plaid make me smell the East Coast Autumn air. And despite the fact that Thomas Chippendale was a Brit, his iconic, ornate Chippendale design is also a huge influence in this style. His cabinetry was reserved for the upper echelon of society in colonial America.
There's also something strangely Sex and the City about Ivy League style for me. The reason? Charlotte's first husband Troy McDougal! He wore a Scottish kilt at their wedding with a pattern reminiscent of that Red Tartan Plaid Throw ($55). Although that look would be way over the top at my wedding, I suppose I can appreciate the McDougal family's fierce commitment to cultural ties. And of course, we wouldn't be equipped for Ivy League style without those "darling" Mallard Ducks ($60). One of my favorite episodes of the entire series was when Charlotte was attempting to redecorate their apartment in true Charlotte style: both chic and simple. If you recall, Troy's controlling mother Bunny was adamant about the mallards staying. I couldn't help myself from throwing a few into the mix here.
My favorite piece of the lot has got to be the Black Eames Rosewood Lounge Chair and Ottoman (inquire for price). That buttery leather and shade of rosewood pair perfectly in the original 1965 design. It would be a true collector's gem for a swanky home office!