Kelly Green Decor For St. Patrick's Day
Decorating With: Kelly Green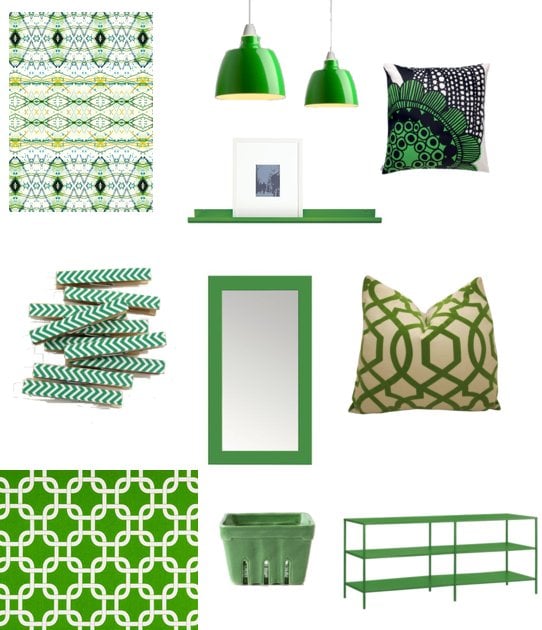 While kelly green is a great color to decorate with year-round, it's particularly appropriate to celebrate the shamrock shade right now. Any St. Patrick's Day reveler would be happy to add one of these pretty green pieces to their home.
One of my absolute favorite pieces is the Hang On Honey Pendant Lamp ($350, top row, middle). From Danish designer Niels Bak Rasmussen, the lamp rocks a retro vibe, while the bright green varnished shade makes it pop against a white ceiling. The minimalist designed shade hangs directly on a bulb, which is held in place with silicon knobs.
For a fun way to showcase your fruits or fresh berries, pick up the Farmer's Market Basket ($14, bottom row, middle). It may look like your typical cardboard berry basket, but this version is made from stoneware, which has been cast from real containers.
If the shade is too much for you, add just a hint to it with the Eskayel Festival Feast Wallpaper ($475, top row, left). Mixing shades of green, white, yellow, and black, the wallpaper is based on imagery from designer and Eskayel founder Shanan Capanaro's paintings. The wallpaper is also sourced and fabricated in the Northeastern United States.
If you have your eyes on the chevron clothespins, kelly green mirror, trellis pillow, or another item, just click on it to start shopping!