Kelly Wearstler and Brad Korzen Put Their Beverly Hills Home on the Market
Kelly Wearstler's Maximalist Mansion on the Market
I'm excited to present a post from one of my favorite sites, ShelterPop!
The Los Angeles designer puts another one of her wildly glamorous homes on the market. If you have $46 million and love animal prints, this one's for you.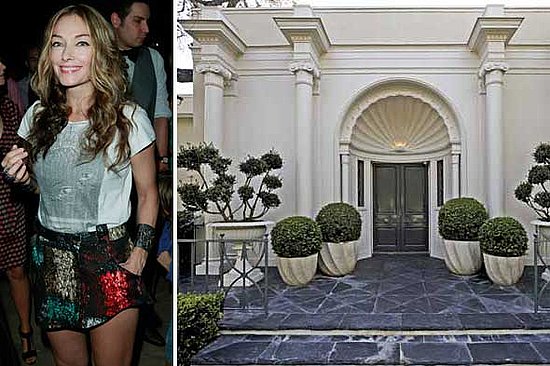 Nobody could ever convince white-hot decorating daredevil Kelly Wearstler that there's even a shred of truth to the minimalist mantra, "Less is more." For Wearstler, a plucky and gorgeous gal almost as famous for her fearlessly outlandish fashion choices as her kooky but always carefully conceived decorating style, more is always better.
Nowhere is that more apparent than in her own home, a legendary Beverly Hills, California mansion that she and her smashingly successful property developer/hotelier husband Brad Korzen bought five years ago for $25 million. They renovated, decorated and now they're ready to sell — for a vertigo-inducing $46 million.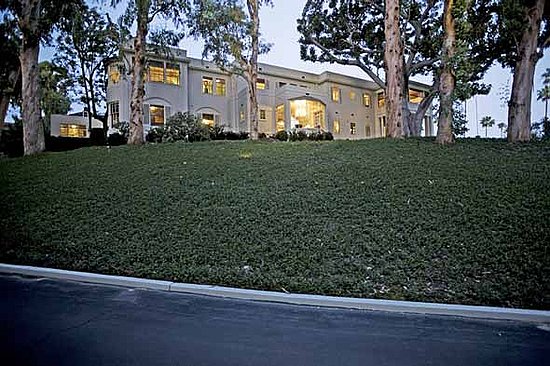 The design-oriented duo hired Los Angeles architect Brian Tichenor to work over their über deluxe new digs in a manner that preserved much of the mansion's original architectural details.
Continue reading for more photos and details!
Naturally, the lady of the house did up the interiors with the sort of audaciously maximalist décor that has become her signature stock in trade and has made her both revered and reviled by the notoriously difficult-to-please interior design world.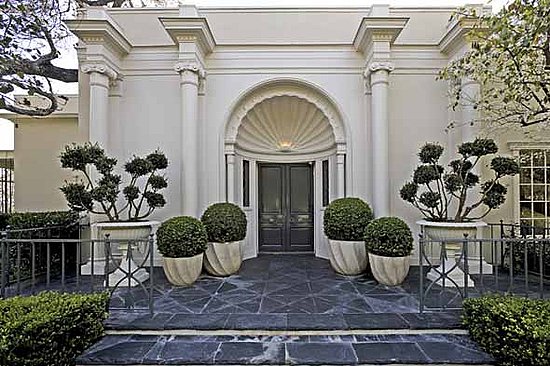 At the entrance, electronic gates swing open to a long celebrity style driveway. The drive swoops dramatically up the gentle slope to a motor court, which stretches out in front of the sprawling and architecturally dignified 11,000+ square foot Georgian-meets-Hollywood-Regency style mansion.
The mansion's main entrance, marked by a cluster of potted topiary balls, gives nary a hint to the extreme decorative fantasia that lies beyond.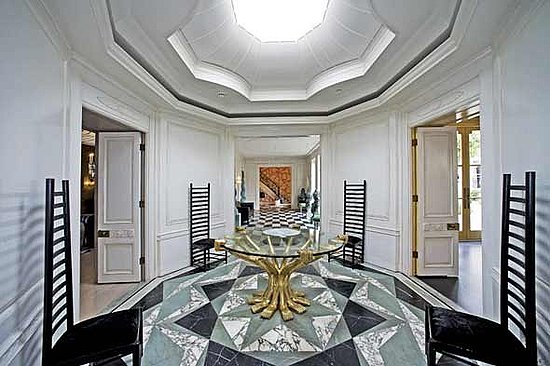 Passing through the front door into the octagonal sky lit foyer feels a little like Alice going through the looking glass. Here is a world of bold architectural details, dizzying patterns and surreal tableau, where a cheeky glass topped table with a gilded base of arms and hands (by Mexican artist Pedro Friedeberg) and four Mackintosh-style ladder back chairs. The room speaks a decorative language that perhaps only Wearstler can comprehend.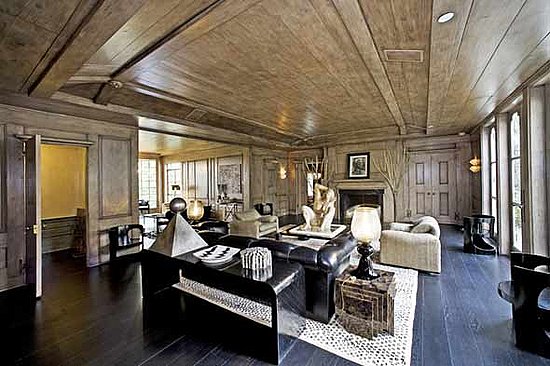 A surprisingly muted palette prevails in the paneled formal living room where charcoal-colored wide plank wood floors stand in delicious contrast to the grayish-taupe colored paneling that covers the walls and ceiling. Upholstered arm chairs and a tufted black leather sofa form a seating area in front of the fireplace. On the coffee table is a suggestively lurid sculpture of a nude woman. A paneled alcove off the living room juxtaposes the pale black, white, beige and brass color scheme with the vibrant and lush foliage seen through the multi-paned window that stretches from floor to ceiling.
Head over to ShelterPop to see more photos and read more details about Kelly Wearstler's home!
Here are some more of my favorite ShelterPop posts:
Source: Everett Fenton Gidley for Westside Estate Agency