Light Blue Refinished Dresser DIY
Before and After: A Found Dresser Gets a Fantastic Blue Face-Lift
Here's a post from Sarah, who shared this dresser makeover with the CasaSugar Community.
There's an old, crumbling mosque behind my apartment building. One day my partner and I were walking by, and saw this dresser outside. It was in pretty good shape — all the woodwork was fine, it seemed sturdy and like it had probably just been sitting unused in a community room for a while. Ugly as heck though — it was an off-putting yellow, with some bronzey-goldish trim. The handles were dangling off, at least one was quite bent out of shape, and someone had taped the doors shut with masking tape because they were missing a latch. Neither of us is one to pass on free furniture, so we dragged it around the block and upstairs (it's quite a beast) and set to work.

I chose this light blue in semigloss (Benjamin Moore's "Old Pickup Blue") because it's a lighter version of our kitchen curtains, because I thought a light color would be a good contrast to the dark handles, and because we both like blue. We kept the original handles/drawer pulls, and my partner managed to fix the bent one and replace the inner latch on the doors. I'm pretty happy with how it came out. Thanks, neighborhood mosque!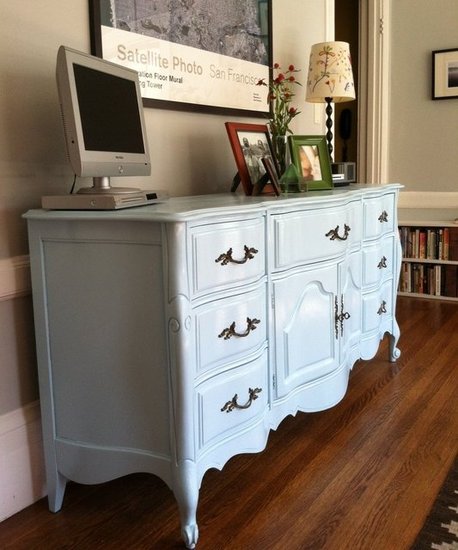 Be sure to post your own DIY projects in the Su Casa group!