Los Angeles Loft Pictures
A Cramped LA Loft Gets a Lavish Upgrade
After meeting as students at the Fashion Institute of Design & Merchandising, Caitlin McCarthy and Caitlin Murray realized they had more than a first name in common! Years later, their shared passion for interior design continues to fuel their budding business, Caitlin + Caitlin Interior Design. Recently faced with the challenge of renovating her cramped loft, Caitlin McCarthy called on her other half to help her execute a plan. The result is a sophisticated home that demonstrates the potential of small-space living. See how this dynamic duo pulled off this renovation!

Entryway
POPSUGAR Home: What were your goals for the space? Caitlin + Caitlin Interior Design: Our goal was to totally gut and rework Caitlin's loft to turn it into something sophisticated and chic. You should see the before photos – the kitchen and bathroom had been done in total bargain-basement cabinetry, tile, and appliances. The brown thin-set concrete concealed beautiful 100-year-old original tile beneath. We could go on and on about how much we needed to revamp this space, but the ultimate plan was to create a beautiful, functional flow and evoke a refined, cosmopolitan aesthetic.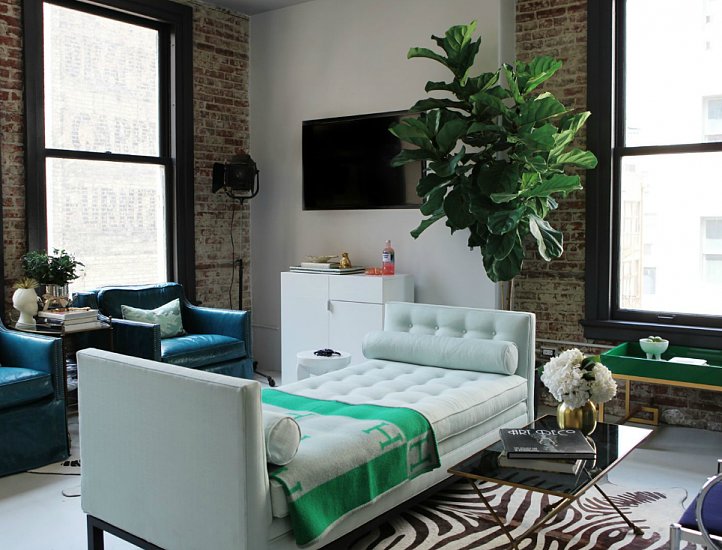 Living room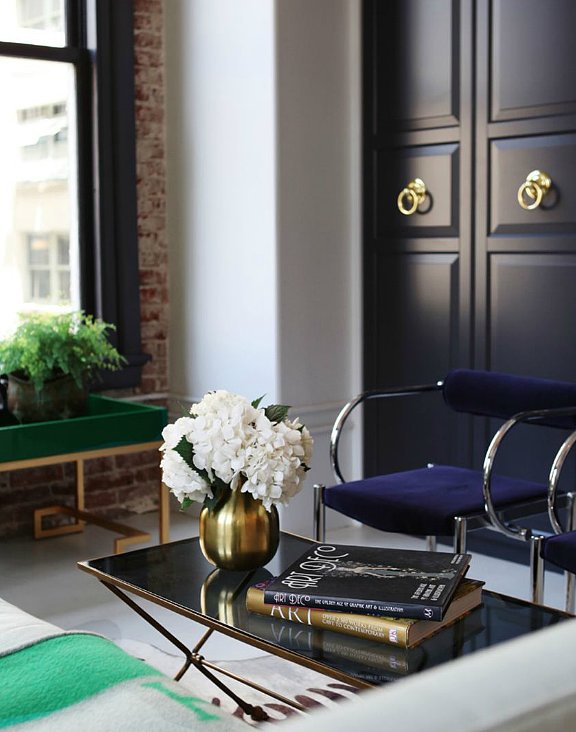 Living room
PS: What was the biggest challenge that you faced? C+C: The layout of the space was tricky because the unit actually wraps around the building's stairwell, so the floor plan is shaped like a U. One of the benefits, though, is that this creates separate areas in the loft even without having doors between "rooms." You walk into a proper entry because we extended the kitchen wall and also created an alcove to the right of the front door for dropping bags, hats, and keys. The living room and bedroom are separated by the narrow kitchen and dining room, which almost double as a long hallway. By making each part of the loft multifunctional, we were able to really maximize space.
Kitchen
PS: Despite some of the loft's industrial characteristics, the space still feels chic and inviting. What are some of your favorite ways to soften these types of buildings? C+C: We're all about mixing and balancing each of our designs, so this was no exception. Because we exposed the brick and original tile (which packs that industrial punch!), we added a lot of luxe elements to pump up the glamour and warmth. Infusing the space with hues of mint green, teal, and navy created a soothing effect while textures like linen, leather, and wool softened the space both in a visual and tactile sense.
Living room bar
PS: The black doors in the bedroom are so beautiful! Are they original? Is that a Murphy bed?
C+C: The charcoal gray doors are indeed concealing a Murphy bed! They're not original — we built the recessed alcove for the Murphy bed by relocating ducting and adding drywall. The doors are actually Ikea cabinetry painted in a high gloss and embellished with lacquered brass knockers from Restoration Hardware. We think the contrast of dark gray and gold is really striking.
Murphy bed in living room
PS: The kitchen and dining space might stump the average person because of the narrow dimensions. Do you have any tips for decorating in tight spaces?
C+C: When it comes to tight living quarters, you have to be strategic with each square foot. There are hundreds of ways to do this effectively, depending on the room, but some of the general tips would be this:
Keep clear of clutter — only have things out and visible if they are beautiful and add to the design.
Leave three feet of space between pieces of furniture and the wall whenever possible. You can have a few inches of wiggle room with this, but it's a great general rule for making sure spaces don't feel cramped.
Choose furniture and patterns that are scaled appropriately to the space. Small calls for small!

Bedroom