Mad Men Furniture
Dreaming in Mad Men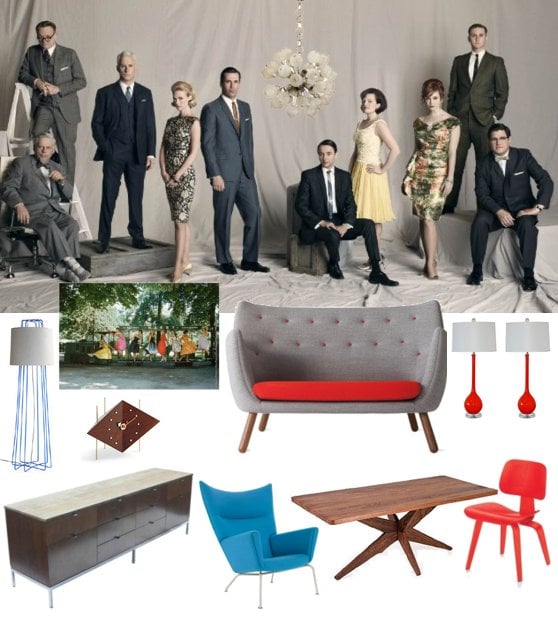 Last night, Mad Men picked up its fourth consecutive Emmy win for best drama series, and I can't say I'm surprised. Last season kept me just as rapt as every other, and to say that I'm anxious for the fifth season to start is a bit of an understatement. Unfortunately, we still have at least a few months to wait before that day comes — the fifth season won't begin until early 2012. For now, I'm satisfying my Mad Men jones by dreaming of the fabulous furnishings that decorate the show.
I've rounded up a mix of vintage and new furnishings that reflect the clean lines, occasionally funky shapes, and overall elegance of the era. My absolute favorite right now is the Poet Sofa ($7,500, top row, middle right). Designed in 1941 by Finn Juhl for use in his own Charlottenlund, Denmark, home, this version is sold through Design Within Reach as part of the Onecollection, House of Finn Juhl. Made in Denmark, the sofa's cool shape and gorgeous gray-and-red color combination reflect a midcentury sensibility, yet it is timeless enough to exist through many future decades in the 21st century.
Another favorite is the Mark Shaw Editioned Photo-Couture at Bois de Boulogne, 1957 #1 ($1,800, top row, middle left). This chic photograph features a gaggle of models posing on a children's train in Bois de Boulogne, Paris. The image is actually an outtake from a 1957 article in LIFE Magazine titled "Daytime Suits." The models are outfitted in dresses designed by Dior, Laroche, Cardin, Lanvin-Castillo, and Patou. It's a perfect investment piece for the midcentury-obsessed fashionista.
Did something else in the roundup catch your eye? Check out all of the finds, both vintage-sourced and modern-made, by clicking on each image.