The Making of an Anthropologie Catalog
I'm excited to present a post from one of my favorite sites, ShelterPop!
A behind-the-scenes look at the creative thought and decision making that goes into this oh-so-addictive catalog.
We love catalogs at ShelterPop. Sometimes when we're flipping through Anthropologie's latest catalog, we'll even feel a bit awestruck. How do the stylists make us want every single item featured?
While Anthropologie's perfectly curated collection is inspiring on its own, pair it up with creative director Trevor Lunn and his genius team, and you've got even more buy-me-now appeal.
But just how does a brand's rustic-romantic wares go from stock rooms to the stuff your home design dreams are made of? Lunn gives us a behind-the-scenes look at the making of an Anthropologie catalog.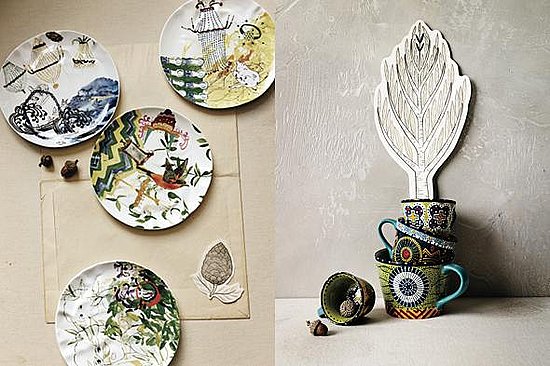 The Team
"Like a magazine, putting together the catalog is a hugely collaborative process," Lunn explains. His team consists of buyers (including head buyer, Keith Johnson, host of the Sundance Channel's Man Shops Globe), merchandisers, designers, stylists, photographers and art directors, all working together to compose the best book possible.
The Time Frame
If you've signed up for a catalog, you can bet on a copy showing up in your mailbox each month. That means that Lunn's team is working several months in advance. "For us it really is Christmas in July," he says.
Continue reading!
Inspiration All Around
"We draw inspiration from artists, photographers, places, film and music. Almost anything can spark that initial creative flame," Lunn says.
Take the November 2010 catalog, for example. The concept of "dreams" (a child's dream in particular) was conceived when Lunn's 2-year-old daughter had just learned the song "Row, Row, Row Your Boat." The line "Merrily, merrily, merrily, merrily life is but a dream" stuck in his head and later graced the catalog's opening spread. "That was our starting and end point for each of the stories," Lunn says.
The team also found inspiration in a 1930s painting by Belgian painter Rene Magritte, below left. They added their magic and brought a dream of train travel (and a vintage-inspired outfit) to life.
Once the sparks go flying, it's the season, a place or an artist that truly dictates the ideas and themes for a particular month. Sometimes this even means pulling a product because it isn't a good fit with the scenario imagined. Creating items and stories that will deliver an unimagined experience is the design team's ultimate goal.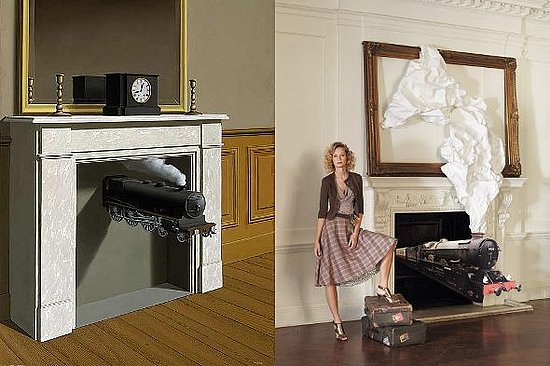 "When In Doubt, Edit."
"Our biggest challenge is editing all those ideas, all that inspiration," Lunn says. "We are always asking ourselves if this particular item or shot deserves to be in the book."
Lunn puts that editing experience to work in his own home, constantly recomposing the items he and his wife already own to transform a room's feel. His best decorating advice: Don't take it too seriously, remember that nothing is permanent, only buy things that you absolutely love and when in doubt, edit.
Here are a few more of our favorite ShelterPop posts this week!