New Girl Apartment Decor
Metal Tables and Stools, New Girl Style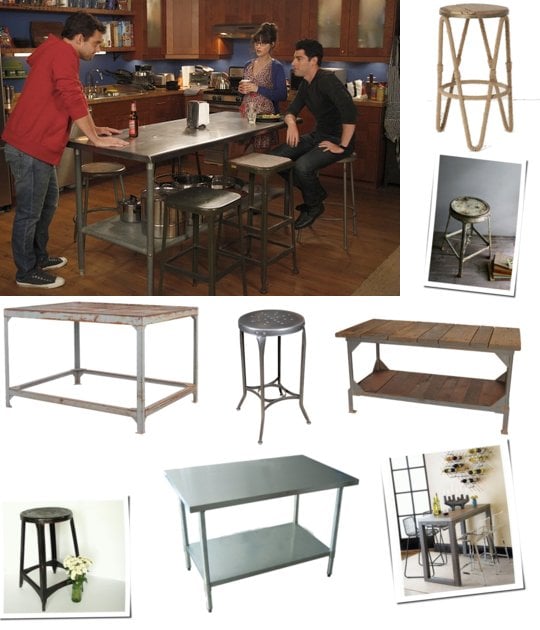 I'm loving the industrial look of the apartment on Zooey Deschanel's new comedy, New Girl. The look is fitting for an apartment populated mostly by guys with lots of brick, leather furniture, and industrial-looking tables and chairs. I'm particularly digging the metal countertop table and vintage metal stools in the kitchen. Not only is the table pretty cool looking, it's also versatile — it can be used as a surface for prep work such as cutting veggies as well as a breakfast bar and casual dining area.
The most economical way to get the look of the table is to shop kitchen supply stores. The Stainless Steel Work Prep Table ($105, bottom row, middle) is from an online kitchen supply store and is one of the least expensive options you can find. Of course, you can also spend big bucks on this look as well: the Industrial Work Table ($2,000, middle row, right) is a significant investment. This '50s-era metal and woodwork table oozes rustic charm and would really make an impression in your kitchen or dining area.
Seek out metal stools at flea markets or online. You can also find these at a variety of price points. The Vintage Industrial Metal Stool in Chippy Black ($30, bottom row, left) is a major steal. You can also go for something brand new, like the Reata Counter Stool ($270, top row, right), which marries rope-finished legs to a wooden seat.
Shop the rest of the look by simply clicking on each image!
Photo courtesy of Fox