Norwegian Outdoor Fireplace
A Hive-Like Norwegian Outdoor Fireplace
Celebrating outdoor spaces is a definite must for the Summer season, but in some countries, such as Norway, outdoor spaces are utilized year round. When considering a design for a children's playground, Norwegian architecture firm Haugen Zohar created a graceful, conical structure as an auxiliary structure for students to use in the Winter. This enclosed space was perfect for bonfires, storytelling, and playing, even in chilly Scandinavian Winters.
The firm worked with an extremely limited budget to build the outdoor fireplace. Created from 80 layered circles with varied radii, the structure rises gracefully from a brushed concrete base. Haugen-Zohar reused leftover short wooden pieces from a nearby construction site for the structure, which was inspired by the Norwegian turf huts and old log construction. Each circle is made of 28 pieces of pine with oak separating wooden pieces placed vertically between the pine to help with airflow. Finishing off the structure is a curved sliding door.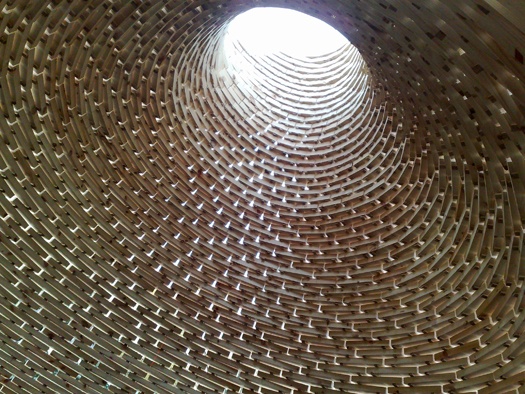 I'm imagining the possibilities of using a similar design here in the states. It would be a perfect rest stop for a cross-country skiing adventure, placed deep in a Sierra forest. Alternately, it would be a fantastic addition to a backyard, perhaps designed in conjunction with a Japanese outdoor soaking tub. The unique shape of this structure lends itself to a natural setting, though I can also see it making a huge impact in a more urban environment. How would you use it?