Patterned Bedding in ShelterPop Gilt Groupe Sale
Patterned Bedding: Making It Work
I'm excited to present a story from one of my favorite sites, ShelterPop!
In honor of the ultra-chic patterned bedding in the ShelterPop-curated Gilt sale, we're showing you how to create a room around eye-catching sheets and duvets.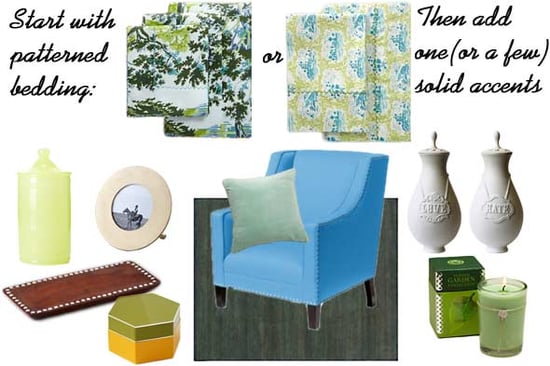 Patterned bedding is one of the easiest ways to create a personalized, fun bedroom. But what about the rest of the pieces in the room? Inspired by the dreamy, patterned bedding in our Gilt sale (where all the items in the above image are available!), we asked Sarasota, FL-based interior designer Lindsay Milner of A Design Story for some ideas on keeping a room from getting too overwhelming.
Keep the rest solid: "Don't let it all be patterned bedding — throw in some solid sheets and throw pillows to ground your comforter. This is an easy way to tone things down right away."
Consider an opposing pattern: "With patterned bedding, your bed becomes a focal point. So be cognizant of other patterns and colors you place around the room. If you have striped bedding, add in polka dots, flowers or other geometric patterns into the space. Better to be interesting than matchy-matchy."
Want more pattern? Keep it small: "Rugs and drapes should be neutral or in a delicate pattern."
Stay within the color family: "If you're going to add in other patterned items, see that they have similar colors, and focus on accessories like window shades, artwork and throw blankets."
As for those products above — you can find them at the ShelterPop-curated Gilt sale, which lasts from Wednesday, October 6 at noon to Saturday, October 9 at midnight.
Want more about Gilt? Our sister sites StyleList and Luxist have all the latest news.
Check out some of my favorite posts from ShelterPop: