Photos of the 2010 Kips Bay Decorator Show House
Sneak Peek: Design Tricks From the 2010 Kips Bay Decorator Show House
I'm excited to present a story from one of my favorite sites, ShelterPop!
After a six-month delay, the annual decorator show house opens its doors to the public -- and it is well worth the wait.
This year's Kips Bay Decorator Show House, the annual fundraising event for the Kips Bay Boys & Girls Club, got off to a rocky start when the original location was sold before the show house could open. Six months later in a new location across town, the Kips Bay Decorator Show House is finally ready for design enthusiasts to come in and drool.
While the 10,000-square-foot limestone mansion is a far cry from our own humble abodes, we found plenty of inspiration in the rooms decorated by twenty top designers -- and lots of good design tricks. Shall we take a peek inside?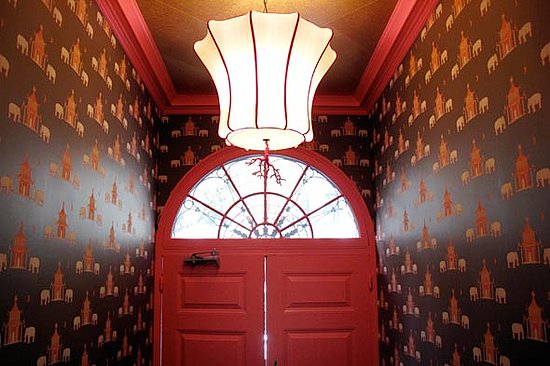 Decorator Show House Tip #1: Go Bold in the Entryway
The house opens with a punch -- a tropical sort of punch, that is -- with Katie Ridder's coral and taupe entryway. The wallpaper is Ridder's own design, and the bright painted trim is Benjamin Moore's "Autumn Cover."
Steal the look: Don't let your entryway languish in dull hues, follow Ridder's lead and greet your guests with a bright, bold color in the entryway.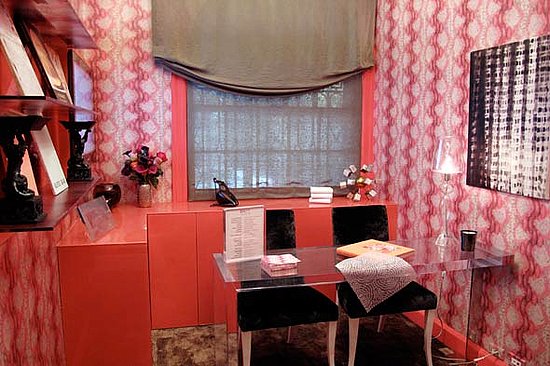 Decorator Show House Tip #2: Use Lucite in Small Rooms
Just off the entryway is a petite room designed by Brett Design Inc. The wild snakeskin patterned wallpaper is part of Brett Design's unusual collection of transparent wallpapers.
Steal the look: A Lucite desk is a smart choice for a small room, as it practically disappears. Plexi-Craft offers several ready-made options or you can custom order one to your own specifications.
Continue reading for more tips and photos!
Decorator Show House Tip #3: When Using An Unexpected Color, Go Neutral With Accents
Lavender is a tricky shade, but Eve Robinson Associates make it work in this kitchen with a full dining table. The crisp white trim and cabinets compliment shades of the palest purple and darker hues.
Steal the look: West Elm's Wrap Dining Chair is a close match to the white dining seats in this elegant room.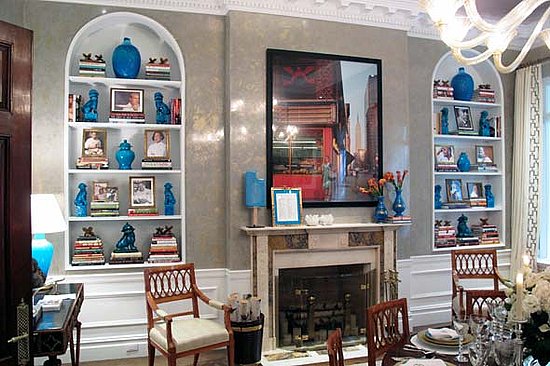 Decorator Show House Tip #4: Take Care When Decorating Bookshelvess
Cullman & Kravis's room took its inspiration from New York's rich culinary world and the elusive dinner-at-eight restaurant reservation. The dining table was set for eight of the design firm's favorite chefs and the artwork throughout the space is food-themed.
Steal the look: Bookcases go from boring to beautiful when books are interspersed with decorative objects like the turquoise ceramic pieces shown here.
Head to ShelterPop to see more sneak peek photos and decorating tips from the Kips Bay Show House!
Here are a few more of my favorite posts from ShelterPop this week: