Photos of Alexis and Trevor Traina's San Francisco Home in Vogue
10 Luxe Luncheon Ideas to Steal From Alexis and Trevor Traina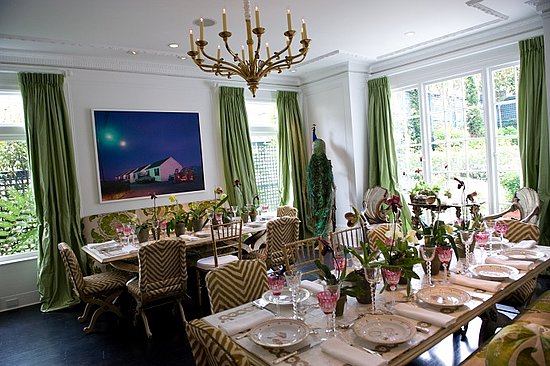 Last week, San Francisco royalty Alexis and Trevor Traina held a luncheon at their stately Beaux Arts manse to fête the De Young's new "Balenciaga and Spain" exhibit curated by American Vogue's Europe editor at large, Hamish Bowles. Dripping in sophistication and sprinkled with irreverence, the house in posh Pacific Heights is everything you'd expect the home of a well-connected Internet entrepreneur and the creative director of Swanson Vineyards to be. Just one look at the gorgeous couple's dining room interiors and I'm bursting with inspiration for an equally chic Spring celebration of my own.
Here are some ideas for re-creating this look:
Choose a cool color to use throughout your textiles like a grassy green, and add touches of a warm color like cranberry in accents to balance it.
Dining chairs upholstered in avocado green chevron ikat are one surefire way to create a gorgeous luncheon setting. But if your guest list exceeds your seating supply, rent some gilded chiavari chairs to accomodate more of your fabulous friends.
Paint your walls a crisp, classic white like Benjamin Moore's Decorator's White and stain your wood floors a dark hue. Then layer in the color and glamour with accessories, textiles, and furniture.
Have a seamstress make a pair of pintuck curtain panels for every window made of the richest silk you can find. Make sure they're long enough to romantically spill onto the floor.
Give your table a youthful look by surrounding it by a loveseat or sofa on one side. Have it upholstered in a fresh, floral damask fabric like Designers Guild Campanile Wedgwood.
Continue for five more ideas!
Instead of an overbearing floral centerpiece, set a small, sprightly orchid pot at each place setting. Guests can take them as a party favor.
Keep your table linens neutral or white with some embroidery accents. Choose tablecloths and napkins from luxury retailers like Sferra.
Add some irreverance to the room with a stuffed peacock in the corner.
Set the table with antique dinnerware and silverware and crystal glasses.
Push the curtains back to let in the gorgeous natural light.
Head to Vogue to see more photos of this stunning home!