Photos of the Seven Hotel in Paris
Design Drool: One Night in Paris at The Seven Hotel
Forget the Ritz. If you're looking for an unforgettable place to stay in Paris, the Seven Hotel it is.
Paris is known for exuding Old World charm -- cathedrals, cafes, cobblestone streets. History reigns and modern glam is mostly reserved for art and fashion movements in this French city.
The Seven Hotel, located near the Latin Quarter, is a total exception.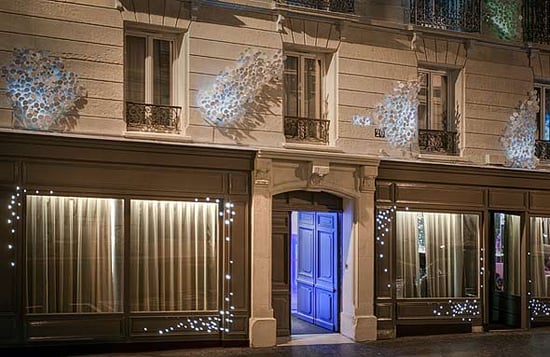 The 28-room designer hotel has seven sexed-up suites -- and we are still deciding which one we would book! You've got serene palettes in the "On/Off" and "Sublime" suites, and sultry ones in the "007" and "Black Diamond" ones. In the "Marie Antoinette" and "Alice" suites, childlike fantasies are played out in the decor.
Here, we take a look inside a few of our favorites. Where would you prefer to bunk after gazing at art inside the Louvre or sipping a demitasse of cafe in front of a charming little cafe?
007 Suite
After a leisurely romantic dinner at a restaurant in the Montmartre neighborhood, take your man to this clever space. With purple walls, curvy trim and a television showing all of the films in the 007 series, this suite is a place to play. While 007 himself didn't have an iPod docking station or an espresso machine, you will.
And when you're ready to retire -- James Bond style -- go the mid-century modern lounge across the room from the sleep space. Check out pics below. We love the revolver turned lampbase, and the bathroom, which has a chair in the glass shower -- how risque!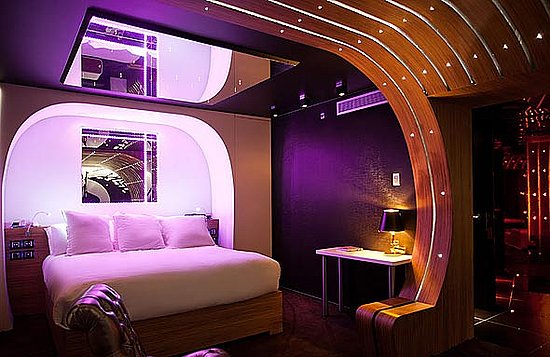 Continue reading to see more of the Seven Hotel!
Alice Suite
What makes this suite spectacular is that you get a choice of 10 lighting schemes. Feeling green? Switch on the pretty green lights. Want to be extra girly? Then turn on the pink. A play on the Alice in Wonderland tale, the room is filled with off-beat decorative elements like a stuffed rabbit protruding from one wall and a collection of various sized clocks hanging on another wall.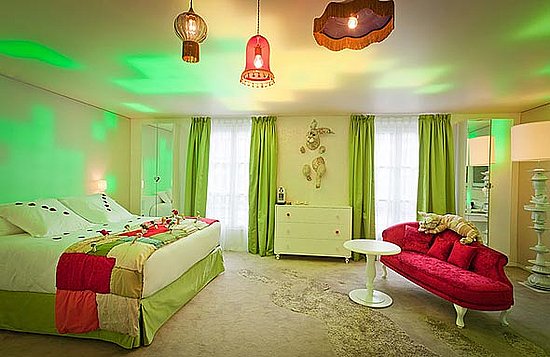 It won't be hard to feel like a kid again when staying in this room. Yet this time you have access to the mini-bar! In the Alice Suite, you can play chess while on the loo. Although the game may go on forever since there are only so many bathroom breaks in a day.
Marie Antoinette Suite
We can't help but recall slumber parties when we see the many plush pillows -- in bright shiny fabrics -- and dreamy drapes inside this room. It supposedly mimics the style of Marie Antoinette, the Austrian-born queen of France, later executed by guillotine towards the end of the 18th century.
There is a four-poster bed and claw-foot tub. Now all you need are a wedge of fromage, a few Dom Perignon knock-offs -- and ding! You've got a slumber party for the ladies.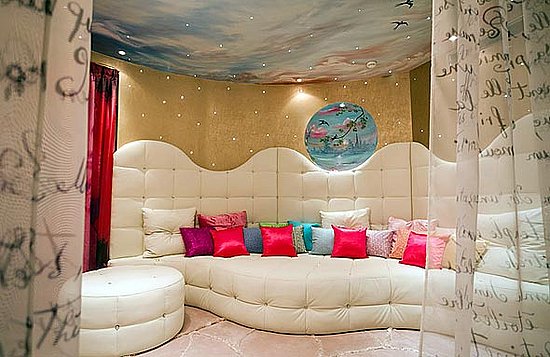 Lovez-Vous Suite
An ethanol fireplace, Jacuzzi designed for two and a terrace. What's not to like? This is a suite designed for lovers. There are even two televisions, putting an end to fighting over which show to watch. We love the funky soaking tub, which is covered in cowhide, best.
Head over to ShelterPop for more images and details about the hotel.
Here are a few more of our favorite ShelterPop posts!