Pictures of the 2010 Elle Decor Showhouse in San Francisco Benefitting the Junior League
Preview the Elle Decor Showhouse in San Francisco!
Last week, I headed to San Francisco's posh St. Francis Wood neighborhood to tour Elle Decor's first-ever showhouse, a stately 5,000-square-foot mansion that has been transformed from the inside out by nearly a dozen celebrated local interior and landscape designers.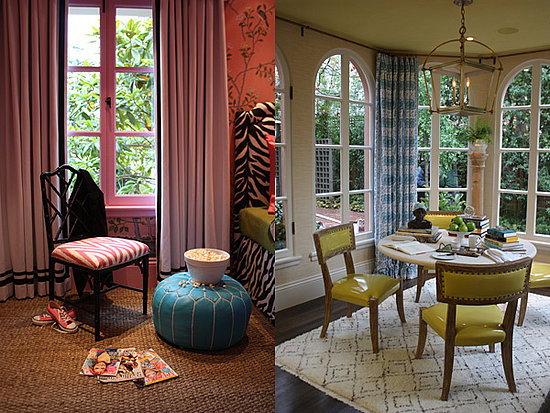 The five-bedroom, six-bath house was originally built in 1911 and underwent a massive renovation, including a complete overhaul of the kitchen, lower level, and bathrooms, by renowned sustainable builder and developer Regina Callan. Though the exterior maintains the look of an early twentieth century Mediterranean, the interiors have been overhauled with the technologies of the twenty-first century, including sustainable insulation and heating, a smart lighting system with LED lights, and solar panels.
Want to hear which designers participated and see many, many more photos from my tour?
Elle Decor's senior staff handpicked some of the most sought-after designers in the Bay Area to bring this dream to life, with each designer applying his or her vision to a separate room or set of rooms. The designers include Erin Martin (family room and lower level); Palmer Weiss (kitchen and breakfast room); Steven Volpe (dining room); Gary Spain (living room); Will Wick (den and bathroom); Kendall Wilkinson (entry foyer, office and upper hall); Suzanne Tucker (bedroom suite and deck); Jay Jeffers (master bedroom suite); Elizabeth Martin (bedroom); and Grant Gibson (youth bedroom) and Surfacedesign, Inc. (exterior landscape and greenhouse).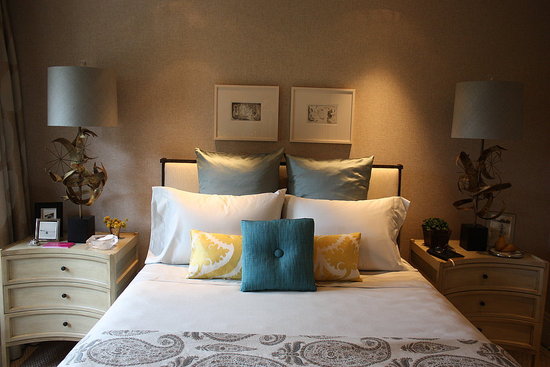 The magazine was intent that its first showhouse be cohesive and fluid — that the rooms' designs be united yet distinct. So to steer the transformation, the editors created a fictional client, an affluent (of course), fifth-generation San Francisco family with children who love to travel around the world and entertain family and friends. Thus, while incredibly chic, each room is also practical for a contemporary family with children; it's the epitome of livable luxury, to put it briefly.
If you live in the Bay Area, you can tour the house at 300 St. Francis Boulevard on weekends through Nov. 24, from 10 a.m. to 4 p.m. Admission is $30, and proceeds benefit the Junior League of San Francisco. Just head here to purchase your ticket.
P.S. The teen girl's bedroom on top left was designed by Grant Gibson while the kitchen on the right was designed by Palmer Weiss. The bedroom was designed by Elizabeth Martin.
Click through dozens of photos below!