Pink Valentine's Day Tabletop Decor
Pretty Pink Pieces For Your Valentine's Day Table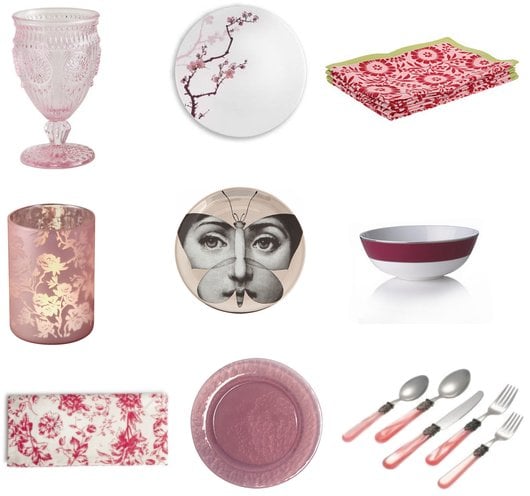 It's the perfect time of the year to go pastel pink. Don't let your Valentine's Day party decorations or front door have all the fun — embellish your tabletop with some inspired pink pieces as well.
For a subtle blush of pink, start with the Rosanna Classique Glass in Pink ($55 for a set of 4, top row, left). Created from vintage molds from the early 20th century, they'd be perfect for showcasing a Valentine's Day punch for a stay-at-home romantic dinner.
Add a soft glow to your table with the Floral Hurricane Candleholder ($5, middle row, left). Don't have time to grab a bouquet for your table? The frosted floral detailing on this candleholder can serve as a stand-in for fresh blooms.
For a romantic country touch, set the table with these Azalea Spring Toile Napkins ($5 each, bottom row, left). Perfectly pretty, these floral toile napkins are machine washable, so you can use them for everyday as well as special occasions.
To shop the rest of these pink pieces, just click on each image!