Quatrefoil Pattern Decor Shopping
Shopping For: Quatrefoils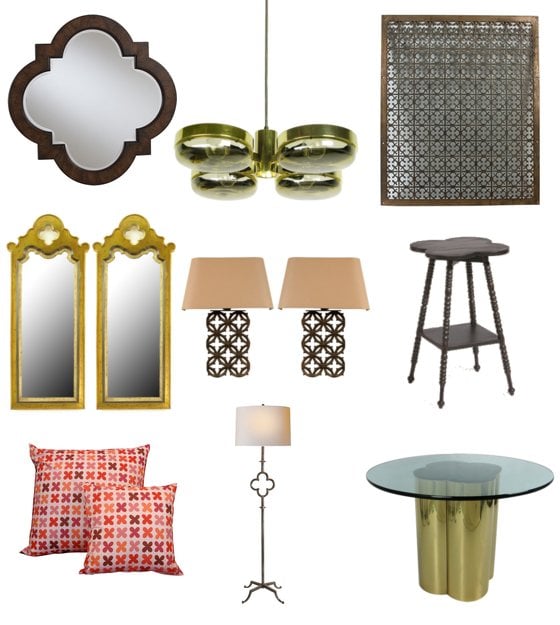 If you didn't get your fill of Etsy-sourced quatrefoils on Wednesday, I'm back with some chic pieces to tempt you once again. In case you're unfamiliar with this traditional design motif, here's a little history: the quatrefoil pattern, which resembles a four-leaved clover, has been seen in architecture and Christian symbolism for centuries. The quatrefoil pattern peaked in popularity during the Gothic Revival and Renaissance, but it's still going strong today. Now, the quatrefoil pattern is a common, elegant addition to interior decor and furniture.
A total stunner, and a design that could easily become an heirloom piece in your home, is the Ethan Allen Quatrefoil Mirror ($540, top row, left). Crafted from rubber wood and elm veneers, it has a slightly distressed finish.
For a cool vintage pendant, look to the Modernist Brass and Smoked Glass Quatrefoil Chandelier ($2,800, top row, middle). Straight from the swinging '70s, this brass and smoked glass chandelier features a long-stemmed orbital design holiding convex glass inserts in round brass holders. It would look great in any room you feature it, and the long stem can be shortened to accommodate a range of ceiling heights.
Do you have your eye on another find? Just click on its image to start shopping!