The Raven Movie Decor
Go Poe-Chic and Crib a Few Designing Notes From The Raven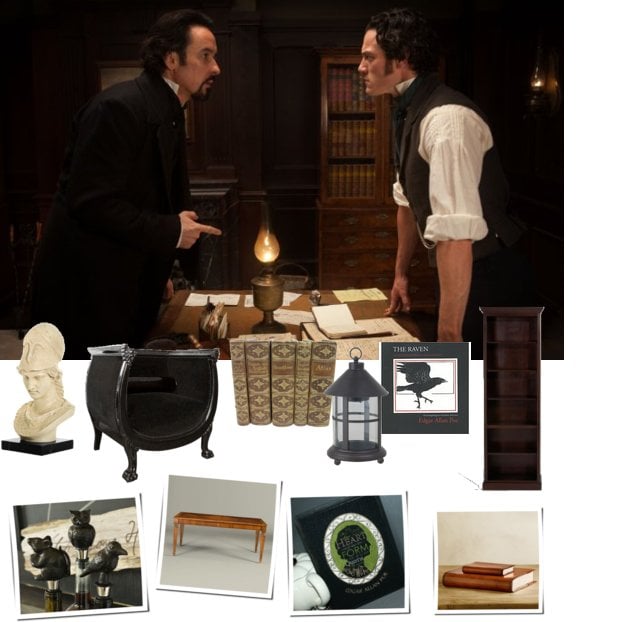 BuzzSugar recently posted the first trailer from The Raven, and while the movie looks positively terrifying, I'm definitely inspired by the 19th century set design featured throughout the film. Starring John Cusack, The Raven isn't a film version of the famous Edgar Allen Poe poem, but it does reference a number of the American writer's short stories and poems. Inspired by the look of the set, as well as the famous poem itself, I found a few designs that reference both the Edgar Allen Poe poem and the movie.
One item that directly references the poem is the Bust of Athena Pallas ($170). In the poem, Poe references that the raven "Perched upon a bust of Pallas just above my chamber door — Perched, and sat, and nothing more." While there will hopefully be no ravens perching upon your bust, this sculpture of the Greek goddess of wisdom is the perfect finishing touch for a mantel, or a quirky touch to add to your vanity table — she'd be great for modeling a few of your favorite necklaces.
Another item that I'm going ga ga over is the Victorian Chair in Black Lacquer and Belgian Velvet ($4,900). With all new finishes and upholstery, this luxurious chair seems like the perfect place for a brooding writer to pen his next work. For a touch of modernity, the chair comes with a black patent leather bolster and also features a leather detail up the back.
Finally, for a touch of seasonal fun, try the Halloween Bottle Stoppers ($19), one of which features the bird in question.
Looking for more Poe-inspired decor? Shop each piece by clicking on the image!