Rental Decorating Tips
8 Simple Ways to Style a Rented Space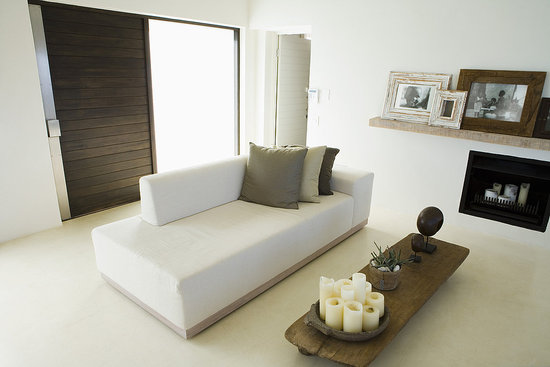 If you're a city-dweller, chances are you're living in a rented apartment. If you love home decor, this can prove to be quite a debacle. You have to deal with landlords, city regulations, and you have to consider how long you'll really be in a space. Instead of breaking the bank, or living in a world sans design, consider these eight simple ways to bring style to your rented home and make it your own.
Talk to your landlord. If your landlord is anything like mine, tracking them down can be a little bit of an issue. It's best to lay out the ground rules of what kinds of changes you can make as soon as possible. Are they OK with you painting? What's the deal with hanging artwork or putting in new lighting fixtures? If there's an appliance or floor that looks super dated, or makes you slightly queasy, don't be afraid to ask if they're willing to update it before you move in.
Eliminate clutter. I know this sounds like a giveaway, but trust me, it's not. In the process of packing, be sure to purge the things you are totally over. But this may all change once you make your way into a new space. You'll find that much of what you thought would work doesn't fit the bill. Put it on Craigslist. Sell to a friend. Donate to Goodwill. Just please, don't give up any of your precious space for something you don't like or need.
Look to the light. Rearrange furniture in a way that allows the sunshine to come in. Get rid of those boob lights — a technical term, of course — that typically come in rentals and consider a new fixture. A ceiling fan with good lighting or a beautiful chandelier can transform the vibe of a room. Just be sure to hold on to the original lighting fixtures so there are no issues when you're ready to move on to bigger and better spaces.
Buy versatile pieces. When shopping for your new space, make sure that pricier pieces reflect your style and not solely the confines of your new rental. If you're going to invest in furniture, make sure it's something you could see yourself loving years from now.
Get the rest of the tips for styling your rented space!
Shop secondhand. If you need a small desk or skinny bookshelf for that one awkward corner, shop secondhand. It's a great way to save some money and get some truly beautiful one-of-a-kind pieces with a real story. And who doesn't love a good excuse to hang out at the flea market?
Consider temporary wall options. Painting is not the only way to transform a wall. Consider temporary wallpaper from a company like Tempaper. If you just want a little decoration for a bare wall, seek out some stencils. They're easy to work with and come in an array of different designs. My favorite is this stencil of nesting dolls from Stencil1.
Display the things you love. The hardest part of living in a rental is that it takes some time to make it feel like your own. The best way to tend to your nest is to show off the things you love. If you're a collector, find an interesting way to showcase your treasures. Have some vintage family photos? A well-executed arrangement on a bare wall will instantly make it feel a little more like home.
Plants and flowers are your best friends. Without the injection of color on the walls, your new rental may initially feel a little drab or dreary. Plants are surefire solution to bringing a sense of life to a rented space. I always make sure to have some fresh flowers in my bedroom in order to keep things looking alive. A little green goes a long way.
Do have any other tips for renters trying to style a space and make it their own? Share below!