A Retrospective of Yves Klein Blue
Color Diary: Yves Klein Blue
I'm excited to present a story from one of my favorite sites, ShelterPop!
Named for the French artist obsessed with its pure qualities, Yves Klein Blue has been inspiring designers for decades.
There has to be something very special about a color if it inspires an artist to create an entire series of work around it. Such was the case with French artist Yves Klein who did exactly that with the eponymous color he created — Yves Klein Blue, also known as International Klein blue.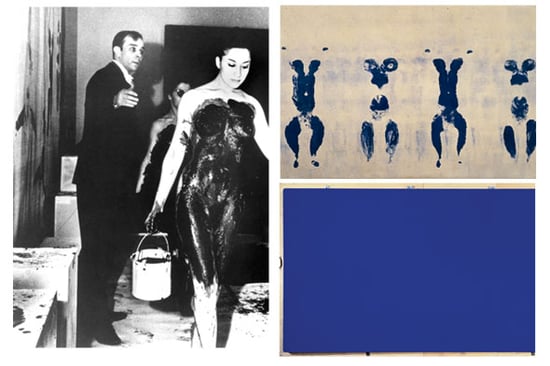 In the late 1950s he embarked on a series of monochromatic works and performances in which naked models were painted in the color and then used to mark canvases with their bodies. The rich, lapis-lazuli toned blue was the works' central theme. According to Gabriel Riera, Director of Communications for the Smithsonian Institute — where the Hirshhorn Museum is having a major retrospective of Klein's work until September 12th — Klein saw more to this breathtaking color than just a pretty shade of blue.
"The blue canvases acted as a starting-off point or gateway to Klein's real artwork, which represented the idea of a pure, expansive void," he says. This all stemmed from a spiritual experience Klein once had at the beach with friends, where he was enchanted by the vastness of the ocean and sky. "In person, the large blue canvases vibrate and the pure color almost jumps off the painting," says Riera. This unique effect is a result of the way this color is created. Ultramarine blue pigment is placed — not mixed — into a liquid binder, causing it to stay suspended. Riera adds, "The physical properties make the color hard to reproduce."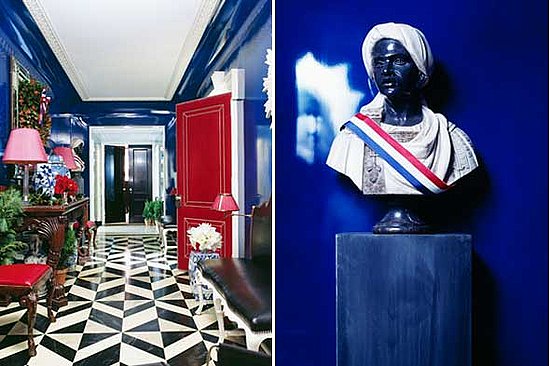 But that hasn't stopped people from loving and using it. In face, several other interior designers and architects have been enchanted with the color — using it in their clients' homes, as well as their own. New York City-based interior designer Miles Redd remembers his first experience with Yves Klein Blue. "The first time I ever became aware of Yves Klein was at age 10. GQ had done a fashion story inspired by the parties Klein used to throw, where he would paint models in cobalt blue. Everyone was blue and dressed in tuxedos and gowns. The color and images really fascinated me and I became curious about the artist."
Continue reading for more Yves Klein blue!
Redd has since used the color in several of his clients' homes — considering it a neutral of sorts. "It's such a strong, intense cobalt, yet it can be [used] in any room. The very nature of its strength makes other colors pop," he says. "I designed the hallway of a young Manhattan couple and lacquered the walls in Yves Klein Blue. Applying it as a lacquer really brought out the color's inherent luminosity and made it work with bold reds and other primaries." It can also bring a modern edge to a room. "That apartment was filled with very traditional Virginian brown furniture. The color made everything look young, fresh and ultimately timeless."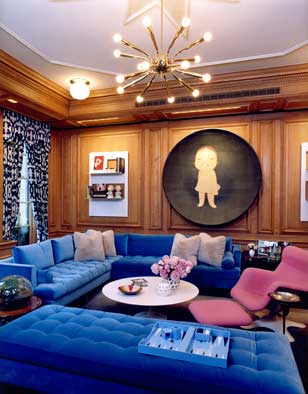 But what makes it so versatile and timeless? Interior designer Amie Weitzman has a theory and it relates to her background in fashion. "Basic menswear fabrics serve as the base of so many rooms that I design — gray flannel, a neutral brown tweed — they all are neutrals that go with everything." And what's the number one neutral in clothing? Denim. "You can wear denim with any color or any style and the finished look works," she says. She designed the room (at left) to serve as a cigar lounge for a music industry executive. "I wanted to take something really classic, like a simple tufted sofa in a cotton velvet, and make it really pop. That, combined with edgy contemporary art and turn-of-the-century wood paneling, created an interesting juxtaposition."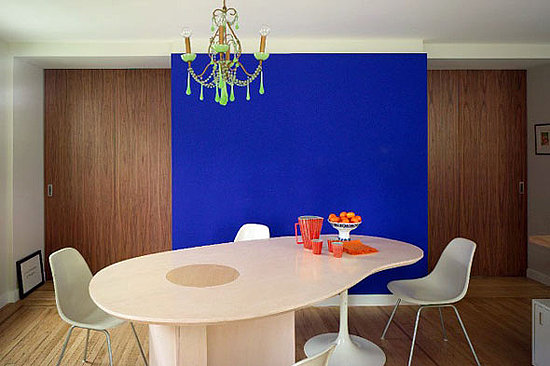 The color also helps to highlight a home's architectural elements. Architect Joe Serrins worked with photographer Annie Schlechter to create a sharp, clean dining room that included a freestanding blue wall (seen above). The color was really Schlechter's idea. "She suggested it, and by suggested, I mean she had a eureka moment and told me this was the only option." Luckily, the color complements the space. "It acts as an anchor and focal point for the room and as a beautiful background for the other vivid colors and furnishings."
Whether you use a little or a lot of it, in a modern or traditional room, this color will make a statement. And if history is any indicator, Yves Klein Blue will remain fresh and timeless for countless years to come.
The Yves Klein Blue retrospective is on display until September 12th.
Check out some more of my favorite stories from ShelterPop!