Ruby-Red Home Decor Shopping
Beyond Red: Decorating With Ruby Hues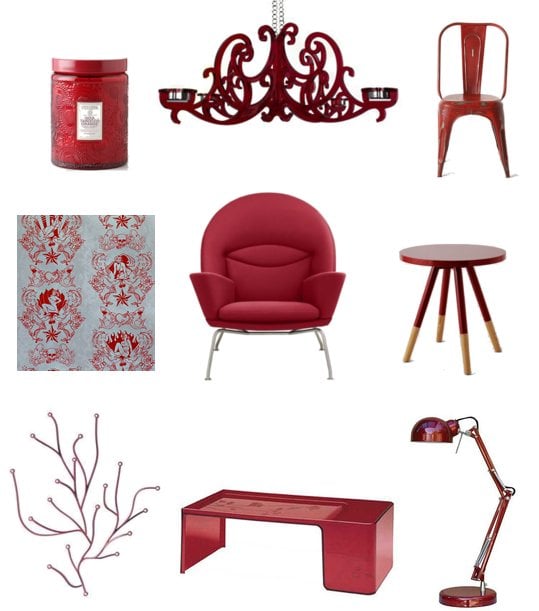 When it comes to deep saturated color, ruby rules the red tones. This saturated color originally was used to represent the color that best expressed the ruby gemstone. Its gorgeous red color strikes me as passionate, regal, and perfect for adding to your home decor.
Ruby is actually an easier shade to decorate with than straight red, thanks to the brown and purple tones present in varying shades of the color. Essentially, this means you have a red shade that plays well with a variety of other colors. Try mixing a ruby-red chandelier with a duck's-egg shade of painted walls, or add a ruby-red sofa to an eclectic mix of multihued wood furniture and patterned upholstered chairs.
For a modern ruby chandelier that won't strain your pocketbook, try the Boom Lucite Chandelier ($105). Inspired by papercut art, the chandelier features two planes of voluptuous laser cut into lucite curls. For an even greater impact, try hanging a cluster of three.
The color mix in Flavor Paper's Shore Leave Wallpaper ($150) has a fun edge, which matches the imagery. Designed by Emily Minnie, the pattern features old-school tattoo images including stars, pinup girls, and anchors. I'd love to see this papering a powder room in a roller derby girl's home.
Perhaps my absolute favorite find is the Hans Wegner Oculus Chair ($5,500). Available in a variety of colors, this gorgeous chair features a wool upholstery and a stainless steel base. Originally designed in 1960, Carl Hansen & Son began reproducing the Oculus chair three years ago based on the prototype still owned by Wegner's family.
Did something else catch your eye? Click the image to shop your ruby-red favorite.