ShelterPop Story With Photos and Ideas For Small Space Living
Magic Tricks to Make a Small Room Seem Larger
I'm excited to present a post from one of my favorite sites, ShelterPop!
Are you short on square footage? Maybe, like many of us, you're stuck with a fraction of what you'd like. But that doesn't mean you can't fake it with some magic tricks . . .
If you've been feeling down lately about the size of your home, take heart. Follow these fail-safe designer tricks, and we guarantee you'll stop crying about your spatial shortfalls and start making the most of what you have.

Small Room Idea #1: Mind Your Accessories
Take stock of the small pieces you love and group those prized possessions in clusters, rather than scattering them all over the room. Do you have a collection of vintage trophies? Give it more visual impact -- and give your space some breathing room -- by arranging awards together on one side of (not across) a fireplace mantel or end table. And remember: While it's okay to show your mementos, just don't put them all out. "Too many knickknacks read as clutter. They just tighten up small spaces even more," says Jillian Harris, interior designer and host of ABC's "Extreme Makeover: Home Edition." Try adding and subtracting pieces from your current layout. If an item's absence bestows an airiness you've been missing, pack it away and live without it for awhile.
Small Room Idea #2: Utilize Color and Patterns
While most space-challenged folks instinctively play it safe with neutrals and solids, designers agree that a blast of blue here and a shock of chevron print there will keep eyes moving around the room. "Stripes and patterns of varying sizes command attention, give a small room depth and erase its constrictive outline," says interior designer, Christopher Coleman. But experiment with scale before reupholstering the couch: Harris suggests starting with, say, a herringbone wingback side chair and going from there. Pair it with an oversize houndstooth ottoman, then drape it with a delicate plaid throw. And if you decide you want a jewel-toned bedroom, try choosing window treatments in a similar color to your wall paint. It prevents sight lines from splitting up unattractively.
Keep reading for two more magic tricks!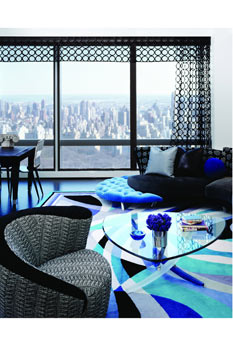 Small Room Idea #3: Arrange and Choose Furniture Wisely
You know by now that you get get extra legroom via multipurpose pieces with hidden storage. But it's not just what you have, It's where you place it. Blocking walkways is by far the biggest floor plan no-no. A close second? Cutting off the precious view into and out of your home. Aim for an unbroken, natural flow by moving furniture away from windows and doors and closer to walls; the room will look larger when more of the floor is visible. Coleman dislikes blocky, right-angled furniture and favors curvier, more organically shaped pieces: "They make small rooms seem cavernous because their lines go on forever. Plus, they're far more versatile than plain old squares and rectangles." Another Coleman trick? Choose armless slipper chairs and sofas -- the abrupt horizontal lines of the arms can interrupt the room's flow and add needless weight. Another great space saver? Nesting coffee tables. Better yet, find some in acrylic or glass -- any piece that allows light to filter through it also gives the illusion of more space.
Small Room Idea #4: Use Lighting to your Advantage
Lighting small spaces can be tricky. It's not just about the types of fixtures you use, but the kind of light they give off, too. Choose a bulb that's too warm and an already-cramped space can feel even more claustrophobic. One that's too blue can make your living room feel like the set of "Grey's Anatomy." Harris suggests testing out bulbs in a small entry first, as it's often a place that sees little light. "After trying eight bulbs myself, I like GE's Daylight CFL bulb the best," she says. "It's the closest thing to natural light and doesn't make the space feel too cold." Likewise, keep the same intensity in the fixtures throughout the room so there's a sense of evenness. Otherwise, you'll only draw attention to darker or lighter corners and recesses, further calling out the room's flaws and Lilliputian dimensions. Try to invest in multiple lamps of the same style, too: Coleman often uses four floor lamps of equal height (a little taller than the couch's height) in small rooms so that the eye moves around them.
What are your magic tricks for dealing with a small space?
Here are a few more of our favorite ShelterPop posts this week!
Photos by Jillian Harris and Christopher Coleman