ShelterPop Story With Photos of Lotta Jansdotter Studio Tour
Lotta Jansdotter in Her Brooklyn Studio
I'm excited to present a post from one of my favorite sites, ShelterPop!
Designer and author Lotta Jansdotter gives ShelterPop a tour of her Brooklyn studio and talks about her latest book. Enter our giveaway, and you might just win an autographed copy!
Lotta Jansdotter is like the big sister you wish you had – the one who always looks cool and was really good in art class. Jansdotter was at the forefront of the handmade movement before words like handmade, craft, and blog became a part of our everyday lives. Before the days of Etsy, Jansdotter, the author of six craft books, built an empire with her silk-screened homewares and accessories. Today, you can find these items everywhere from independent boutiques to big brand stores like Barnes & Noble and West Elm.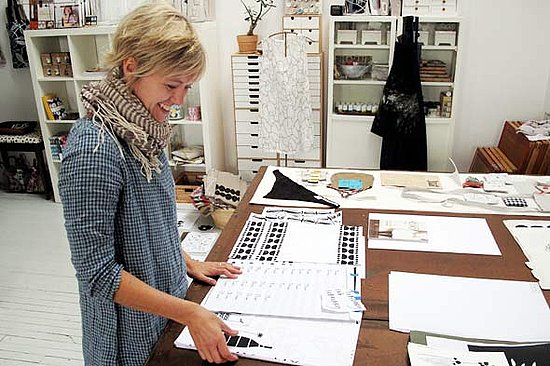 ShelterPop visited Jansdotter at her Brooklyn studio to see where she works and discuss her latest book. The workshop, which is housed in a former factory, is a three-dimensional embodiment of her handmade life.
Jansdotter's latest book "Handmade Living" is a departure from her how-to books of the past. Instead of a project-based book, Jansdotter has created a tome dedicated to what she calls "handmade living," with nary a step-by-step instruction in sight. Instead, the book is more of a portrait of Jansdotter's life. It features a sneak peek into Jansdotter's home and studio, an inside look into how she entertains at home and a list of her favorite design resources.
Jansdotter published a similar book with a Japanese publisher a decade ago, but her US publishers balked at the idea of a less structured craft book. Finally, Chronicle Books decided to take a chance on the avant-garde lifestyle book. "We didn't want to spell things out so much," says Jansdotter of the looser, laid-back vibe of her new book.
A few examples of how Jansdotter lives the "handmade life" everyday: She sews her own table linens. With leftover fabric scraps, she makes an impromptu mobile. When she craves a new pillow, she makes one. She's noticed that more and more people are embracing the crafting life. "When you said 'craft' five years ago, it meant something different," says Jansdotter. Today, craft is "fancy, refined, good-looking – almost a luxury."
Jansdotter is clearly full of energy with several new projects on the horizon, including a book about creative people's work spaces, a 2012 calendar, a limited edition of hand-screened prints and a t-shirt design collaboration with her seven-year-old god son, among many others. ShelterPop toured the space where these projects come to life. Take a peek inside:
Above: Jansdotter looks over designs for a new wall calendar – she figures out patterns and designs using photocopies of her own drawings.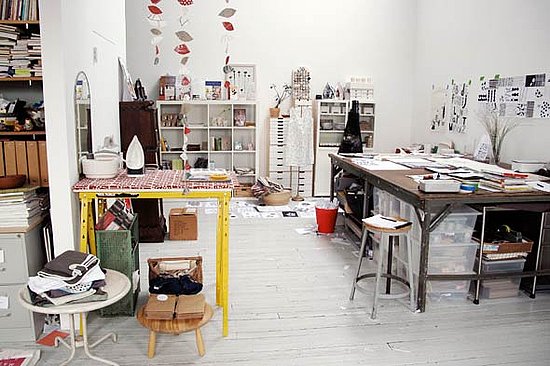 The main work area is centered around two industrial tables pushed together; the tables were in the space when Jansdotter moved her studio into the former factory. At left, Jansdotter created an oversize ironing board with a tall pair of yellow sawhorses.
Continue touring Lotta's studio!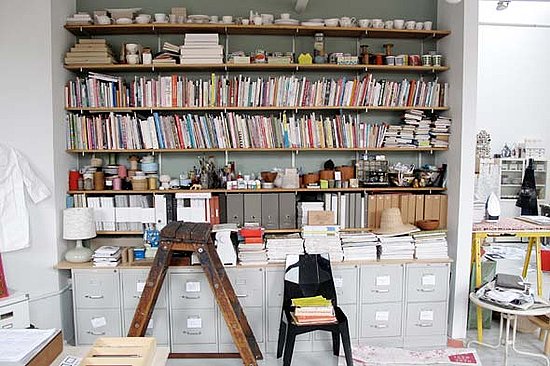 A wall in the studio is covered in shelving to hold Jansdotter's ever-growing collection of books, which she cites as one of her main sources of inspiration.
Love Lotta's studio? Take the entire tour at ShelterPop.
Here are some of my other favorite ShelterPop posts this week:
All photos courtesy of Laura Fenton