Shopping For Blue Chairs
In a Blue Mood: Shopping For Teal, Turquoise, Sky Blue, and Indigo Seating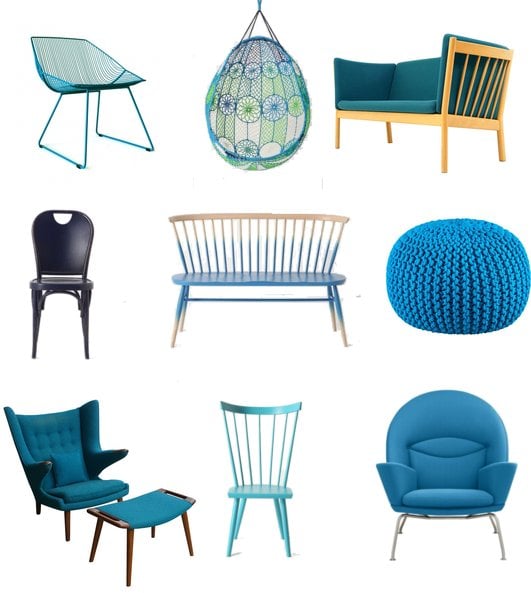 I'm thinking about Spring vacations to tropical spots like Tulum and French Polynesia at the moment, and the gorgeous color of the ocean is forefront in my mind during these daydreams. Even if I can't book a flight today, I can channel those oceanic blues with a variety of gorgeous seating options.
I'd love to add Hans Wegner's classic and quirky Papa Bear Chair and Ottoman ($14,000, bottom row, left) to my home. An absolute classic of midcentury modern design, it's the type of iconic chair that my husband would actually enjoy sitting in — which recommends it all the more. This particular chair comes with the original blue fabric upholstery, which is in excellent vintage condition.
For a quick and cheap blue seating pick-me-up, choose the CB2 Knitted Pool Pouf, middle row, right) ($80). The chunky sweater knit cotton weave will add fun texture to your living room or bedroom, while the vivid turquoise shade will certainly bring a major pop of color.
In my opinion, the perfect entry bench is none other than the Anthropologie Windsor Love Seat ($1,500, middle row, center). Designed in 1956 by Ercol, it features a cool blue ombre-lacquered seat. I also love that it uses a water-based, eco-friendlier lacquer to coat its solid beech and elm exterior.
Have your eye on another blue seating option? Just click on it to get shopping!