Shopping For Indigo Blue Home Decor
Roundup: Indigo as the New Neutral
The color indigo, whose shade reflects the deepest blues of a night sky, has recently been touted by shelter magazines and top design stores alike as the new neutral. It makes sense, as the deeply saturated color does go with most everything — West Elm even used the color as its inspiration for the Fall collection.



When indigo dye was first introduced to European nations, it was worn by the wealthy, since it was so expensive to produce. The source for indigo dye was the Indigofera tinctoria plants of India, and indigo dye was produced by a process of fermentation, filtering, and drying the dye into cakes. Now, the process is much more streamlined, and indigo can be embraced by every home decorator. Let's take a look at some current indigo pieces on the market.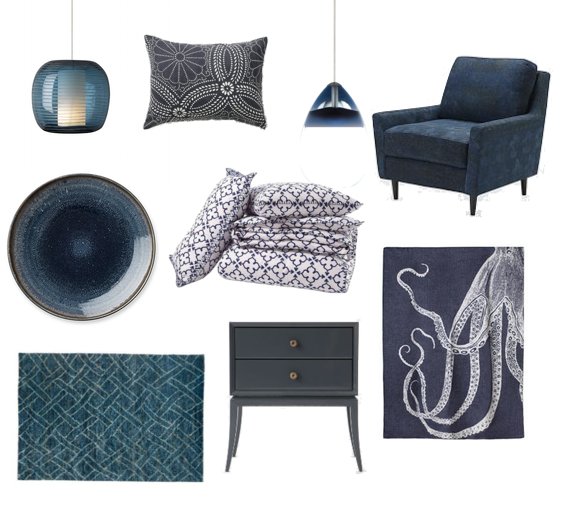 One of my current favorites is West Elm's Everett Kantha Chair ($900, top right). Although the lines of the chair itself were midcentury-inspired, the upholstery is actually made from handmade quilts discovered in Jaipur, India. Each chair requires three quilts, which are overdyed in indigo blue. The sari patterns are still visible through the dye, and the overall effect is quite beautiful.



I'm also really impressed by Diane von Furstenburg's tableware collection, including this Powerglaze Plate ($23). This glazed stoneware plate uses subtle gradations of blue and beige to create an organic-looking finish. I'd love to set a table with a mix of these plates and some Heath Ceramics bowls.


Inspired by something else in my roundup? Shop it by clicking the images above!