Shopping For Tufted Furniture
Go Girlie With Colorful, Fabric Tufting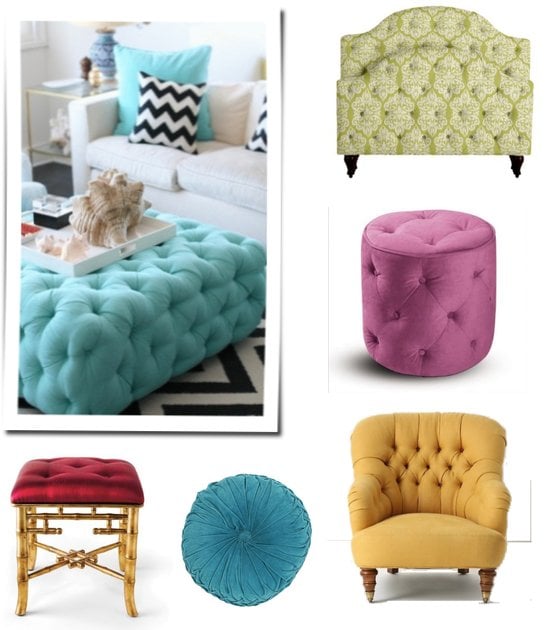 Incorporating a tufted piece of furniture can add loads of panache to a space, but adopting such a traditional style might not be for everyone. If you still associate the trend with smoking jackets, formal libraries, and dark, glossy leather, think about adopting colorful fabric versions instead. The look is undeniably feminine and contemporary enough for a more modern aesthetic.
Jonathan Adler is a master at interpreting vintage styles in a fresh way, and he certainly doesn't shy away from color. He decorated fashion designer Liz Lange's apartment, playing with scale, texture, pattern, and of course color! The giant tufted ottoman he uses becomes the focal point of the room, not only because of its size and vibrant shade, but also because of the stark difference in textures between the clean lines of the sofa and the beautiful, feminine curves of the ottoman.
This mix of traditional and modern aesthetics creates interest in a room, and tufted pieces covered in bright hues cover both categories. Here are a variety of tufted beauties that achieve a similar look. Wouldn't this regal Palace Stool ($300) be stunning under a simple vanity? With small, spindled legs and a top-heavy shape, this Corrigan Chair ($1,700) looks incredibly cozy.
The ultimate "adult staple," though, is an amazing headboard. This Camden Headboard ($680-$1,535) almost looks like your grandmother's, but the ikat medallion print keeps it contemporary. Shop the tufted pieces above to add an element of this classic style to your pad.