Shopping For Wool Rugs and Wooden Stools
Perfect Pairings: 5 Wooden Stools For 5 Vibrant Rugs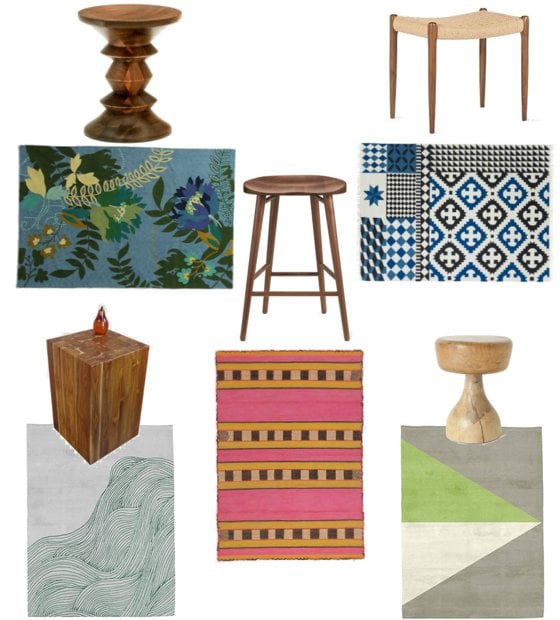 The absence of flashy colors or excessive finish on each of these five stools allows each one's unusual shape and wonderful natural coloring to shine through. While I appreciate the simplicity of each stool, I must admit that the idea of pairing each one with a more eye-catching rug is hard to resist. A colorful, pattern-rich rug helps to enhance the beauty of each wooden stool.
The gentle curves and mushroom-like shape of the Morel Stool ($300) provides a pleasing accompaniment to the sharp angles and lime green triangular punch featured on the Second Studio Korsor Rug ($1,000).
Another favorite pairing is the Design Within Reach Moller Model 80A Stool with Natural Woven Seat ($455) and the Gandia Blasco - Palermo Wool Kilim Rug ($650). The rug mixes traditional Scandinavian motifs and colors in a modern way, playing perfectly off of the vintage Niels Otto Møller-designed stool.
Has another pairing struck your fancy? Just click on each image to shop!