Spa Gifts For Women
Gift Guide: Chic Spa Accents For Pampered Pals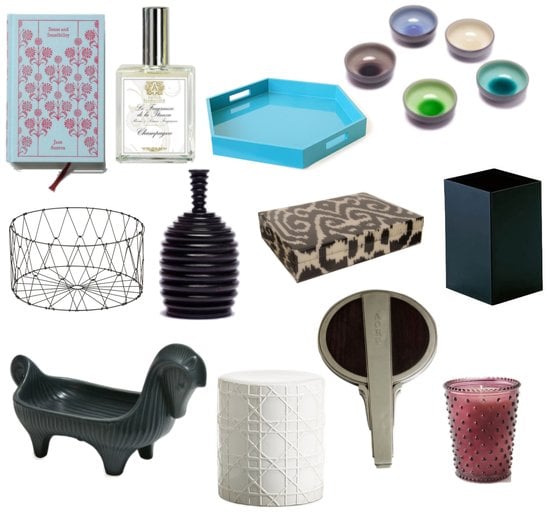 Whether we get ready for nights on the town in front of the bathroom mirror or at a vanity table in the bedroom, we all want these private spaces to be as chic, useful, and pretty as possible. And for those of us whose best gal pals are major fans of spa-like atmospheres, these gifts are sure to be welcome when they're putting on their finishing touch of lipstick, or relaxing after a big date in the tub with a favorite novel.
To organize jewelry or other small baubles, use the Set of Five Crackle Bowls ($45, top row, right). These colorful bowls feature a crackle glazed detailing and will make a favorite pair of diamond studs or chandelier earrings pop against their background colors. For more organizing, the CB2 Collapsible Wire Basket ($40, middle row, left) is the perfect thing for holding random items in need of sorting — just not tonight. Use it for towels in the bathroom, or party clothes that shouldn't simply be abandoned on the bedroom floor.
My favorite find is the Georg Jensen Hand Mirror (inquire for price, bottom row, middle right). From 1940, this deco-era detailed mirror from Georg Jensen is absolutely divine, and the type of item your friend will cherish for her entire life. Crafted from sterling and wood with monogram markings on the top rim, it's a definite must for glamour girls.
Shop the rest of my finds, from trays to vases to bowls and boxes, by clicking on each image.