Thom Browne's New York Home in Architectural Digest
A Look Inside Designer Thom Browne's New York Home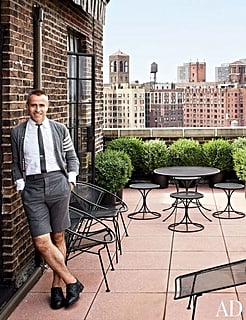 It should come as no surprise that Thom Browne's New York apartment is just as tailored as his sharply cut (and award-winning) men's suiting, but despite its clean lines and spare furnishings, the space has a comforting and inviting feeling.
"Nothing is worse than a home that is too perfect and done," he tells Lynn Yaeger in an interview for Architectural Digest, which published photographer Douglas Friedman's images of his space in its September issue. "You have to live in it."
And live he does, even though he admits he likes to keep his space "as clean and as uncluttered as possible." And when he's not spending time inside, Browne has 300 square feet of outdoor space to enjoy — which he says was a major factor in buying the place. Below is a look into Browne's elegantly appointed home.