Use Window Film to Decorate Windows and Create Privacy
Bright Idea: How to Block an Ugly View
I'm excited to present a post from one of my favorite sites, ShelterPop!
With a decorative window film, you can hide an ugly view -- and let the sun shine through.
There's nothing worse than working hard to get a room just right and still having to put up with the one thing you can't change: an ugly view.
Sure, curtains would solve the problem, but if you keep them closed, you'll lose natural light. Blinds are as outdated as halogen lamps, and the wrong sheers can have a way of making any room look like a dorm room.
But there is one chic solution that will help you block an ugly view and still let the sun shine in: window films.
Easy to apply, and even easier to remove, window films work like contact paper for your windows. But we're not talking about the faux-stained-glass films that are unfortunately popular on many front doors -- we're talking about colorless or light opaque patterns that look great in any room of your house or apartment.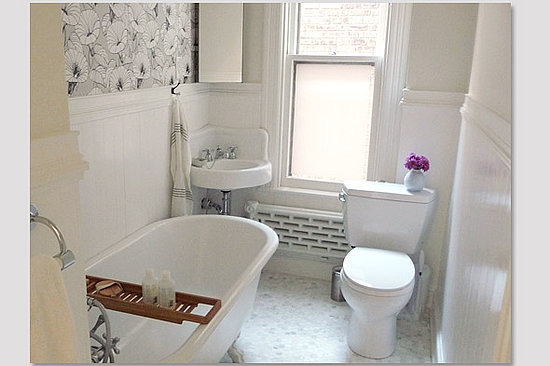 Continue reading!
In the bathroom, window films like this plain, matte version from IKEA let in all the natural light you need for getting ready and give you as much privacy as curtains or blinds.
Window films are also great for the kitchen. Unlike curtains, they won't absorb the fragrances of your delicious meals.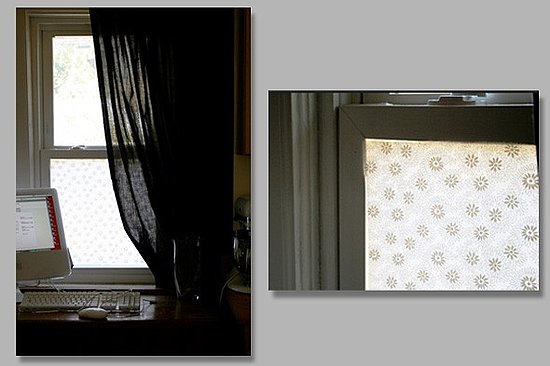 In the bedroom, my boyfriend and I use a homemade version inspired by All Buttoned Up under semi-sheer curtains to ensure extra privacy and block the view of the bedroom next door. To get the look, we actually used a light fabric (a sarong, in fact) and attached it to the window with spray starch.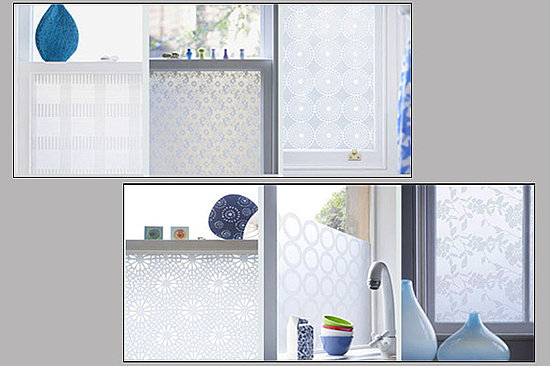 Perhaps the most drool-worthy window films come from UK designer Emma Jeffs. Introduced in 2006, Jeffs's window films are elegant and modern, but they're also fun. And pricey ($76 a roll). We've had decent luck finding what we like to call "Emma Jeffs knock-offs" that do the trick on eBay for about $12, and the less-fun but still practical version from IKEA is $4.99 a roll.
Here are some more of my favorite ShelterPop posts this week: