Using Canning Jars as Decor
Cool Idea: Canned Goods as Kitchen Décor
The other day I stopped into the tiny, trendy, and thoroughly delicious Mile End Deli for a quick bite. While my chicken salad sandwich and Stumptown iced coffee didn't disappoint, the visual highlight for me was the deli's exterior display. I love how Mile End used rows of oversize canning jars, stocked with goods used on a daily basis at the deli, as a decorating element. The jars, and their vibrant contents, provide a colorful, vibrant display that advertises the deli's fantastic food.
Decorating with canned goods is a practical way to add an element of color and homey goodness to a kitchen or dining room. (And even better: you can eat your décor, talk about multitasking.) I'm also a fan of using canning jars for pantry storage. Kelly Coyne and Erik Knutzen of the blog Root Simple, who also wrote the fantastic book The Urban Homestead, recently gave readers a peek into their own pantry. Keep reading to take a look.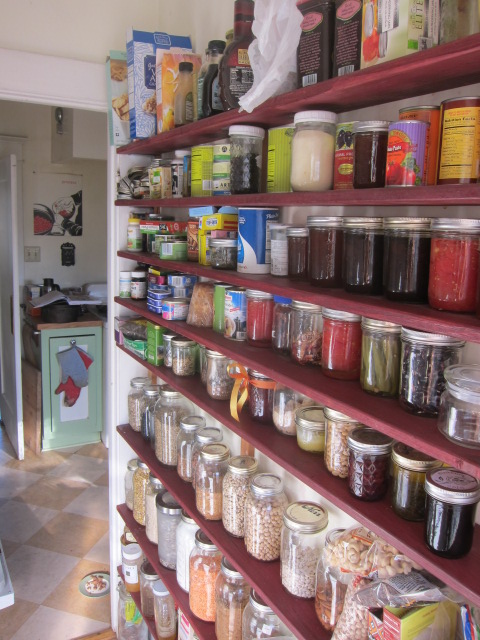 Glass jar storage is so much more appealing than cardboard boxes or plastic bags. Plus, the clear glass lets you easily peek at your pantry stock, letting you quickly assess what you have on hand and what might need to be replaced. Tell me, do you store, or display, canning jars as part of your kitchen or dining room décor?