Yellow Home Decor Shopping For Spring
Step Into Spring With Sunny Yellow Accents For the Home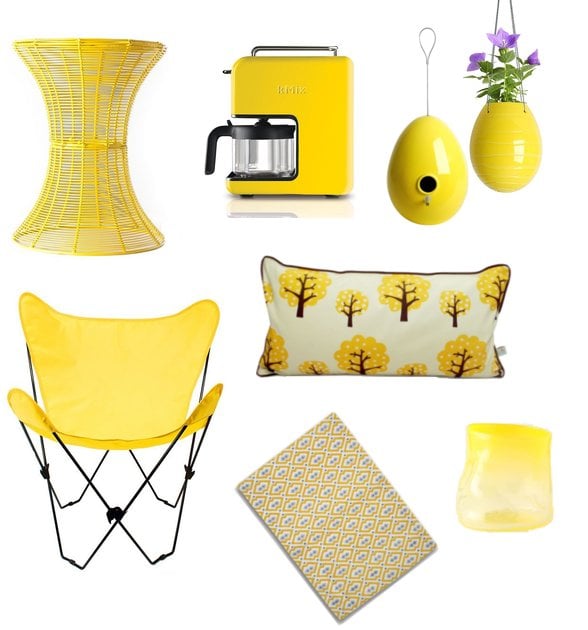 For me, yellow is one of those colors that epitomizes Spring. Maybe it's the added daylight that has me reaching for this sunny hue, but I always find myself gravitating toward this color in early Spring. One of my favorite ways to instantly brighten a space is to introduce yellow. Whether it's a countertop staple or a tabletop accessory, you'd be surprised at how uplifting a pop of this cheery shade can be.
This Otero Wire Accent Table ($80, top left) has serious architectural appeal. The wire structure makes it perfectly suited for indoor or outdoor use.
If you covet the look of snazzy espresso makers but need the ability to brew multiple cups, look no further than the De'Longhi kMix 5 Cup Coffee Maker ($165, top center). Offered in eight bold shades, my favorite is of course the yellow!
I don't know about you, but a glossy, egg-shaped vessel in submarine yellow is the type of ultramod home accessory that I find irresistible. The J. Schatz Egg Bird House ($165, top right) fits the bill. Its simplistic design includes a small perch and hole for functional purposes, but the brilliant color and smooth oval shape is what really draws the eye.
If you like the design of the bird house but aren't much of a bird watcher, consider the J. Schatz Egg Planter ($95, next to bird house). This ceramic vessel is the perfect vehicle for displaying potted herbs or blooms in style.
Click on all of the items in the layout to shop directly!