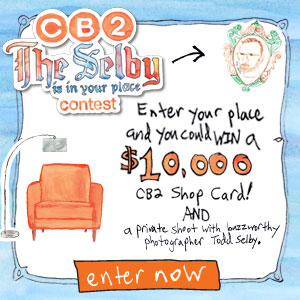 Do you have a knack for design? Of course you do! Your friends know it, you know it, even I know it. And it's high time to cash in on your hard work!
CB2 — an affordable modern home furnishings retailer — with the help of famed photographer Todd Selby is holding a contest for the most eye-catching, creative, inspired, sassy, and unique spaces . . . that's where you come in. One grand prize winner will receive $10,000 in CB2 merchandise and a photo shoot of your room with "THE Selby" himself! (Basically, a design diva's dream come true.)
So what are you waiting for? Click here to submit pictures of your most inspired living space and then hustle to get all the votes you can.
Oh, and the best part? Prizes for certain qualifying runners-up include CB2 shop cards ranging in value from $500-$2,500! See the official rules for details at cb2.com/TheSelby.