Zebra-Print Rugs and Metallic Accessories Shopping
Fashion to Interiors: Caramel Leather, Animal Prints, and Metallic Accessories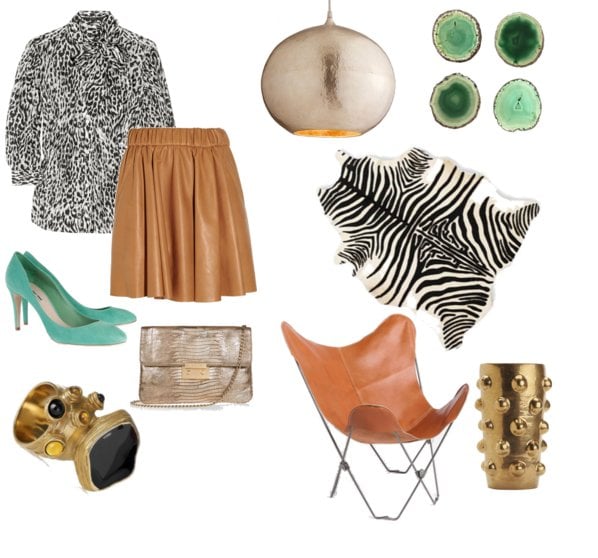 I'm constantly finding similarities between the pieces I'm coveting for my closet and the items I'm looking to incorporate in my home. I've pulled together an outfit and a home decor look that combines texture, bold prints, metallic hues, and yummy leather. See how I translate fashion to interiors with these two looks!
Even with a secretary blouse and heels, this Romantic Leather Skirt ($1,400) feels effortlessly cool. One of my favorite ways to achieve this look at home is by adding a piece of '70s-style furniture in buttery, caramel-colored leather. This Leather Butterfly Chair ($200) achieves the same earthy but slightly polished look at a great price point.
A metallic hybrid of sorts, this Sloan Lizard-Effect Metallic Leather Clutch ($220) works equally well with silver and gold accessories. I'm applying the same philosophy to this Armand Riviera Pendant ($375). A gold interior casts a warm glow against the hammered silver exterior — perfect for mixing up metallic decor!
I love incorporating animal prints into my wardrobe and decor, because they add a graphic punch but are classic prints. This Animal-Print Cotton and Silk-Blend Blouse ($1,100) feels especially polished with a tie-neck detail. I always gravitate toward a great animal-print layering piece for a room, like this Leather Zebra Cowhide Rug ($2,360).
Click the pieces above to shop both looks!