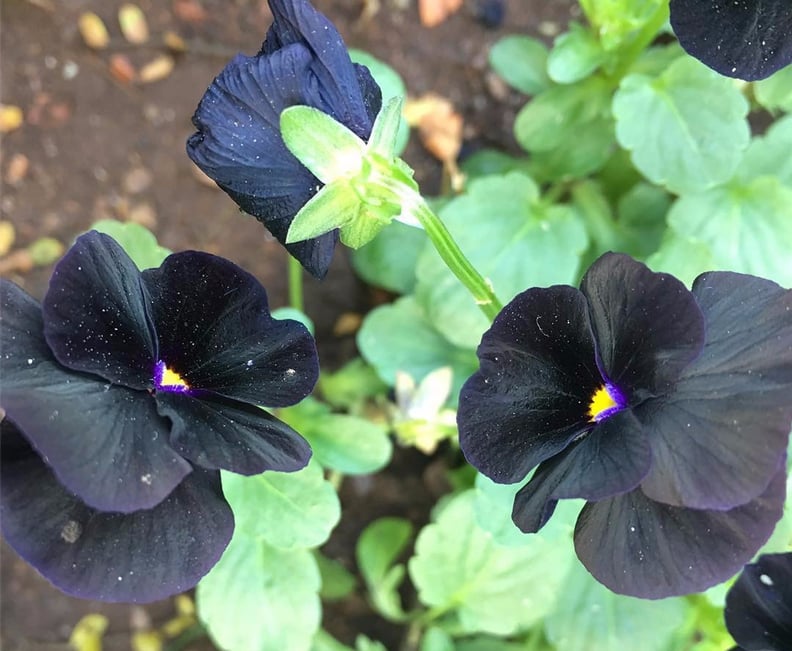 We are fans of black succulents, but like Kat Von D, we're partial to black blooms as well. While truly black flowers are a marvel of science and rarely happen in nature — remember, most blooms exist to attract pollinators like bees and birds — we've rounded up some lovely dark variations of our favorite flowers to inspire goth gardening. Pull out your shovels; it's time to play in the dirt.
Black Velvet Petunia
The usually vibrant petunia takes a dramatic turn, but these dark petunias are great in borders and look to be truly black.
Black Bearded Iris
The bearded iris comes in many shades of black, and the varieties have poetic names like "all night long" and "raven girl."
Black Sunflower
This dark sunflower makes us think of a solar eclipse.
Black Forest Calla Lilly
These deeply hued calla lilies make for exotic, long-lasting bouquets.
Black Pansy
The bright yellow center highlights the dark petals on these petite blooms.
Tacca Bat Flower
This exotic-looking orchid prefers semitropical climates.
Tacca Bat Flower Detail
This is one intricate orchid, so we think it deserves closer look.
Lily Black Jewel
The black lily is a striking perennial for any garden.
Black Poppy
While not exactly black, the abundant dark petals remind us of peonies.