"When it came to creating our nursery, my husband and I knew we needed it to be two things: gender-neutral (since we weren't finding out the sex of our baby until our delivery) and a natural style extension of our home," explained Brandi Milloy, reporter and producer at POPSUGAR. "We live in a small Spanish bungalow, so every foot in the house counts, and the idea of creating a room that looked too much like a baby's room just wasn't our style."
Brandi isn't alone in wanting a chic nursery more focused on her and her spouse's personal taste than a specific baby gender. The predictable nursery design formula that dictated saccharine pink, blue, or yellow walls and a cartoon motif is quickly becoming outmoded in favor of more sophisticated designs the whole family can enjoy.
To achieve her dream nursery, Brandi hunted for fabulous pieces that would meet her baby's needs while fitting with her home's eclectic, boho-meets-midcentury-modern vibe. "My mantra with purchasing things for the nursery was that I needed to LOVE it. Whether it was going in the nursery or not, I needed to actually love every purchase I made." The final result was finished in time for the birth of baby Milly (it was a girl!) and is a warm, hip, and charming space loaded with design ideas every mom-to-be can learn from. Check out how to create the perfect gender-neutral nursery ahead.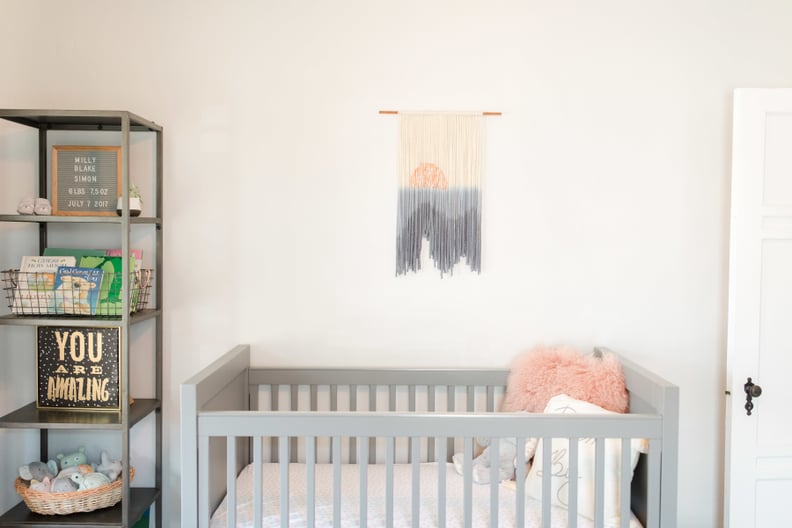 Make the Crib a Focal Point
"The crib is really the anchor of the room," Brandi explained. "Gray is our common neutral and the color of the walls and window treatments." It not only gives the room a great base from which to later build upon with gender-themed accents, if so desired, but it also connects the nursery to the rest of the home.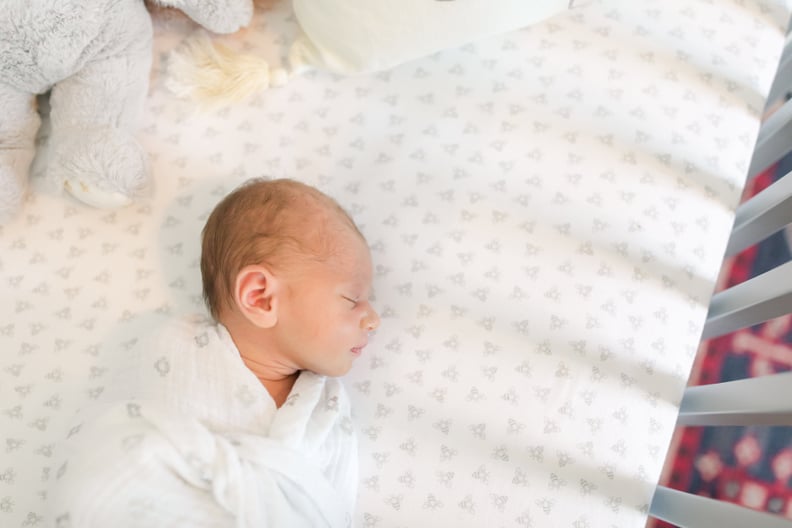 Keep Bedding Simple
The crib is dressed with simple white and gray sheets featuring adorable bumblebees, and (when Milly isn't snoozing) the crib is filled with darling accent pillows and stuffed animals.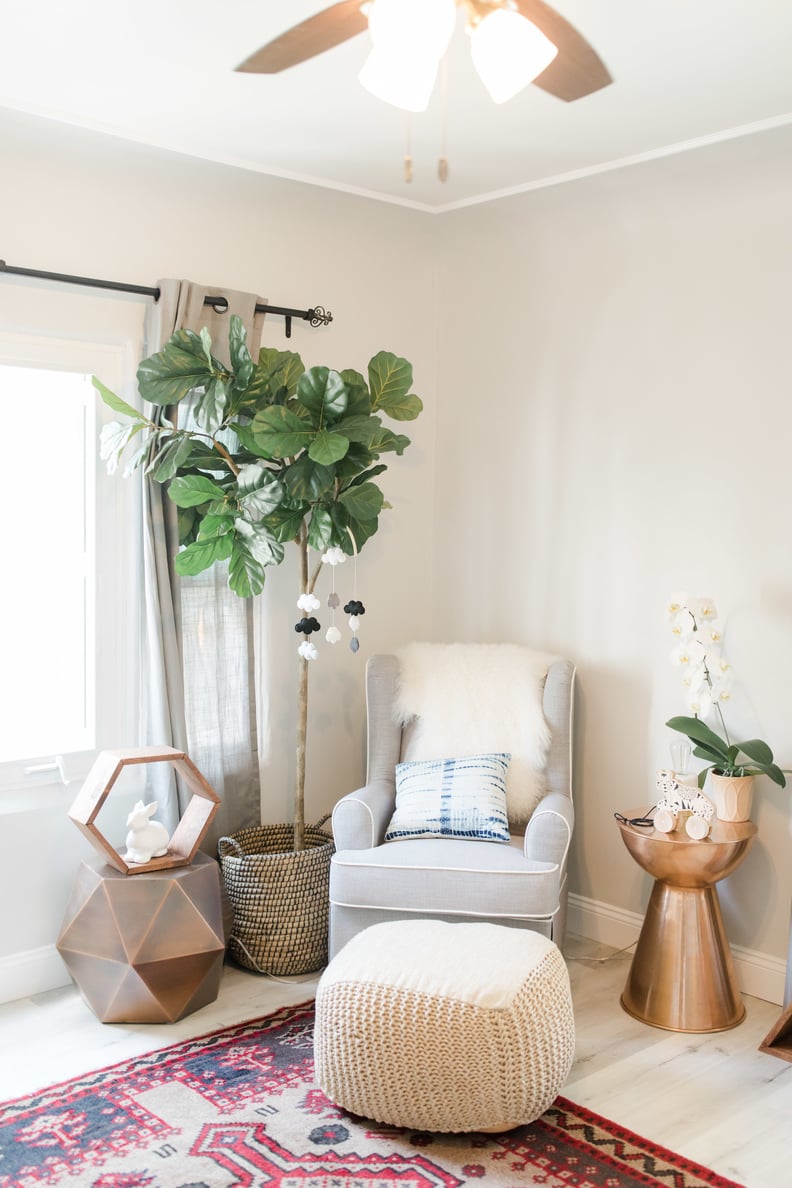 Decorate For Now and Later
We love the idea of picking decor pieces that can easily transition with baby's evolving needs; for example, instead of hanging a mobile over the crib, since Milly will be too little to sleep there for a few months, Brandi cleverly hung it on the tree by the glider. "She can look up at it when she's nursing," Brandi said.
She also thought long-term when it came to the rug. Brandi explained, "We love vintage Persian rugs, so when I found this gorgeous one from one of my favorite vintage sellers, Zartiques.com, in blue and red, I had to get it. I loved how it was gender neutral and matched the other color tones in our home, so I could always use it in another area of my home should the design of the nursery evolve."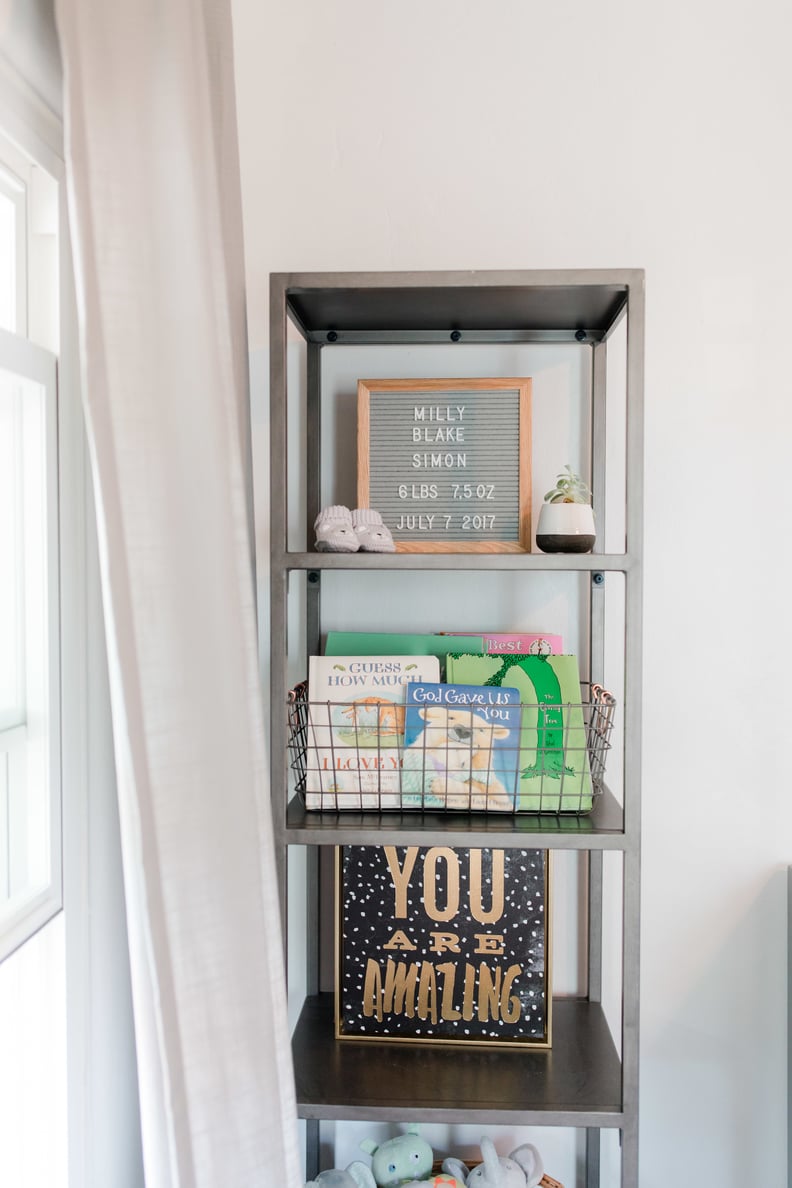 Use Furniture You Already Own
"Since we hadn't found a dresser we absolutely loved before baby arrived, we repurposed a couple of industrial shelves we actually used as a dessert table at our wedding! The taller tower we use to showcase baby books, our letter board, and other toys."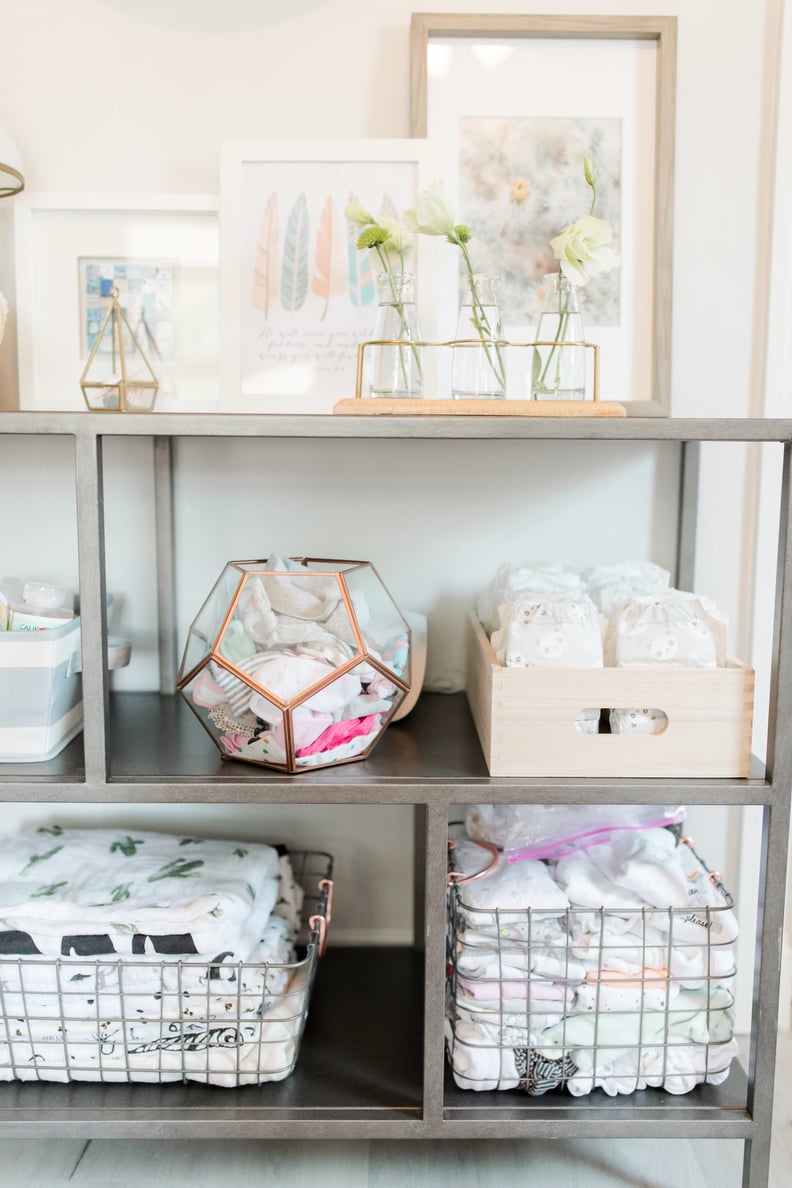 And Update That Furniture With Stylish-Meets-Handy Decor
The shorter one, Brandi says, "is used to showcase artwork, photos and where I store swaddles, onesies, diapers and bows. Storing them here in baskets makes them easily accessible." Not to mention, how fun open shelving makes it to gaze at all the pretty baby linens.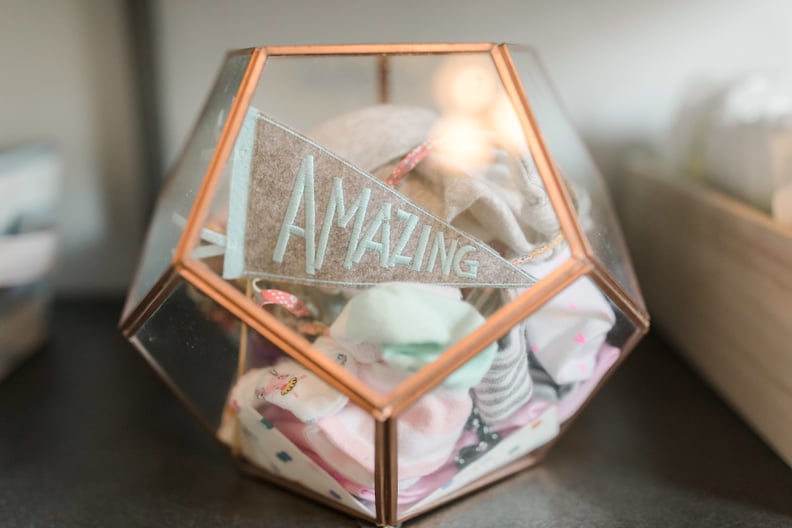 Repurpose Pretty Decor Pieces
Thinking outside the box, Brandi used a trendy terrarium to hold baby accessories. She added a little banner with the word "Amazing," her nickname for little Milly prebirth, to make the terrarium look at home inside the nursery. From old party centerpieces to unused vessels, these pretty pieces of decor are perfect for repurposing in the nursery.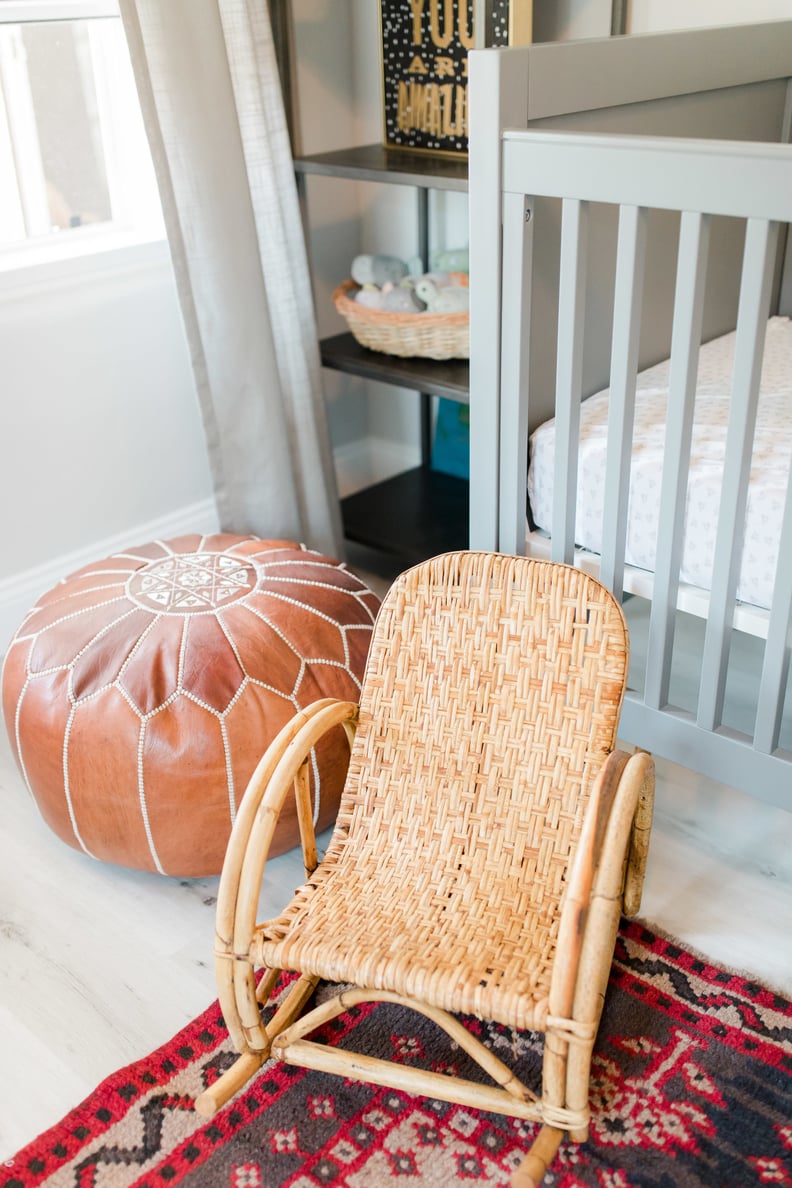 Add Personal Touches and Items From Your Own Childhood
In addition to decorating with framed pictures from her engagement shoot, Brandi filled the space with highly personal pieces from her own childhood, specifically, this tiny wicker rocking chair that was hers when she was a little girl. Brandi says it's one of her favorite pieces in the entire nursery, declaring, "I LOVE that my daughter will be able to enjoy it one day."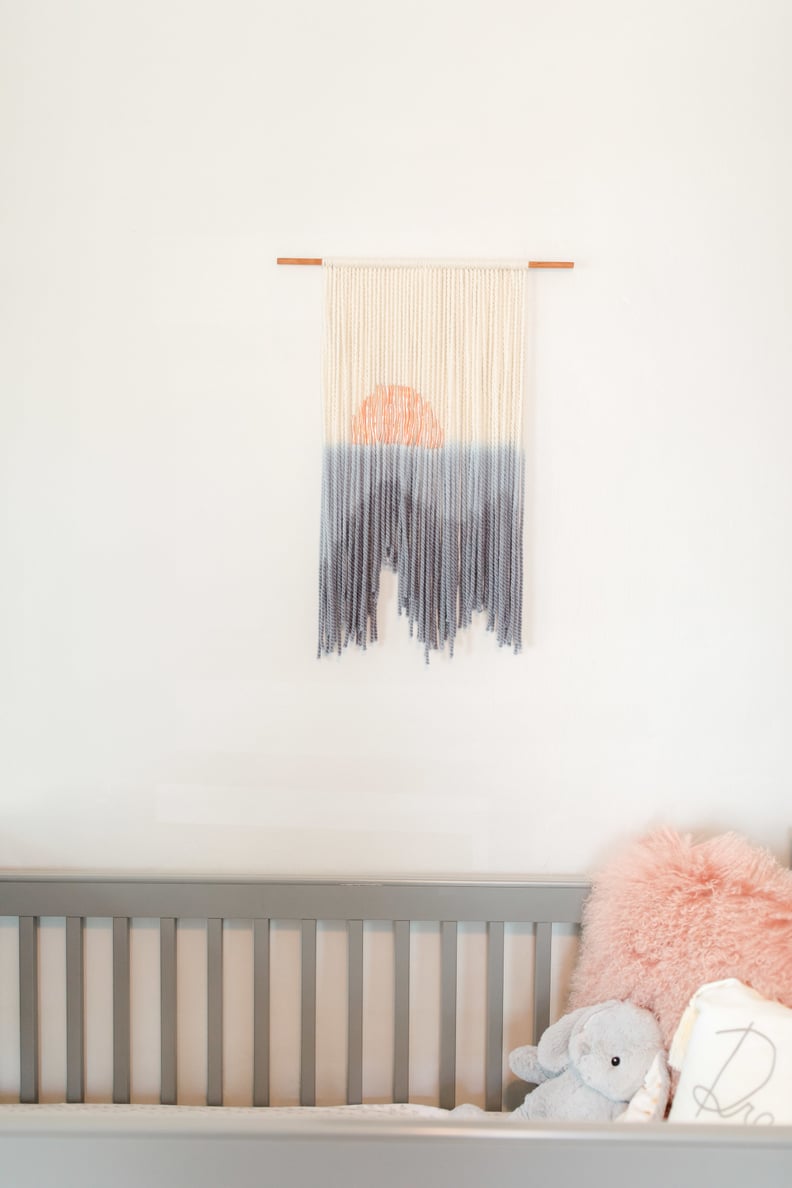 Choose Art That Speaks to You
"I knew I wanted to incorporate elements of the beach, so I love the dip-dyed yarn ocean sunset wall hanging by The Dancing Tapestry that hangs above the crib. The rose gold beads play on the other rose gold pieces in the room, and the sunrise and ocean image is so calming every time I'm in there."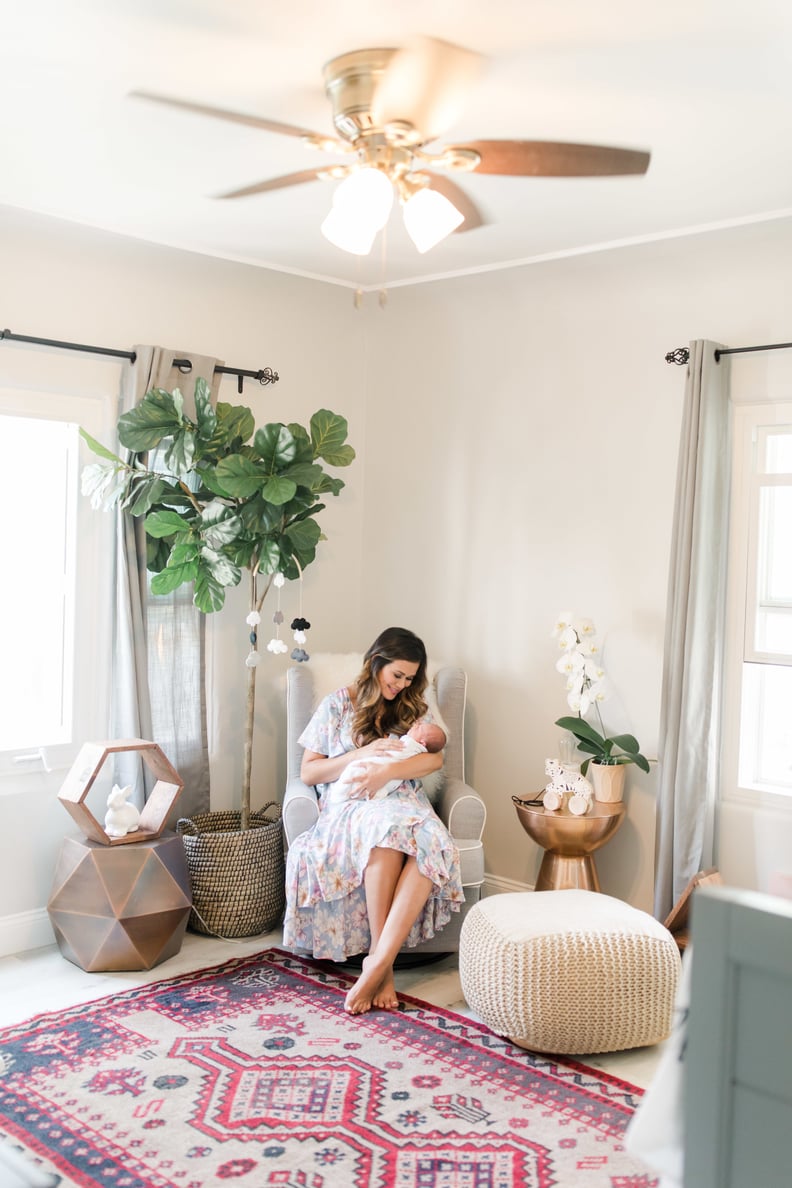 Make the Nursing or Feeding Area Extra Cozy
"In the corner is where I spend most of my time nursing our baby. The glider-rocker combo is nice and cozy, and then I added a pouf from World Market for a foot rest. The fiddle leaf fig tree adds a natural, warm element."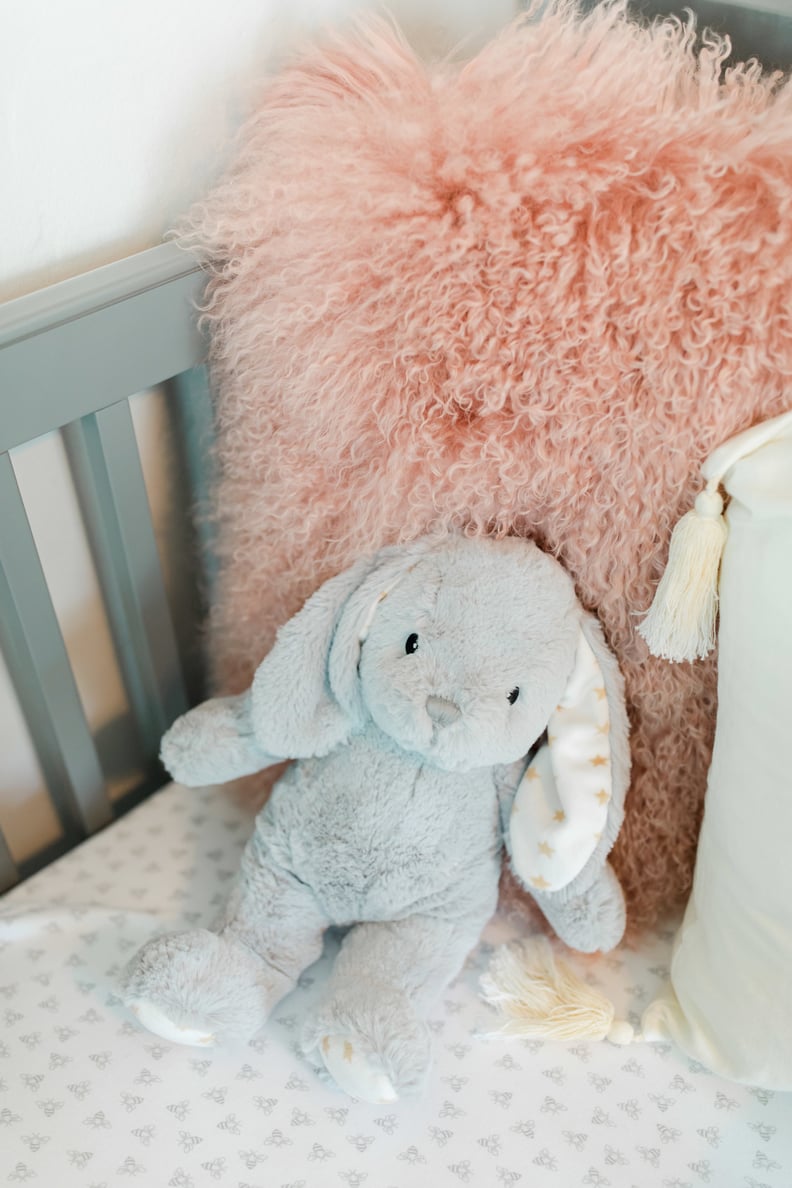 After the Birth, Use Accent Pieces to Nod to the Baby's Gender
If you would like to update the nursery to reflect the baby's gender postbirth, you can do so simply and succinctly with a few accent pieces; for example, Brandi updated the space with feminine touches, like this fuzzy blush pillow, to flawless effect.