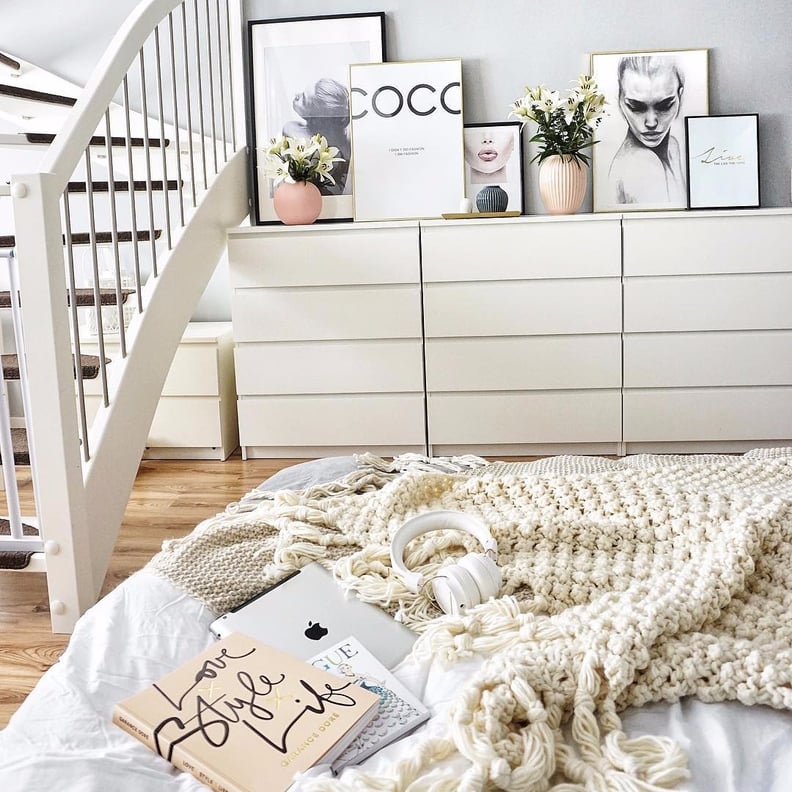 We've seen some really amazing Ikea hacks and furniture flips, but don't worry if you're not handy with a paintbrush or washi tape. These furniture classics sometimes have a stigma attached to them for being easily recognizable or "college furniture," but that doesn't need to be the case. If you show your favorite Ikea go-to some extra design love, you'll be able to instantly turn it into a high-style piece worthy of keeping its spot in your home. From turning the top into a mini jungalow to keeping things minimalist and Scandinavian chic, we've rounded up 20 snapshots from Instagram that prove why the classic Ikea Malm dresser is still stylish.
Gallery Wall
We know art can do wonders for any space, and this dresser proves just that. Lean framed prints, posters, and photographs right on the wall to create a gorgeous gallery wall in a few simple steps. Use your furniture as an oversize easel and layer all different sizes and styles right on top of it.
Feminine Nightstand
Using your budget for things like nightstands isn't always the most fun. Skip the pricey pieces and opt for a budget-friendly situation like this. Make it cozy by adding a bedside lamp and a classic alarm clock to give your bedroom a more complete look without breaking the bank.
Added Shelving
If you love Scandinavian style, you're not alone. With this sleek style so on trend, it's only natural for us to be scurrying over to the nearest Ikea to get a taste of these design elements. By adding a neutral shelf above one of these pieces, you'll instantly create a piece worthy of any living room.
Use Wallpaper
Wallpaper comes in a variety of playful prints and is easier than ever to use. Now is the perfect time to take advantage of this trendy wall decor. Keep your dresser in its original state and spruce it up by situating it in front of a statement wall. The new backdrop will make your furniture pop and look far from ordinary.
Oversize Workspace
This oversize workspace has us swooning over here. With all of the fun desk accessories and office must haves available to us, it only makes sense that one would need a spacious desk like this. Use two dressers and grab a flat piece for the surface to bring these separates together as one. Leave room for a stylish chair to be stored in between them, and get to decorating.
Paired With Accents
Accent pieces can transform just about any interior, and this dresser is no exception. When paired with a natural wood ottoman, trendy plant, and bold rug, this Ikea number transforms into a perfectly positioned bedroom essential.
Desert Inspired
Joshua Tree-inspired interiors are having a major moment. This simple dresser serves as the perfect piece to play with new trends. You can simply switch in any trendy accent you want on this piece to get the look you want. The cactus, terracotta planter, and prints make this dresser the perfect desert piece in this chic oasis.
Fresh Flowers
One way that anybody can make their space look chic is by adding fresh flowers. Simply pick up a bouquet or two at the beginning of every week and distribute them in a few places around your home. Add a bunch to the top of your dresser to make it feel all types of pretty.
Go Neutral
Just because most seem to showcase their glossy dressers doesn't mean that they don't come in other options. We are obsessed with this tall, neutral pine version. This will be the perfect addition to any home that loves boho vibes. When styled with an oversize palm and a woven basket, this tallboy looks like perfection.
Mixed With Vintage
Modern pieces can and should be mixed with vintage finds to make a complex, swoon-worthy space. Since this dresser is simple in nature, it becomes the greatest blank canvas for all different types of decor. From eclectic art to printed chairs, the combination is flawless.
Complete Dresser
An oversize dresser is screaming to be decorated from one end to the other. Take advantage of all of the space you have by styling your prettiest decor along it. Use all of this space to create tiny vignettes of your favorite items to really show your style.
Bold Mirror
Revamp the look of both your dresser and overall space by adding a bold mirror. This oversize round option is amazing, but any type will do the trick. Keep the rest of the items that are styled on the dresser on the smaller size to really let the mirror speak for itself. Hello gorgeous, indeed!
Less Is More
We've grown up hearing "less is more," and in some cases it's absolutely true. Skip the clutter and overwhelming decor and keep things as simple as possible in order to create a bold effect. The taped-up art and plants are all you need to create a visually pleasing bedroom setup.
Off Balance
By styling larger decor pieces on one side of your dresser, you create a dramatic off-balance effect that will make it the focal point; for example, you can easily take the attention off of the dresser itself by drawing the eye to an oversize poster paired with a leafy plant. We love how one side of this is showcasing art and is balanced by the hanging dress on the wardrobe.
Plants on Plants
Aside from their air-purifying properties, plants simply look really good when utilized in interior design. Take any dresser, console, or credenza to the next level by adding some plants to it. From extraleafy greens to small-scale succulents, these pops of color are musts for everyone.
Monochromatic
One way to make things look extrastylish and bold is to go with the monochromatic approach. This sleek, glossy look is high style and creates an open and airy space instantly. Keep the main pieces all in the same color and finish, and have a little fun by adding decor with dark contrasts to make the room come to life.
Touch of Glamour
The glossy white version of the Malm is extrapopular and can easily be upgraded into a glamorous piece of furniture. Because of its bright sheen, you can have a vintage Hollywood moment with this piece. Add a Lucite seating option and vanity lighting to have your very own glamorous dressing area.
Stylish Decor
Any piece of furniture can receive a facelift with the help of some good decor. No matter what your style is, grab a few of your favorites and arrange them right on top to make a statement. From pottery to a collection of candles, anything and everything will turn your piece into a chic situation.
Stacked Books
If you're at a loss of what to do with your available surface area, try stacking some of your favorite books on it. The added height, color, and texture will make your dresser feel styled and complete. Showcase these books in one corner or go all out — either way, your new mini library is bound to look chic.
Upgraded Wardrobe
If you are tight on storage space and have resorted to some exposed closets, a simple dresser is the best option. Keep your clothing rack as neat as possible and set it up next to an understated dresser like the Malm to really keep things looking effortless. Style the top as you would a vanity by adding perfumes or candles to make it feel a bit more glam.