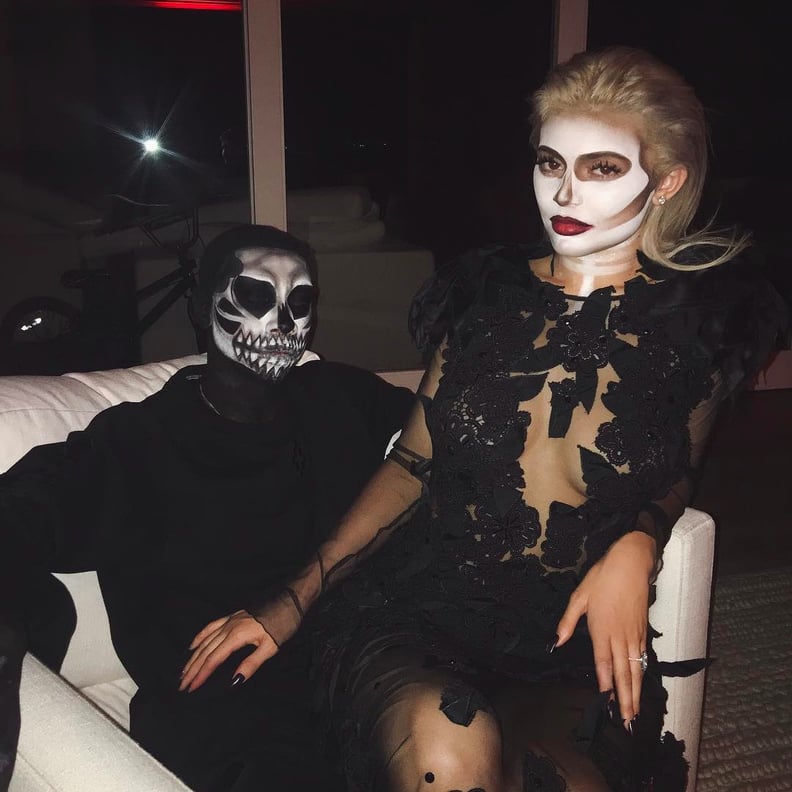 If you couldn't tell by her amazing Christina Aguilera-inspired costume, Kylie Jenner takes Halloween very seriously, and this year, she threw an intense "dead dinner" party to prove it. On Oct. 28, the 19-year-old beauty transformed her home into something that could have been confused for a haunted house, and luckily for us, we got to experience the whole thing through Snapchat. Enter the house and be greeted with dark red and black dimmed lighting, and that was only the beginning. From the cocktails to the table settings and everything in between, every single aspect of Kylie's party had a Halloween spin on it, and it was nothing short of haunting.
The dinner table looked like it came right out of our nightmares, covered in skulls, gauntlets, and black pumpkins. While Kylie's dinner menu included rotten tomato soup, potion pear salad, penne with creamy blood sauce, and chocolate ice cream caskets, the drool-worthy dessert table was where the action was. Filled with gummy worms, oozing eyeball cupcakes, skull cake pops, and so much more, this is easily one of the most hauntingly awesome Halloween parties we've ever seen.
Kylie took the time to give a shout-out to the team that made this Halloween dream (or nightmare?) come true on Instagram, thanking those "who transformed my home and made my vision come to life for my first Halloween Dead Dinner!"
Keep reading to see the photos and videos from Kylie's horrifyingly spirited Halloween dinner party and be inspired for your own celebrations!