26 Times Oprah Winfrey Gave Us Peeks Inside Her Stunning Homes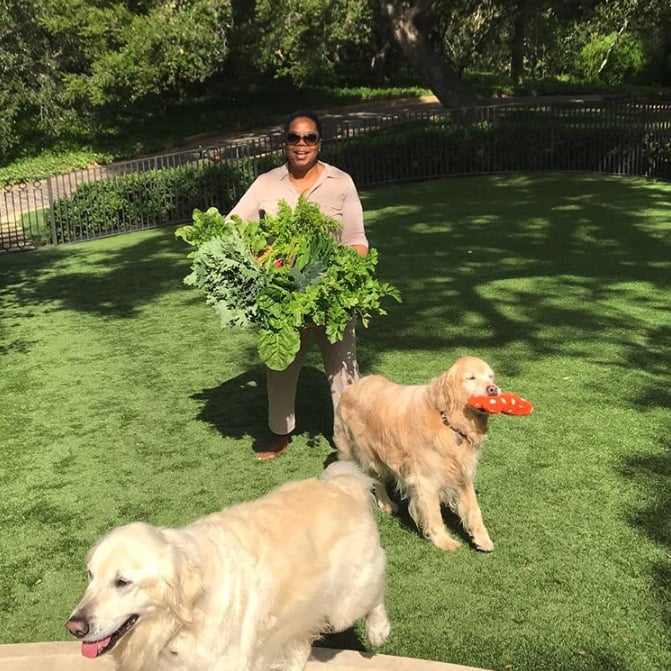 It probably comes as no surprise that Oprah Winfrey has six homes. After all, she is a media mogul, actress, producer, and so much more. While she spends the majority of her time in Montecito, CA, on a property with a main house and guest house, she also boasts properties in Orcas Island, WA, Telluride, CO, Maui, HI, and Seamair Farm, CA. What's more, she only just sold her homes in Chicago, IL, and Atlanta, GA, in the past decade, so the number of homes she owns was just reduced. Reduced!
But despite being such a well-known celebrity who values her privacy, she actually shares quite a few sneak peeks at her homes on Instagram. Though, wouldn't you if you also had gorgeous properties with sprawling land, stunning gardens, and impeccable decor? Ahead, see some of our favorite snippets of Oprah's real-estate world, from her Hawaiian escape to her California dream home.
— Additional reporting by Haley Lyndes
01
The Closet That's Bigger Than Our Bedroom
02
The Breakfast Room That's Filled With Beautiful Plants
03
The Sweeping Entryway With a Curved Staircase
04
The Back Patio With Multiple Levels
05
The Backyard, Complete With Teatime Setup
06
The Over-the-Top Floral Arrangements Bringing the Garden Inside
07
The View That Stretches For Miles
08
The Kitchen That Doubles as a Filming Location
09
The Grand Backyard That Shows Off the Rising AND Setting Sun
10
The Golf Cart Transport to the Front Door
11
The Fancy Gym That You Would Actually Want to Use All the Time
12
The Kitchen, Complete With a Master Chef
13
The Wrap-Around Patio With Breakfast Seating
14
The Garden With Only the Freshest of Vegetables
15
The Office With a Color-Coordinated Bookshelf
16
The Bright and Gorgeous Hallway
18
The Window-Walled Dining Room
19
The Cozy Wood and Marble Fireplace
22
The Magical Light-Strung Trees
23
The Floral Centerpieces That Rival All Others
24
The Restaurant-Grade Kitchen That's Perfect For Parties
25
The Full-Size Outdoor Kitchen
26
The Grassy Lawn That's Perfect For Puppies