Kat Von D's House Is Creepier Than Halloween — and That's the Way She Likes It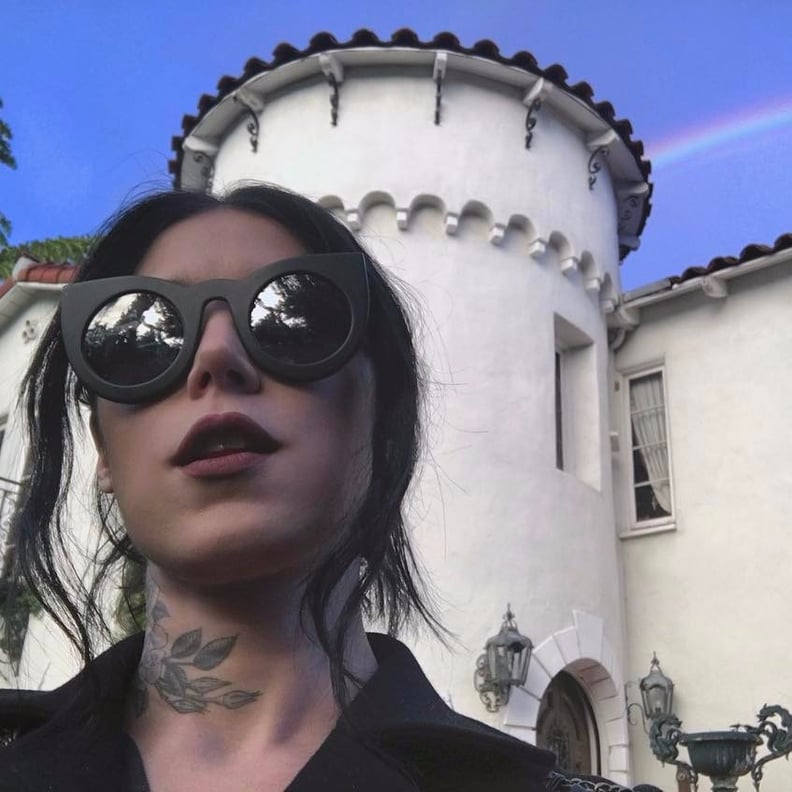 Kat Von D is known for her unique sense of style, from her dark fashion sense to her must-have makeup palettes to her masterful freehand tattoos, and her interior design is no exception. The LA Ink star purchased a sprawling Victorian last year. She's wasted no time bringing it back to its previous glory and, in the process, added oodles of gothic furniture and eerie macabre accents. We don't know whether to applaud or hide. See for yourself ahead.
Gothic Tablescape
If you can tear your eyes away from the table decor and dramatic painting, check out that amazing wallpaper!
Hidden Skulls
A macabre surprise is waiting among the garden greenery.
Red Tufted Settee
Kat's hairless kitties are a striking addition to her antique chaise.
Crystal Mother Mary Sculpture
Dark and Moody Oil Painting
This piece of fine art is truly haunting.
Taxidermy Deer
Two deer and one sneaky hairless cat complete this vignette.
Tombstones
Just wait until the camera pans outside . . .
Red and Gold Color Scheme
From the knitted blanket to the furniture, Kat stays true to her palette.
Picture of Her 1890 Queen Anne Victorian Home
Next-Level Living Room
We love all the layers of candles — but the layers of melted magenta ones might be our favorite.
Turrets and Ironwork Galore
Forget the rainbow, look at all the details on the outside of her house!
Otherworldly Black Garden
Ornate Wooden Chair
This kitty has its own throne.
Creepy Art Collection
Kat is a serious collector; this painting is one of a three-part series!
Crazy Octopus Light
Um, this light is AWESOME.
Antique Musical Instruments Galore
The talented tattoo-artist-slash-musician is serious about practicing on all types of antique string and percussion instruments.
Black Yard Sculptures
We wonder if Kat purchased the bust statue and birdbath in black or DIYed the dark hue herself; either way, they're the perfect addition to her black garden.