Sterling K. Brown Manages to Be Even More Adorable at Home Than He Is On This Is Us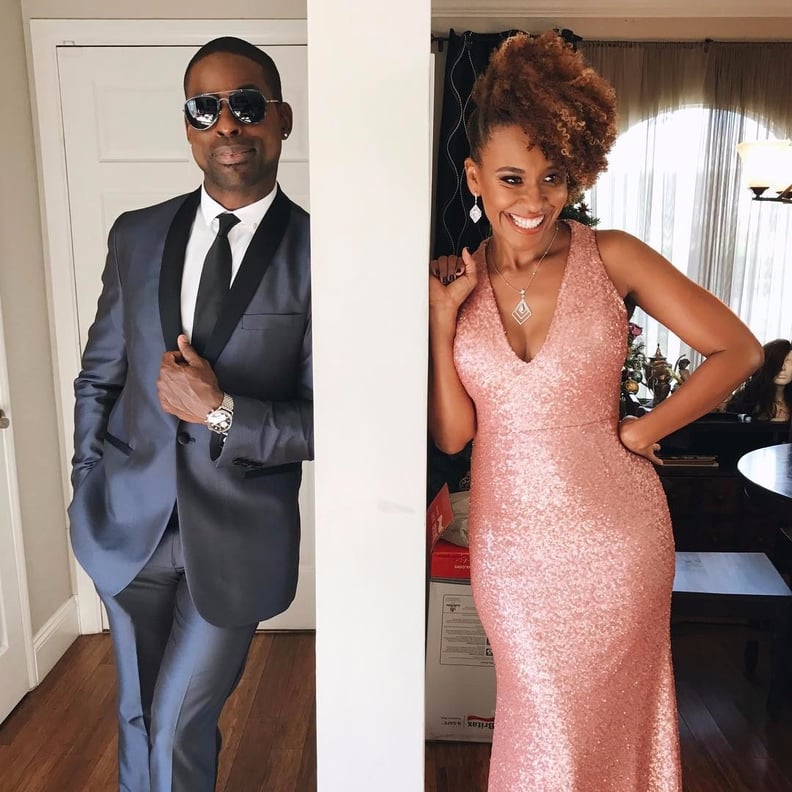 We fell in love with him as brainy Randall — the triplet brother to Kate and Kevin — on This Is Us, but it turns out there's way more to love about actor Sterling K. Brown than his TV character. He lives with his wife actress Ryan Michelle Bathe and their adorable two sons in a warm and welcoming family abode. And their domestic life is equal parts inspiring and relatable to parents everywhere. Take a peek inside their home ahead.
Geometric Mirror
We're big fans of this mod geometric mirror – and we can't help but relate to the jam-packed fridge in the background. What family with kids doesn't have invitations, pictures, and alphabet magnets galore on this kitchen appliance?
Richly Landscaped Front Yard
From the bushes lining to the walkway to the charming lantern mounted beside the door, this home has curb appeal.
Beautiful Hardwood Floors
This timeless and durable flooring choice is great for a family with young kids, especially those as adorable and dance-loving as Sterling and Ryan's.
Resort-Like Backyard
Take a dip or just pull up a chair around the firepit. The options are endless in Sterling and Ryan's welcoming backyard.
Custom Art
What better way to remember a pregnancy than with a custom belly cast? We love the elegant lines of Ryan's cast and the prominent way it's displayed in the home.
Neutral and Airy Main Living Space
Greige walls with white accents, sun-drenched arch window, and one devastatingly good looking couple make this living room a classic.
Red Earthenware
This healthy, hearty soup looks downright delicious, but we're captivated by the oxblood bowl.
Cute Welcome Mat
If you can see beyond Ryan's gorgeous earrings, take a peek at that cheeky doormat.
Cute Pool Floats
And even cuter water babies.
Fully Stocked Kitchen
The couple that cooks together stays together, and Sterling and Ryan have a kitchen designed for big family meals, from the gas stove to the pots and pans.
Professional Family Photo
If you're able to look beyond Ryan's breathtaking gown, take a peek at the giant family portrait in the background celebrating the arrival of their infant son.