3 Affordable Ways Sutton Foster Dramatically Updated Her Home With Decor
When Sutton Foster, Tony Award-winning actress, star of the hit show Younger, and a recent cast addition to the Gilmore Girls revival, wanted to refresh her apartment, she turned to the mecca of stylish, affordable decor: HomeGoods.
The state of Sutton's apartment was cheerful but in need of some refinement. "Our decor in this apartment was inspired by the view — we have this incredible view of the Hudson with big, sweeping windows that let in a lot of light. Because the apartment is so bright, my husband and I felt like it could handle a lot of color — and we love color!" Sutton said.
Mike Harrison, artist, designer, and Broadway's beloved dressing room decorator, stepped in to help Sutton pick and style the perfect pieces. "Simply swapping out key pieces in your decor can create a huge transformation. You just have to be smart on what changes will give you the biggest bang for your buck," Mike told us.
Check out Mike's top three ways to make a dramatic design change with affordable decor, and then see how he applied them to Sutton's apartment.
1. Focus on accessories that support the mood and color story rather than the furniture.
He explained, "For example, a neutral sofa takes on a new life when you swap out the monochromatic pillows and infuse a pop of color and different textures with a new throw pillow or two — HomeGoods has tons of stylish options that are much more affordable if you're watching your budget!"

2. Use lighting to affect on the overall feeling of a room.
"Don't focus on the side table, but rather swap out the lamp that sits on the table," Mike said. "If you want a warmer space, then you could even just swap out the shade. You would be surprised how even changing the lampshade to a darker or lighter color can transform the vibe of your space."

3. Rearrange a bookshelf in your space.
Mike said this is one of his favorite transformations in part because it costs nothing to do and makes a big impact. To do it, he advised, "Add in some personal treasures and objects that make the space feel more like you. Just moving around your pre-existing pieces and creating new vignettes of books and objects can shift the way you look at that shelf and add some life to a stale scene. Who doesn't love a free upgrade?!"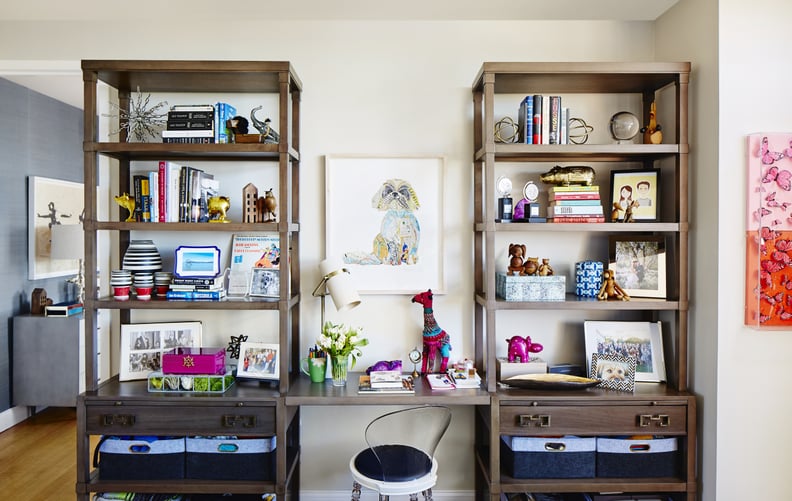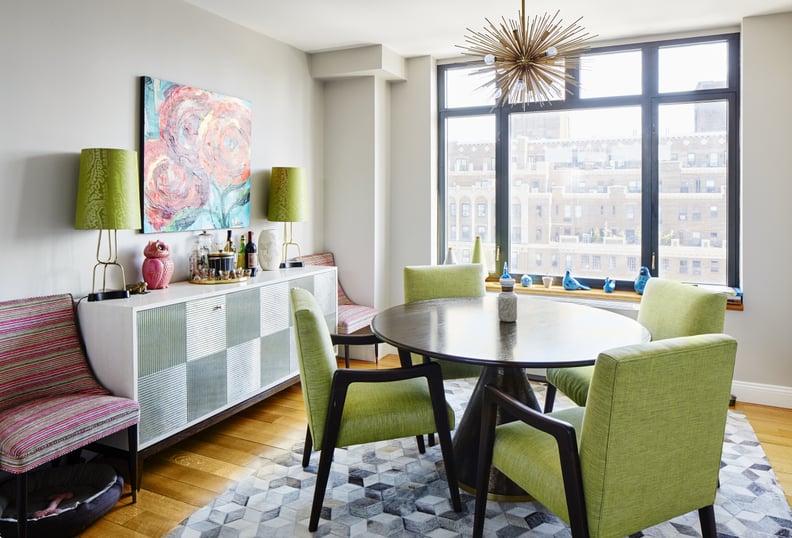 Before: Dining Area
"Our NYC apartment is a little more whimsical and glam, while our LA home has calmer vibes," Sutton said of her home's look. Mike set out to update the dining area's big-city vibe without overhauling the entire space. "Creating a drastic change in the look and feel of your space does not mean you have to break the bank." he said.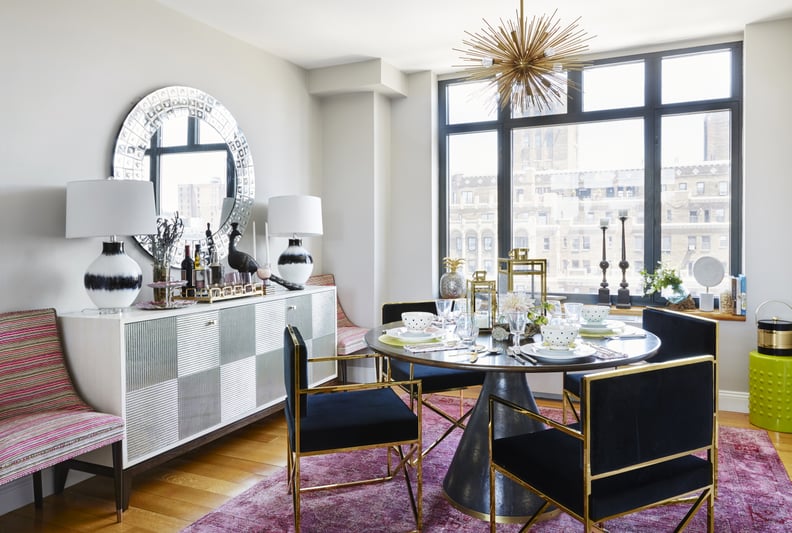 After: Dining Area
"The tablescape for the dining room table is a chance to really have fun with your decor," explained Mike, who traded out Sutton's wooden chairs for these luxe velvet and gold stunners. He made a bold statement with the place settings. "The bowls, dinner and salad plates, glasses, and silverware are all from different sets — it's important to remember that things should coordinate, not match."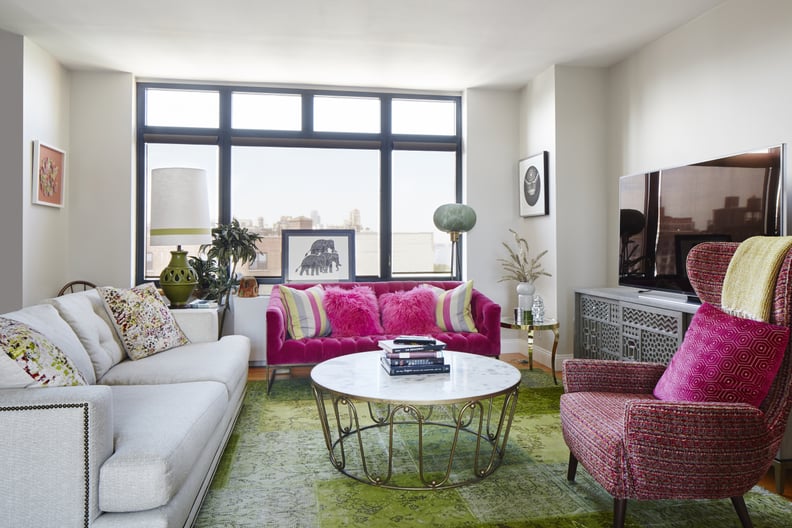 Before: Living Room
Sutton's living room featured a lot of pink. While there wasn't an abundance of accessories, all those that were there fell neatly into the girlie color scheme, making it feel more childlike than sophisticated.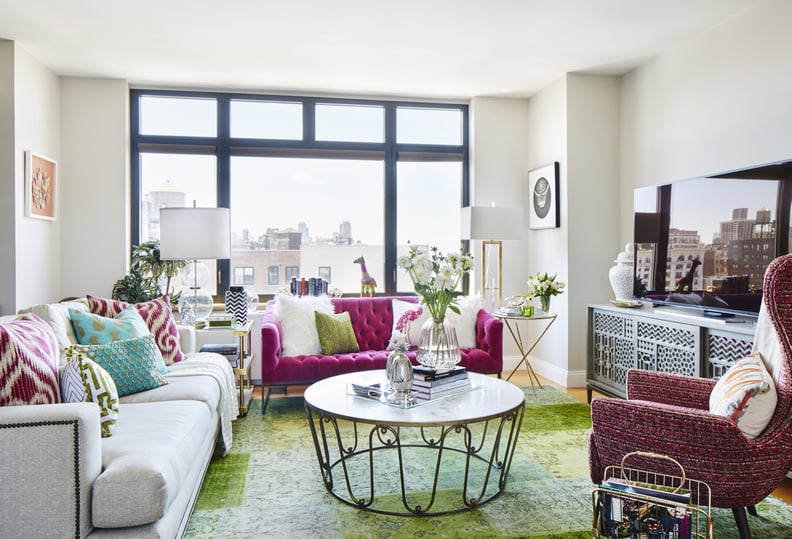 After: Living Room
"Color choices and mixing patterns were an essential part of getting the look of this apartment," Mike explained. "I went off of her tufted hot pink sofa and found ways to pull it into all the corners of the space. We chose three colors to be the hero of the living space (hot pink, lime green, and teal) so that many accents of these colors could add layers to the room."
Before: Office
Sutton's office was fairly bare, except for a portrait of Sutton and her husband's beloved dogs. "The office is a challenging space because it has to be incredibly functional and organized, but that doesn't mean it has to be boring," Mike explained.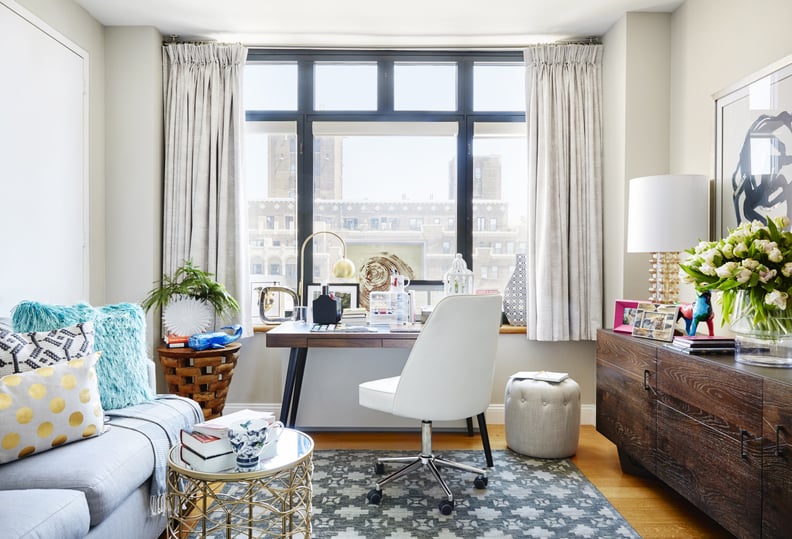 After: Office
"In a smaller room, using an end table as a coffee table is very smart because it saves space but still adds interest. I used a mirrored end table from HomeGoods (it was only $29!) to act as a coffee table to bring a little bit of glam into this space so it seems cohesive with the rest of the apartment," Mike explained of his bold decor choice.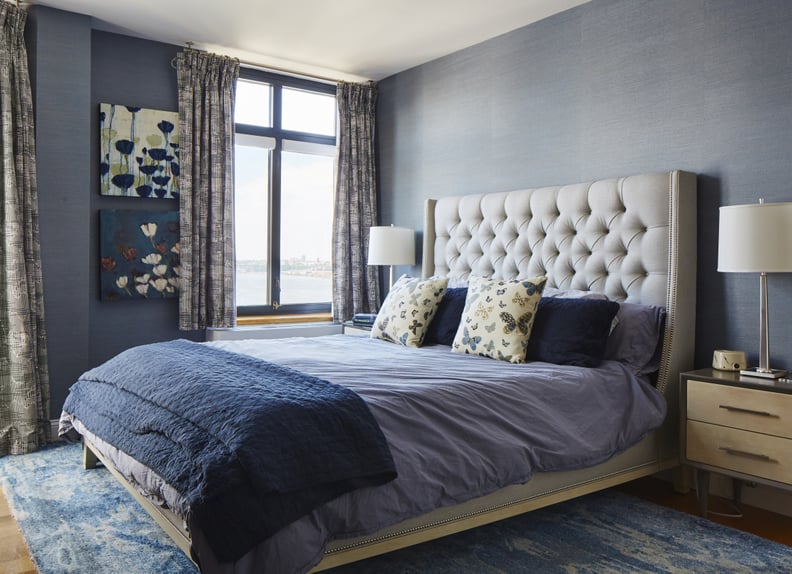 Before: Bedroom
"My husband and I are bicoastal — in LA and NYC — and both homes reflect the city we're in," said Sutton. "Even though the decor is a little different, our bedroom in both locations looks nearly identical — we went with a cool, relaxing blue and gray color story so we always have a sanctuary no matter which side of the country we're on."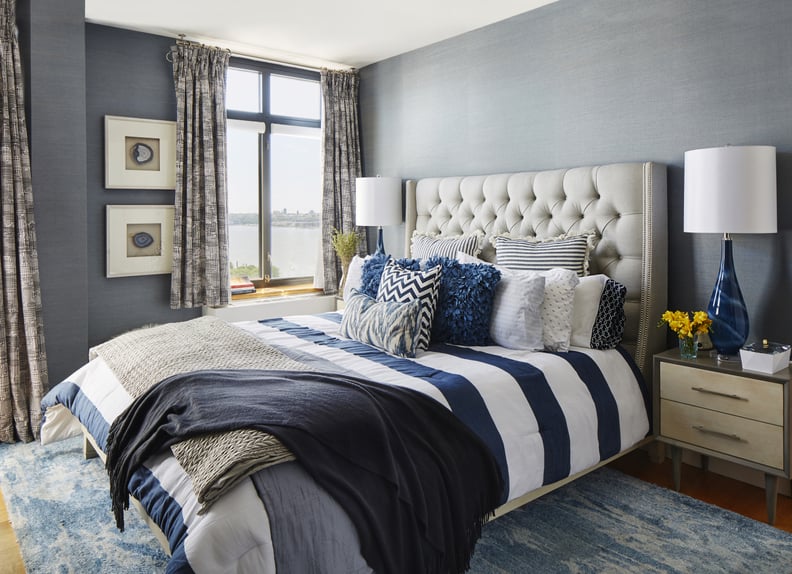 After: Bedroom
To differentiate Sutton and her husband's NYC bedroom from their LA one, Mike added pops of white and played up texture and pattern, something he said adds warmth and interest to a monochromatic color scheme. "The pair of HomeGoods lamps on the nightstands were the perfect way to achieve this look with their calming blue glass but still a hint of acrylic at the bottom of the base to tie in with the rest of the home and give that high-end look," he explained. The rugby-striped bedspread and geode wall art give the room some on-trend flair.