As the reigning symbol of Fall, pumpkins are a fun way to add seasonal cheer to your home. From adorning your Thanksgiving centerpiece with mini pumpkin varieties and covering your porch with a blend of different sizes, shapes, and colors to carving or painting your pumpkin for Halloween, this festive fruit adds instant Fall spirit to your home. And, of course, they're pretty tasty in desserts and main dishes as well!
Whether it's an old favorite or a new discovery, continue reading to find out which pumpkins you should be using for all of your Fall needs this season. Cinderella Pumpkin
Cinderella pumpkins, also known as Rouge Vif d'Etampes, are characterized by their red-orange flesh and squat appearance. They have fairly deep ridges, as they're part of the heirloom variety of pumpkins, and they make stunning porch decor. Cinderella pumpkins are also great for baking as they're naturally sweet, making delicious pies, ice cream, and pumpkin butter. Long Island Cheese Pumpkin
Another member of the heirloom family of pumpkins, the Long Island cheese pumpkin gets its name because it looks like a wheel of your favorite cheese! They typically grow to be about 10 pounds and are another favourite for pies and soups for their flavor. They also make great centerpieces for your Thanksgiving table. Baby Boo
Perhaps one of the trendiest pumpkin varieties is Baby Boo, a small, crisp, white pumpkin that's a favorite for home decor enthusiasts. If you're growing your own, you should harvest them before they're ripe to get that nice bone-white color. They don't have a very strong taste, but they are still edible and can be used to make individually stuffed pumpkins or individual pumpkin pies. Casper Pumpkin
Casper pumpkins have a very white skin but contain a gorgeous orange orange flesh beneath. They are a favorite for painting or carving around Halloween because of their size and color but can also be used in recipes. Casper pumpkins would make a great ghostly carved pumpkin! Connecticut Field Pumpkin
Connecticut field pumpkins are probably the best known pumpkins in the world, and they're typically the kind you pick out at the grocery store or pumpkin patch in the Fall. They're also one of the oldest type of pumpkin in the world, with Native Americans growing them pre-Columbus. They typically weigh around 20 pounds and are great for carving and pumpkin pies. Tiger Pumpkin
Tiger pumpkins are another miniature pumpkin variety that's a favorite for decorating in the Fall. They're typically a mixture of white, orange, and green, with well-defined lines down the sides. Aside from being pretty, they're also great for stuffing and baking. Jack Be Little Pumpkin
Jack Be Littles are like mini field pumpkins, but their size means they're much more versatile and can be used almost anywhere. Set them on your dining table as a centerpiece or on top of each place setting for your Thanksgiving dinner. They also make adorable votive candle holders and can be used in both savory and sweet recipes.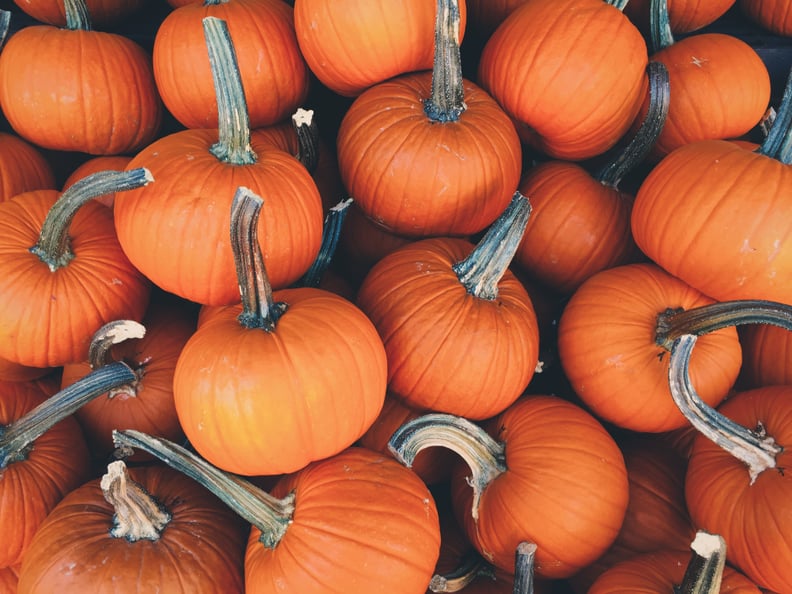 Sugar Pie Pumpkin
If you're looking for the best pumpkin to make pumpkin pies with, look no further than sugar pie pumpkins. They're sweeter than larger field pumpkin varieties and can be used to make puree and pumpkin seeds and are even great just roasted. They're also a great, slightly smaller alternative for carving and decorating your front porch. Jarrahdale Pumpkin
Jarrahdale pumpkins are becoming increasingly popular for home decorating, and you'll find plenty of faux Jarrahdales at your favorite craft and home decor stores. But the real thing is much more impressive! These blue-tinted pumpkins have a gorgeous orange flesh underneath the skin so they make interesting-looking jack-o'-lanterns, and they have a rustic quality that's perfect for decorating. They can also last up to 90 days, as long as you don't cut into them and you keep them in the right conditions. Knucklehead Pumpkin
The prize for the best name for a pumpkin goes to the knucklehead pumpkin, which gets its name from its warty appearance. The warts make it a fun option for creating spooky or witchy jack-o'-lanterns, though they certainly have enough character to stand on their own. Knuckleheads also taste great when they're baked, so you can use them in all of your favorite Fall recipes.