This YouTube Star Did Something Radical With Her Dining Room — and Small-Space Dwellers Everywhere Can Learn From It
When your beauty vlog reaches 1.7 million subscribers on YouTube, it's time to improve your business headquarters — or so was the case for work-from-home makeup guru Desi Perkins. She decided to convert her open-floor-plan-dining-room-slash-formal-living-room into a chic home office that flows into a lounge-like sitting room. While getting rid of the dining room is a radical decision, it was the best use of space for Desi and her husband. "I don't eat at a dining room table — I like to eat at the coffee table or we have a breakfast table so I just felt that the space wasn't being used," she explains. Keeping this space primarily just for doing business and work, she says, "allows me to have my [informal] living room be a work-free zone and helps me compartmentalize everything."
While Desi is a pro at makeup transformations, she needed a little help when it came to this home transformation – so she called on the pros at Laurel & Wolf, an online interior design company. "I'm terrible at putting anything together, which is how I imagine some people might feel watching my makeup tutorials, and that's really how I felt with interior design," Desi explains. Laurel & Wolf designer Deanna MacKensen collaborated with Desi to create a contemporary-glam yet functional space. She even sourced some of the furniture and decor from affordable retailers, like West Elm and Z Gallerie. "Having somebody who had all of these ideas was really exciting!"
The final product is perfection, from the striking black accent wall to the glossy gold finishes. Keep reading to hear Desi's thoughts on the makeover and get inspired by all the stunning details.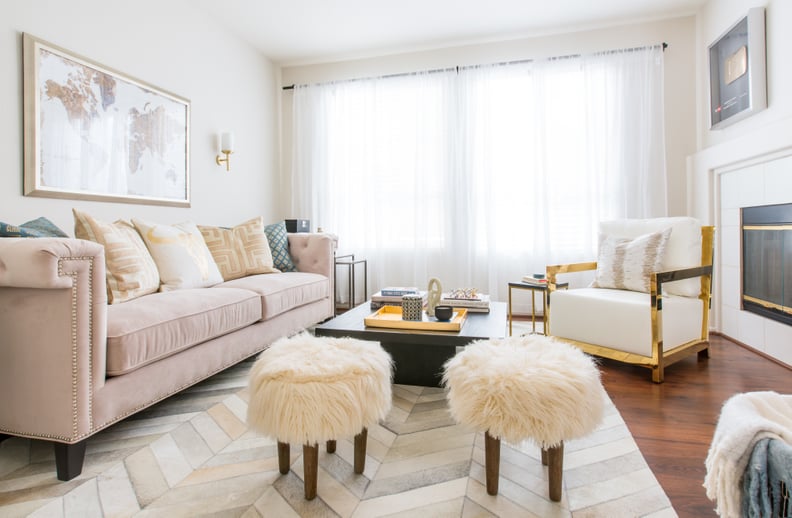 The makeover not only beautified Desi's home, but also helped her create better work-life balance by giving her a designated office space within her home. "I think I can speak for a lot of YouTuber's or anyone who creates social media content and works for themselves that we can get a little crazy because we are always working from home," says Desi. "It's hard to differentiate the space between where you want to come home and watch a movie with your husband and the space where you want to work. When they're both the same space, it can get really muddy, and before you know it, you're just always working and you can't get yourself out of the space because your house is your workspace."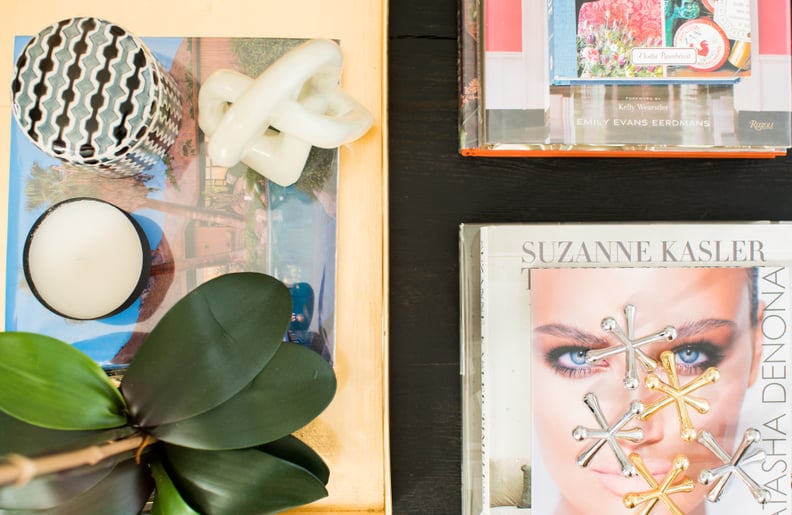 Designer Deanna says she loves, "the mix of textures and finishes. From the fuzzy pillows to the hair on hide chevron rug to the glossy finish of the brass desk legs. I also really like the various items in the space you can touch." The fun coffee table decor is a prime example of the latter.
"Everything in this room is Instagram-worthy!" Desi exclaims. "If you really pay attention to any beauty product shot, you'll notice girls love white fur. With the faux fur and gold accents, pretty much everything in this room embodies an Instagram-worthy picture."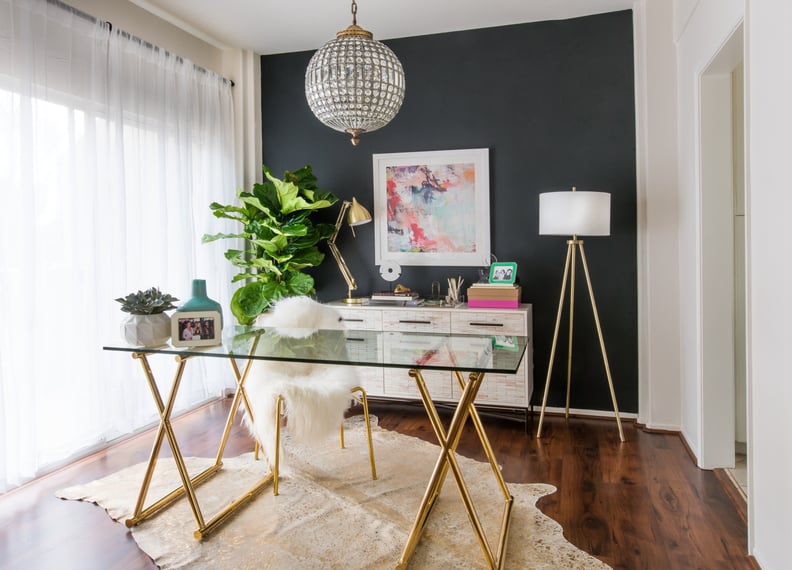 "For my work space, I wanted something that was really chic, not too busy, somewhere where I felt relaxed and calm because I spend most of my time on a computer working," explains Desi of her stunning office's mood.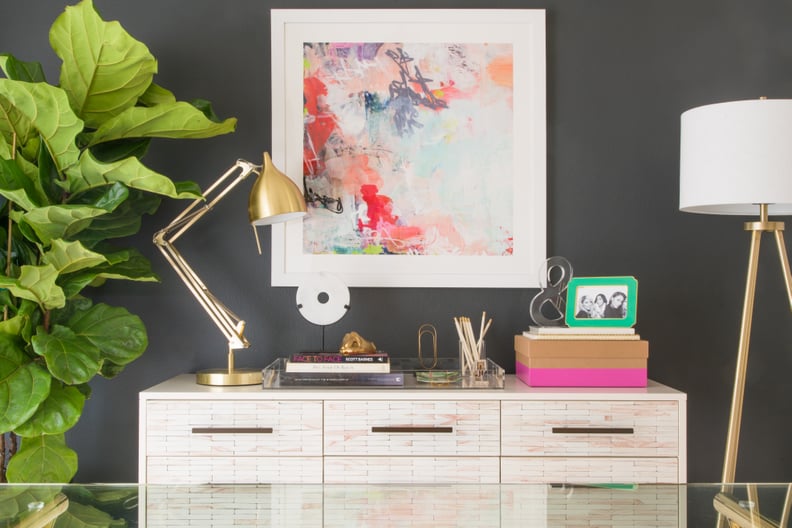 "I especially love the excitement of utilizing a black accent wall as well as the mix of textures and finishes," explains designer Deanna, who strove for a "clean-lined, contemporary-glam style."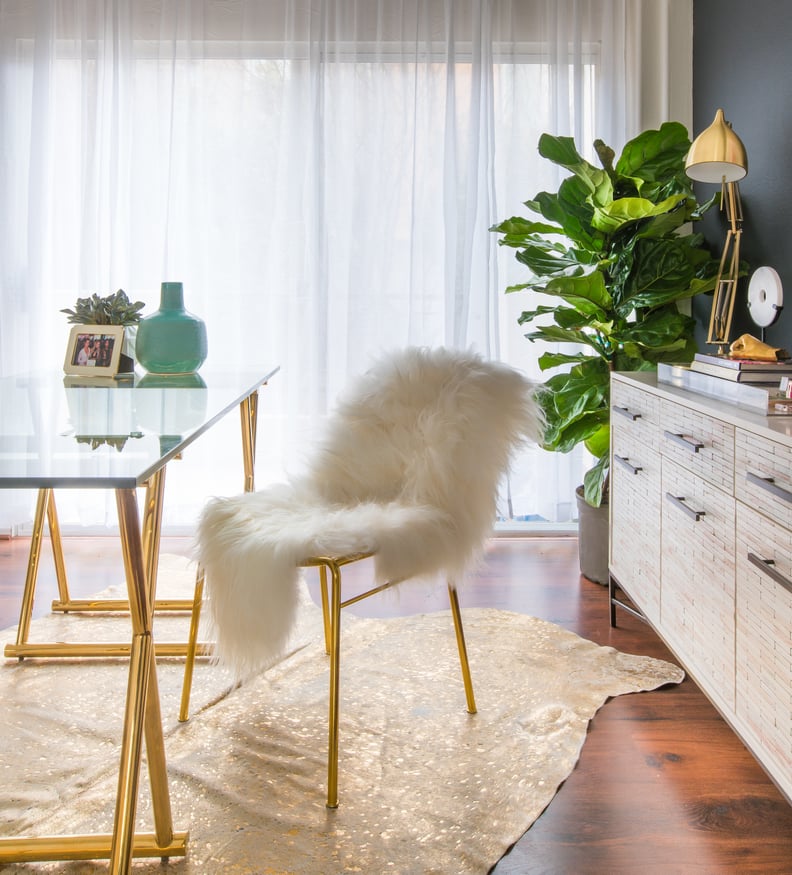 "If I had to pick out my favorite item in this whole room, it would definitely be my golden Z Gallerie chair because it just looks like a chair for royalty," Desi says. "When I sit in this chair, I mean business." It's easy to see why!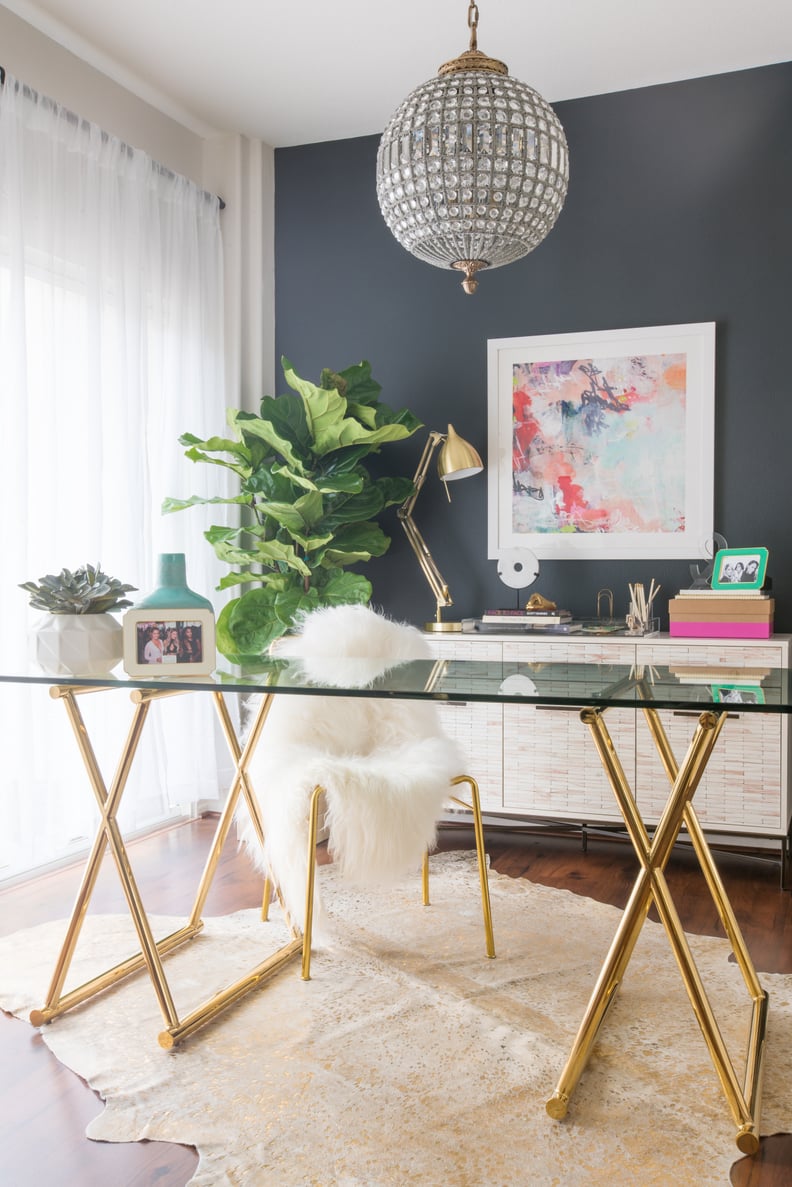 Desi admits she was skeptical about the painting behind the desk. "I didn't think that was going work because I'm really scared of color. I'm so neutral all the time so pretty much anything in this room that you see that has color is something that I was a little wary about," she says, adding, "but it looks amazing and I'm so glad there is color!"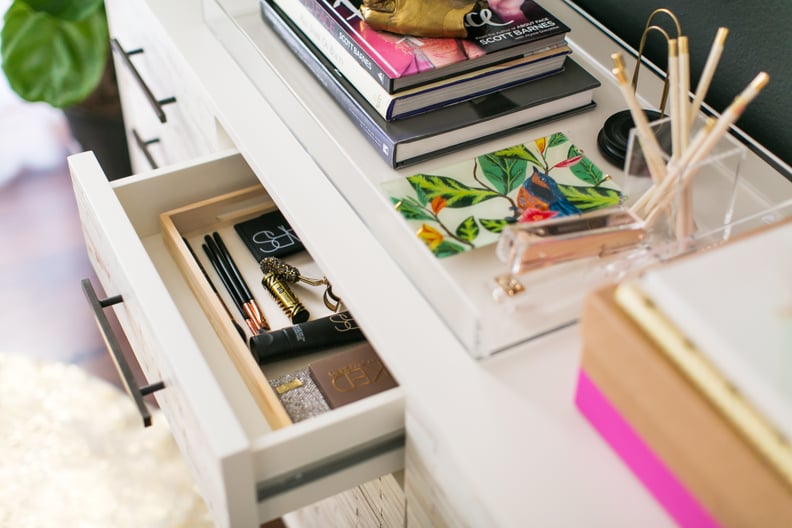 Numerous drawers, trays, and desktop organizers are included so Desi has ample storage for her beauty supplies.