The Important Lesson I've Learned Being in a Bicultural Relationship
The first time I sat across from Tyler, there was pizza on our table and our knees kept bumping underneath it. He had a beanie on, wore a sweater rolled up at the elbows, and towered over my 5'4" (5'2" without the booties I was wearing that night).
As we walked out into a chilly New York evening, he slipped my right hand into his left. I can tell you the route we took. I can tell you how silly I felt telling him he should probably wait to kiss me because I was still getting over a cold. And I can tell you that I definitely didn't make note of the fact that he wasn't Latino. I guess this goes back to the fact that I've never thought of him in relation to what he isn't, all I see is all he is.
He's a witty, impressive 23-year-old Florida transplant. He gets really cold in Winter because he has yet to understand the importance of layers. He gets really hot when I, wrapped in all the extra sweaters that would make my abuela proud, decide that I still need him to cuddle me to be warm. He is a storyteller, knows his way around a deck of cards, and, as my birthday taught me, is permanently attached to whatever table the empanadas are on.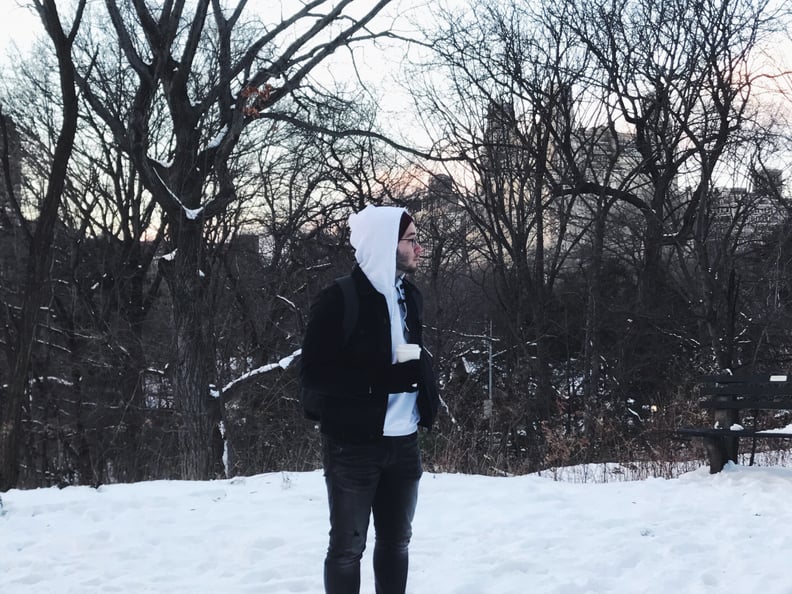 And for all I've learned about him, I also know who I am.
I'm the daughter of an Ecuadorian immigrant, and as a first-generation American, my life has been a constant redefining of what it means to be Latina.
I don't subscribe to the notion that I need to date within the culture for the same reasons that I don't subscribe to the belief that a traditional career is the only viable option — my family came to this country to expand what "freedom" meant for us, so I'm exercising that privilege.
I'm pursuing a career I love, on my own terms, and I'm dating a man who loves me . . . and empanadas.
The fact that his love for empanadas was spurred by the first time he ever really had an empanada is unimportant to me. Mostly, because I look at the bigger picture. In that house in Queens, where I blew out birthday candles and he had empanadas, I realized that his first time meeting my family was less about them meeting him and more about him getting to know what it means to be a part of this family.
I was brought up to appreciate Ecuadorean food, even if I can't cook it. I was raised with cousins who were like siblings and tías and tíos who doubled as parents.
To be Latina and to date Tyler is simply a reminder that I get to learn more about myself and teach him about me along the way — isn't that what any relationship is about?