I remember that Sunday in December 2015, when Univision revealed the first Latino boy band to ever come out of one of its reality TV shows, La Banda, which was a huge gamble. No one knew if the concept was going to work in the Latinx market. The show was a mix of Making the Band, American Idol, and The X Factor, teaming up five complete strangers to share the most important moment of their careers.
It worked! The show was a success, and once again, Univision tapped into the human component, carrying viewers through the inspirational stories of every contestant who had a common purpose: to become the next Latin music star. It also helped that Simon Cowell was producing the show, and some of Latin music's biggest names — Ricky Martin, Laura Pausini, and Alejandro Sanz — were the judges giving these young men career advice. To top it all off, the winners would sign a five-year contract with Sony Music, go on tour with Ricky Martin, who became their rep, and have reggaeton powerhouse Wisin produce their first album.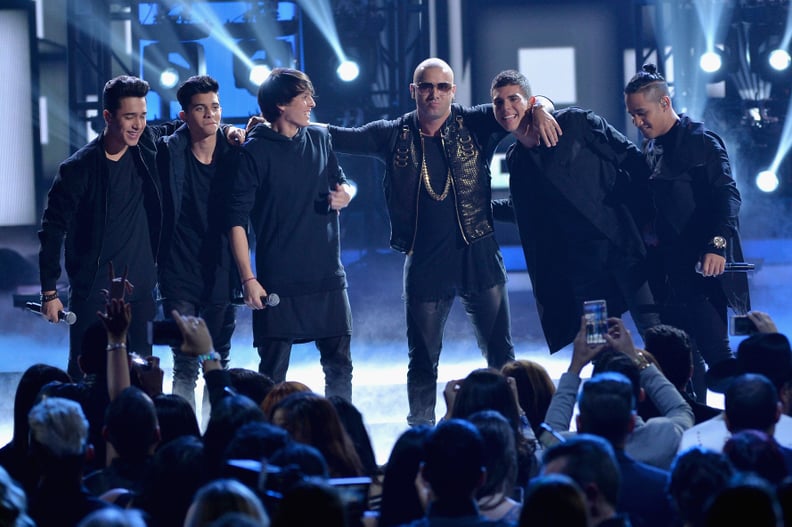 But aside from the winning contestants' incredible talent, the most important element was the camaraderie between Erick Brian Colón, Christopher Vélez, Zabdiel De Jesús, Richard Camacho, and Joel Pimentel. They were willing to work together in an environment where everyone was equal and had their turn to shine, resulting in the birth of CNCO.
In their short but mighty career, the group released two albums, gone on multiple tours, won three Latin American Music Awards, six Billboard Latin Music Awards, two iHeartRadio Music Awards, and many more accolades. They've collaborated with the likes of Abraham Mateo, Wisin, Yandel, Little Mix, Meghan Trainor, and Sean Paul.
With over three billion cumulative streams, 6.5 billion total music video views on Vevo, and 12 gold and platinum certifications in the US, their influence can be felt globally. Vevo just announced that CNCO has been named the first Vevo Lift artist of 2019. Vevo Lift is an artist development program that identifies and elevates emerging musicians by creating a series of original content videos.
"Pretend," which premiered on May 16, is the first of three pieces of content Vevo will release as part of CNCO's Lift campaign. It's a fantastic way for this group of young men of Puerto Rican, Dominican, Mexican, Ecuadorian, and Cuban descent to get their rightful place in the American market. Other Vevo Lift alumni include Sam Smith, Halsey, Khalid, Jorja Smith, SZA, and Julia Michaels.
"We are thrilled to welcome CNCO to the Lift program as our first artist of 2019 and our first-ever Latin genre Lift artist in the US," said JP Evangelista, senior vice president of content and programing and marketing at Vevo. "CNCO have already proved they are a force to be reckoned with, and I look forward to seeing their progression not only in the Latin market, but as global superstars."