Frida Kahlo is undoubtedly a Latina icon. The Mexican surrealist painter is well known around the world for her stunning autobiographical art, including heart-wrenching paintings depicting her physical ailments, miscarriages, and identity struggles. You know her as a revolutionary, one of the first women to fully express herself through art, a feminist putting women's issues at the forefront of her work. But while Frida's impact and reach seems to grow by the minute — there's now a beauty line inspired by her at CVS and even an amazing action figure — there is more to Frida you should know. Straight ahead find 17 interesting tidbits about your idol.
Her full name was a little longer: Magdalena Carmen Frida Kahlo y Calderón.
She was born at La Caza Azul in Mexico City on July 6, 1907, the same place where she passed away on July 13, 1954.
She had three sisters: Matilde, Adriana, and Cristina.
When she was 6, she contracted polio.
On September 17, 1925, while on a bus with her then boyfriend Alejandro Gómez Arias, she was in an accident. A steel pole went through her hip and she was left with multiple broken bones, including her pelvis, ribs, spinal column, and collarbone.
She started painting in 1925 after the accident.
Frida was part of the Young Communist League and the Mexican Communist Party.
Mexican painter Diego Rivera, 20 years older than Frida, left his second wife for her and the two married in 1929.
Frida's parents called the couple "the elephant and the dove."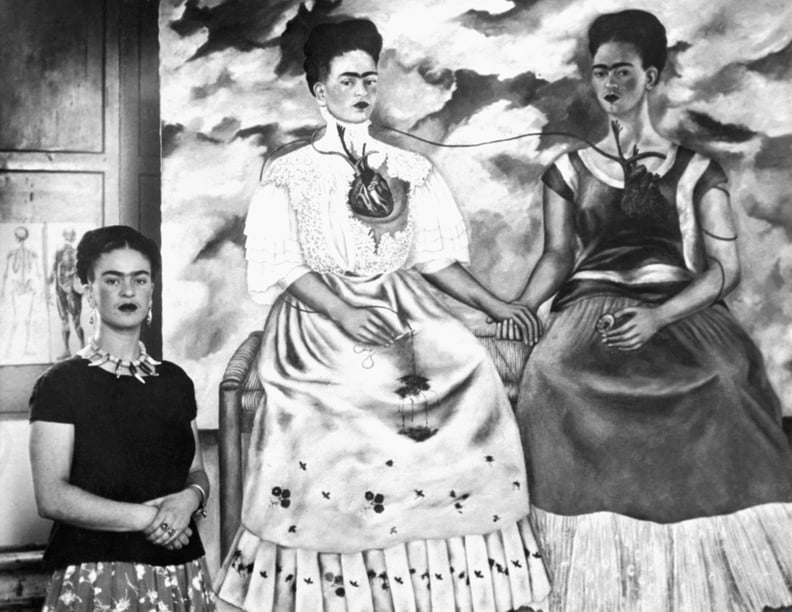 Frida lived in San Francisco for a year, while Diego worked on a project.
When Soviet communist Leon Trotsky moved to Mexico with political asylum, he stayed with Frida and Diego at La Casa Azul.
While living in Paris in 1939, she befriended Pablo Picasso.
Though Frida and Diego were supportive of each other's art, their fights and Diego's infidelity (including an affair with Frida's sister, Cristina) led to their divorce in 1939. One year later, they remarried, though they led pretty separate lives from then on.
In 1950, she spent nine months in the hospital because of gangrene on her left foot.
Three years later, while bed-ridden, she took an ambulance to one of her exhibits. She spent the night in a four-poster bed in the middle of the gallery.
Sadly, her physical pain led Frida to depression and suicidal thoughts. It is rumored her death was a suicide, though official word says the cause of death was pulmonary embolism.