Hispanic Heritage Month: How Ona Diaz-Santin Owns Her Curls
Changing the Latinx Narrative One Curl at a Time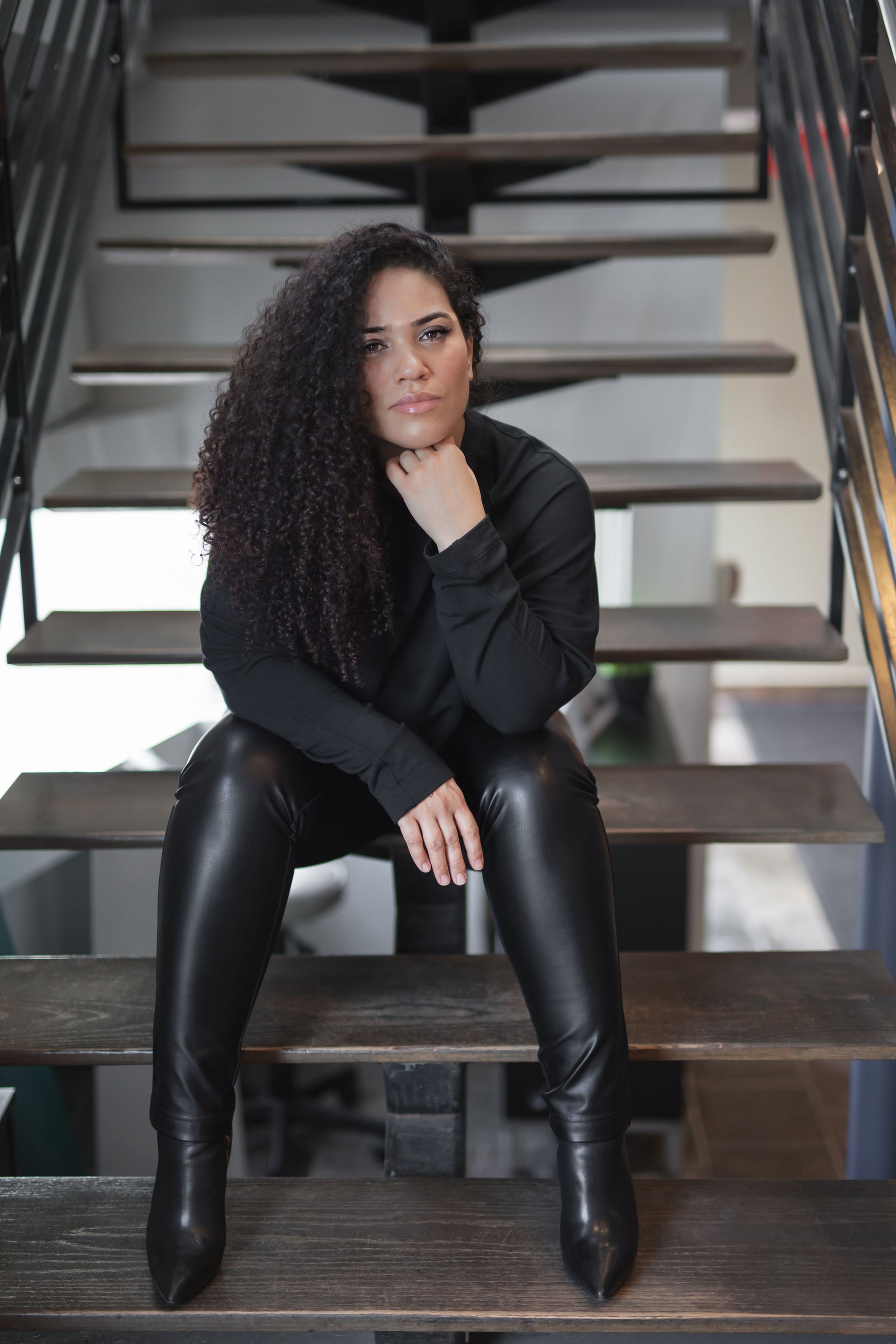 Why do we struggle with our curls? It seems like we all share that same story. The story we all relate to when we hear it. The one that makes us want to do something about it. You know the story I'm talking about, don't you?
Part of my youth was spent living in the Dominican Republic. Family get-togethers are a big part of our cultura, and it was quite rare to see anyone with curly hair at those events back in the day. In my younger years, however, I wore my hair naturally curly, but my mom did not allow me to have the length. See, having three girls with a good amount of hair, it became evident to her that short hair would be the easiest to manage. Unless you were going to put in the time to do your hair at the salon once a week religiously, short hair was it.
I had very short hair for years, and like many, I too had complexes about it. I hated the fact that my mom didn't want me to have long hair; I hated the fact that I could not blow it out. I dreaded attending parties because kids would make fun of the fact that I was a girl with "no hair." I was a loner and learned to like it. As I matured, I was able to care for my hair, and the longer it got, the happier I got. Wash days were a struggle, but I managed to learn and do it myself out of fear of ending up with my signature haircut, aka "Pero esa niña no tiene pelo" cut.
Living in the US, the issue was no longer no hair but the big, frizzy hair. I was never taught to understand my texture. I would rewet my hair at any chance I got, because it's how I loved it the most. My mother ended up having multiple salons throughout the years, so naturally, blowing out my hair was my next move.
Boy, was I in love! I had my length and zero frizz, and let's not forget to mention I no longer had to do my own hair. I had just become a regular salon-goer. High school came along, and I started to run track, which didn't help my blowouts (which I managed to have last for five to six days). Because of my daily practices, I didn't have time to go to the salon, so instead, I learned to do my own blowouts and committed to doing them daily. My natural hair made very few appearances.
This lifestyle controlled a lot of what I did and where I went. Anything that involved sweating had to be done before I washed and blew it dry. Beaches and pools were all about lying out with my hair in a topknot, then doing my hair later. Forget any kind of water games; that ish was not a game to me! And unless I really needed to go out on rainy days, I would not.
Then, on my high school graduation day, my dryer ended up tapping out and died on me. I was frantic! I went to graduation with heat-damaged curly hair and kept it moving. To my surprise, all of my friends were in awe of my curly hair. Each of them kept asking me if I'd permed my hair, while I kept denying it. That same day, I realized I needed to stop this cycle and learn to appreciate my hair. I decided to go to beauty school that fall.
I made a promise to embrace myself as a whole. To learn how to work the exterior and focus on the interior. Much work needed to be done, and I knew that education was the only path to success. I became a hairstylist with one mission: self-love. And the vehicle is hair. I started to understand that it goes much deeper than what our hair looks like, and I started my mission by teaching children at a young age about their hair and letting them know they hold the power to choose the narrative for themselves and embrace their natural hair.
As a hairstylist, how you listen to your clients is crucial, and how you deliver is just as important. It doesn't make me any different if I'm talking down to my clients about how damaged their hair is or telling them how terrible they look if I know that's how they already feel. I wanted to stop the cycle of kicking people while they are down. How do you change someone's perception? One brain, one heart, and one person at a time.
It starts with teaching self-love, which then leads to learning how to love your hair. For me, self-love has pushed me and inspired me to strive for new heights and take on new challenges. It truly has built my confidence. And I am determined to share this knowledge — whether it's on Instagram, during my work travels, or, of course, in my salon chair.
This is my "hairstory." We all have a hair story to tell, and once it's told, you release another person held hostage to theirs. It is our responsibility to be that change we want to see. Now I'm here standing with all my sisters out in the world to work on self-love and continue to change the narrative one curl at a time.
Image Source: Ona Diaz-Santin