It's been 23 years since Selena's passing, but her legacy remains alive thanks to her fans and the Quintanilla family. Her sister Suzette, brother A.B., husband Chris Perez, and parents Abraham and Marcella have done everything in their hands to honor the Tejano singer, running a museum at Selena's old studio in Corpus Christi, TX, hosting the Fiesta de la Flor, and, this year, launching a makeup line with MAC Cosmetics.
POPSUGAR Latina caught up with Suzette and Chris a day before the official collection launch at the American Bank Center in TX. They exclusively opened up about the process of creating the line (featuring eyeshadows and lipsticks named after Selena's biggest hits), their fondest memories with the star, and what it means to see a new generation of fans. Scroll ahead for the must-read quotes.
POPSUGAR: Tell us about how the line came about. Did it all start with the fan petition? Or did you always want to do a makeup collection for Selena?
Suzette Quintanilla: It's a little bit of both. When Selena passed away, she wanted to do a line, and was actually creating a line of makeup, so that had always been in the back of my head . . . to be able to, hopefully, do something like that in the future. But then, surprisingly, this petition was started by Patty Rodriguez . . . I believe it got 40,000 signatures in a month. I'm not too hip on what that petition page thing was and all that. It was around the time we were planning the Fiesta de la Flor for the first year. So I wasn't really on social media and didn't really know what was going on. When I realized what was going on, literally within the week, MAC Cosmetics reached out to us. It happened that quick. For the last year and a half, we've been working on what this line is, and I'm really happy with it.
PS: How did you choose the shades?
SQ: In regards to the shades, the color palette for the whole collection, when I was discussing it with MAC, they were asking what we felt it should be like. I said it shouldn't be about anything that I like, or what you guys want to push. I think since it's for Selena, it needs to be about Selena. I still have her makeup case, so I literally took pictures of everything in it and sent it to MAC. They came back to me with these matching colors, the colors she would wear on and off stage. This line is Selena.
"I still have her makeup case, so I literally took pictures of everything in it and sent it to MAC."
PS: How about the names? Why did you decide to name them after Selena y Los Dinos' most popular songs.
SQ: The names, that was me. It was kind of easy. The red [lipstick] is Como la Flor — it has to be, you know? And, of course, Dreaming of You. That's the darker tone, and I felt it was very sexy. [The name] went better with the darker tone lipstick. And, of course, Amor Prohibido is the lighter [beige] shade she would normally wear when she was offstage. She would run around, and she liked to wear nude lipstick. There was some clear gloss in her makeup case, too — this [the Bidi Bidi Bom Bom Lipgloss] — is the only thing that's not going to be sold in the store. It's going to be an online exclusive. When you put it on, it's going to be pink, but it has this clear, glittery vibe. This speaks volumes of what she would wear when she was running around and doing everyday stuff.
In regards to the names of the songs, I literally looked at them and said this looks like Missing My Baby and this right here is a no-brainer. I don't know if you know what the name of this one is, Chris — Is It the Beat, because it's black. It kind of goes with it. It was easy. It was a no-brainer.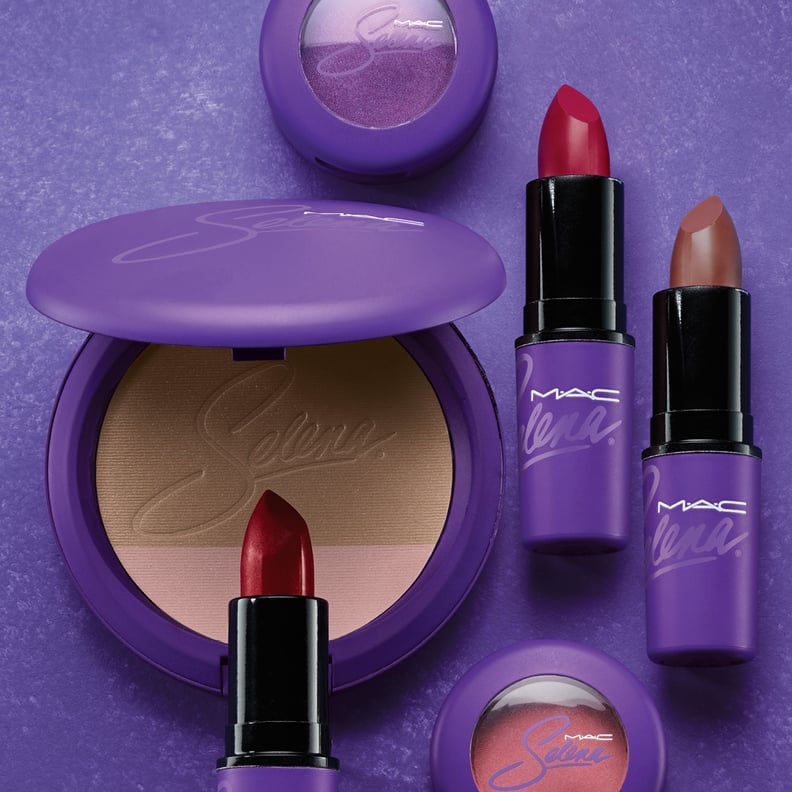 PS: Is there a makeup trick Selena taught you, Suzette? Was there anything she always did while getting ready?
Chris Perez: They learned from each other. Both of them.
SQ: We kind of wore similar makeup back then. I don't know if there were any tricks. She clearly loved the bold lip, like most Latinas. If anything, she kept it simple with the bold lip, a little bit of eyeshadow, not too much, and, of course, the eyebrows — you can't forget the eyebrows. But in terms of a ritual, I don't know.
PS: Did she take a long time to get ready?
CP: I guess like with most women, you wanna be somewhere quickly, you'll get there quickly. I just remember many times, laying there and hearing her in the other room doing her thing. It depends on whether she was trying some new stuff out. She'd be in there for quite some time, like most girls did.
SQ: You have to also understand she was very young still, so she had flawless skin. Whenever she wasn't on stage, she just basically wore the nude-style lipstick, light foundation, mascara, and always had her hair pulled back. Jeans and a t-shirt.
PS: It's been 21 years since her passing. Is there a favorite memory you have with Selena that you always go back to? I always think of the Grammys, when she won.
SQ: For me there's a couple. You mentioned the Grammys. I remember walking in, with my husband. I came down to meet y'all in y'all's room, Chris. We opened the door and walked in, and she came out of the restroom. She had told me about the dress, but I hadn't seen her. We had gone earlier in the day to get our hair done. When she came out, I thought my sister was beautiful; she had this amazing vibe about her. It was kind of like one of those moments where you were like "Woah," it was one of those. Kind of like when she walked out, there was a beautiful light shining on her type of vibe. I literally got choked up. I was like "Oh my God, you look amazing." It was breathtaking. She was breathtakingly beautiful. You know when everything is just right. Her makeup, her hair, her outfit — she looked amazing. That's one moment.
Another memorable moment I always go back to, and I think I go back to this one more, is all the time that I spent in the bus with her. That was our most time spent together. We spent more time in the bus than we did at home. Late nights after the gigs, she would wipe off her makeup, she would eat something, and then she would come and crawl in our bunk and we would just talk. About her makeup line, her dreams, her being a mother, her being married to Chris — just about life, what families and what sisters normally do. That for me was my special moment.

"Late nights after the gigs, she would wipe off her makeup, she would eat something, and then she would come and crawl in our bunk and we would just talk."
PS: What about you, Chris?
CP: There's quite a few. As crazy as it sounds, it's probably the last time that I saw her. It was that big smile and her laugh. Being as it was the last time I saw her, in my mind, it's such a beautiful picture and memory of her. She opened the door, and my dad had come into town and she forgot. So they had opened the doors to the room at the same time, and she just saw this dude standing before her. She just screamed, and I jumped out of the bed, and then she turned and gave that laugh — the whole thing. I was like "Aah," and then got back in bed. Just little things like that. And, like Suzette said, being in the bus, there were so many moments. It was like our little cocoon, our little safe zone where there was a lot of family time.
PS: There's a new generation of Selena fans now. What do you want people to know about her that might not know.
SQ: For me, I feel that they know everything. That's why there is a new generation that has embraced her and is living her. She kept it real, on and offstage. She was not a different person. When she spoke to you she made you feel like she knew you. I think that transcended clearly on stage. She had the ability to be able to captivate you. I think that's why we are, even 21 years later, talking about this line. I think the younger generation, and the internet, they are able to click and research her and see her. I think that's why they know everything. They feel like they can identify with her. I think she is a role model and inspires people. Also, the fact that we had pretty cool music. It's a combination of things, and I think that it's very evident that the younger generation see that.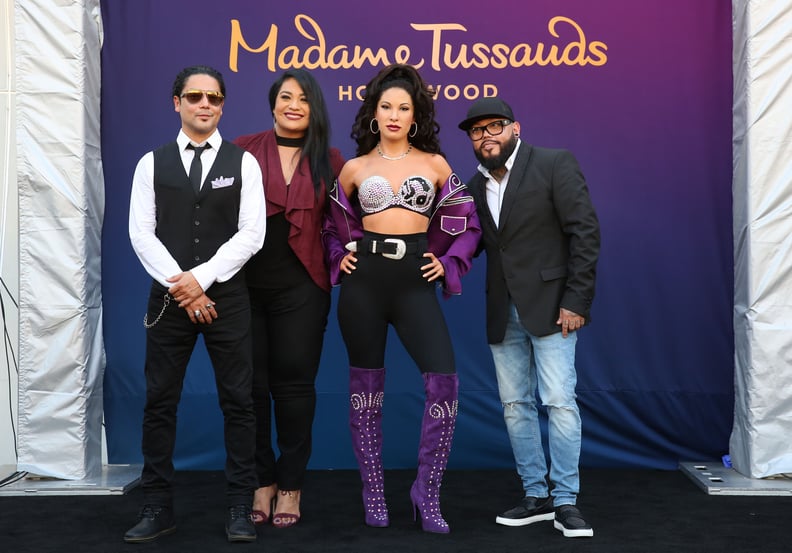 PS: This year seems to be such a big one for Selena's memory. You just revealed the wax figure; it was announced she's getting a Hollywood Walk of Fame star; she got inducted to the Texas Women's Hall of Fame. What does it mean as a family to have all of this happening?
CP: I think I speak for all of us when I say she's part of our everyday life. We see things a little different, but we are appreciative of the support the fans continue to give her. It's always surprising. In typical Selena fashion, a project starts one way, it ends up being this huge thing because of the loyalty of her fans. They have her back. It's amazing still to this day.
SQ: It just so happens that a lot of great things fell into this year. And the vinyl . . . the Selena special edition vinyl. We're really excited about that. It comes out [Oct. 14 . . .] So many amazing things are happening; it just seems like something really cool is going on — like from one year to the next. This year definitely more so than the past years, and we are very very grateful for that.
PS: Selena was really a pioneer among Latinas, even now there are not many Latina role models out there, unfortunately. What does it mean to you that Latinas really embrace her and admire her?
CP: She's become an icon. Obviously, when everything first happened it took some time . . .
SQ: To understand the magnitude, I'm sure Chris feels the same way. To just get on the road and perform — we were just doing our thing. Doing our music, doing our thing.
CP: And we saw crowds get bigger, but . . .
SQ: It didn't really dawn on you. You were just doing your thing. Like OK, record sales are great, we're selling out, OK, cool this is what it's all about. But then when she passed away it was like, what Chris said, "Woah, wait a minute." The magnitude of the outpouring of love when she passed away was like "woah." It was overwhelming for us.
"The magnitude of the outpouring of love when she passed away was like, woah. It was overwhelming for us."
Even to this day, we are so surprised at the magnitude of her legacy, what it has now become. This is a clear staple [the makeup] — a perfect example of where her legacy is at. This is not a US thing; it's a global launch. It speaks volumes. We're beyond ecstatic. I think if she was here, this would still be happening, clearly, but you'd be talking to her. We'd be chilling out over there. I'm sure she would be really ecstatic about everything that is going on. She loved her fans, and we are very grateful that her fans still love her.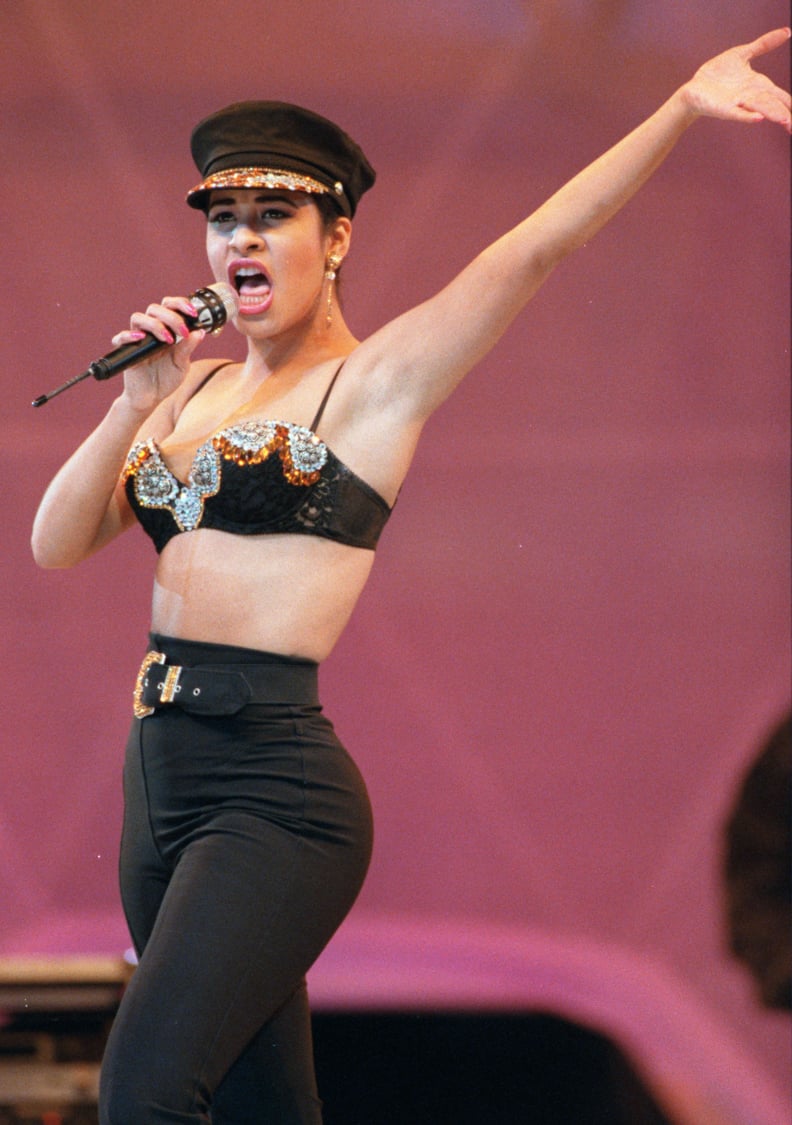 PS: You talked about just being on stage and doing your thing, but everyone was hypnotized by what was happening, the songs, the music, the performance. What was your favorite song to perform with Selena?
CP: It's a shocking thing because I'm more of the rocker, and you'd think I'd pick a certain song. I used to like playing the more cumbia songs. Where Ricky [Vela] would play the accordion, where I would have to say "Las Cadenas" and "Los Desprecios."
SQ: That is shocking.
CP: Yeah, I'll be there stomping my feet to that stuff and had to be like "Alright, calm down, calm down." I used to love playing those songs. Obviously I loved every song that we did. And I have to say, mainly because of her. She had — even then we all could hear it in her voice — God-given talent. She was amazing.
SQ: I'd have to say, I like that little attitude she used to give "Ya Ves." Now, I love everything, but when you're jamming you're jamming, but "Ya Ves" would be one of my favorites.
CP: I used to get a kick when she would pull people out of the crowd.
SQ: Oh, heck yeah! That was always fun to watch. We'd get a kick out of that because the guy would be all embarrassed but loving it at the same time. It would be so funny to watch. I think it was the fact that she was able to draw you in as a performer and as a singer, and make you feel part of what she was singing. I think she had definitely God-given talent. She definitely had something special.